>> Nov 28, 2009
I have been wanting to check The Lobster Man for quite some time after hearing quite a bit about it from friends. A month ago, we were running short of places to fancy so we decided to give this place a go.

The Lobsterman is owned by a hongkong-er (hongky is offensive) who's been cooking lobsters for over 10 years. They only serve Maine lobsters, which are from the US. (I will dedicate my next post to the different kind of lobsters)

At The Lobsterman, they have more than 15 methods of cooking lobster, ranging from sashimi, to lobster noodles (yee-meen) and cheese-baked lobsters. We ordered 2 starters, lobster toast Rm18 and New Zealand baked mussels RM18 to share among 4 of us. We also had the Caesar Salad RM18 which was nothing to shout about. (sorry, no pictures for the starters because some people were to hungry)

For our main course, we ordered a whole live lobster. We were allowed to choose our own lobster from the tanks which would be then weighed. The lobster goes for RM150/kg. We also requested for the lobster to be cooked in 2 different styles, yee-mein with spring onions and ginger and lobster thermidor. (picture for the lobster yee-mein was deleted from my camera somehow)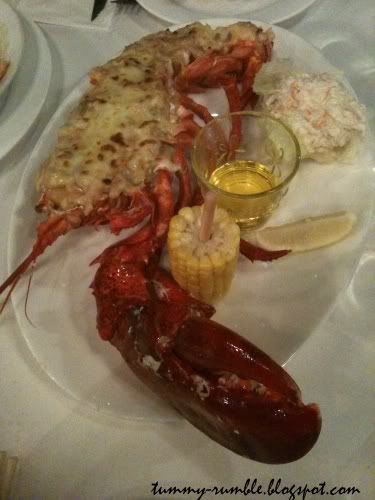 Lobster Thermidor
We also ordered the
Fresh Salmon Linguine with Cream RM26
& Cheese and the
Baked Seafood Pasta RM26
. The pasta dishes were just so-so. We were too full for desert so we decided to call it a night.
Overall,
The Lobsterman
wasn't too much of a disappointment. Neither was there much to praise about the food. However, I would like to say that
The Lobsterman
is quite a reasonable place to eat lobsters at an affordable price. The many various methods for cooking lobsters at
The Lobsterman
would be able to satisfy all your lobster cravings. The total bill for the dinner came up just a little more than RM300.
(The lobster we had was a whooping 1.5kg)
. If you haven't really had a chance to savour lobsters, then you should give it a go at
The Lobsterman
.
Restaurant rating
: 6/10
Pricing:
About
RM70
per person.
*Ratings are based on

ambience

, service, value and food quality for the price you're paying. Opinions expressed are solely based on my personal experience
Map
to
The Lobsterman
Address:
No,53, Jalan SS 2/30
47300 Petaling Jaya,
Selangor D.E,
Malaysia
Contact
Telephone number: 03 7877 6772