>> Dec 19, 2009
King Crab Restaurant used to be a place that I go for crabs. As my brothers just got back from the UK, they wanted to indulge in some crabs. So off we were.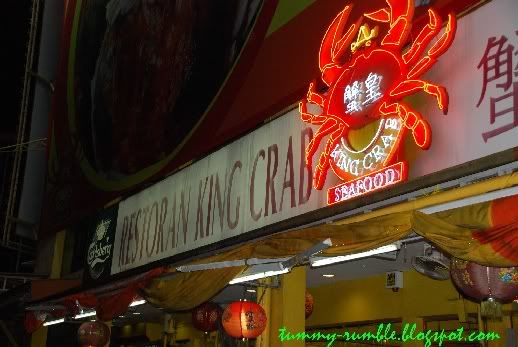 Restoran

King Crab (They spelt it that way)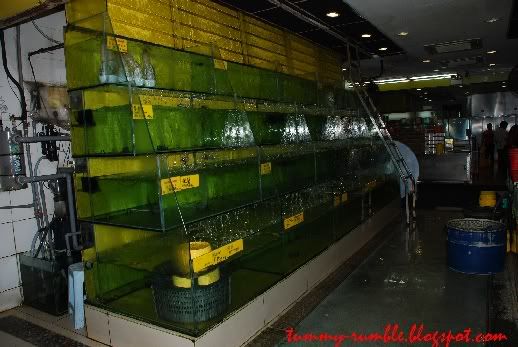 At
King Crab Restaurant
, there are about 20 tanks to choose your seafood from. You can pick your choice of fish, clams, abalone, oysters, prawns or
geoduck
to sample. There is also the choice of prawns and fish from the freezer. Live seafood would definitely cost more, a lot more.
(Chinese people like to see their food swimming about before consumption.)
As my relatives arrived before us, they already placed the order for the food, thus the food arrived when as we were settling down. Food used to take quite a while to come at this place. The portion for the food were made for 10 people, thus the respective prices.
Tofu (

beancurd

) cooked with century egg and salted egg yoke (RM30)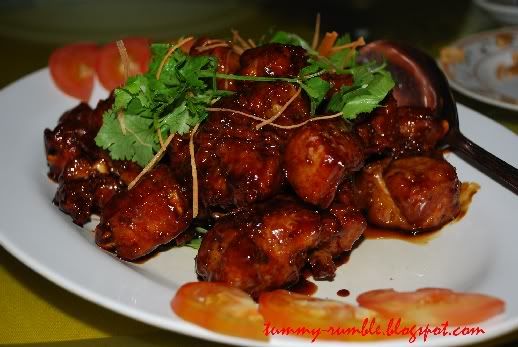 Marmite

Pork Ribs (RM40)
The
bean curd
and the pork ribs were good as usual. I certainly ate quite a bit of this dish.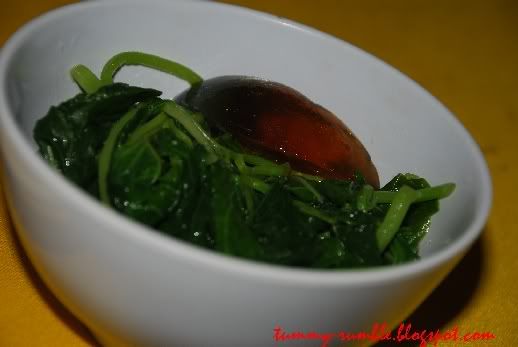 Spinach Soup with Century Egg (RM25)
The spinach soup however, was a disaster. The spinach used to cooked the soup were old vegetable, giving it that tough texture to the dish, making it hard to swallow. Certainly a disappointment.
Sweet and Sour Red

Talapia

,

Hong

Fei

Cao

(RM37)
I didn't sample this dish since I once saw red fish swimming about the
indah
water pond (Its nothing to do with king crab as they probably sourced their fish from clean places). It is just personally how I feel about red tilapia.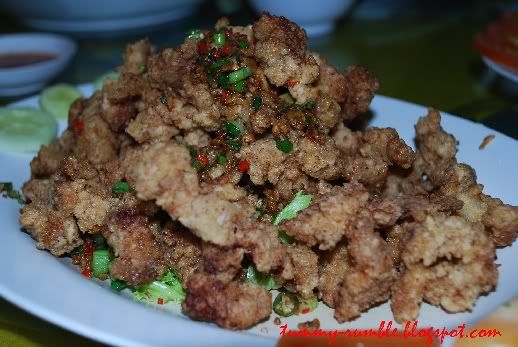 Salt and Pepper Mantis Prawn (

Lai

Lui

Har

) (RM30)


The mantis prawns were good. It was packed with flavour, crispy on the outside and soft in the inside. Definitely one of the 'must try' dishes at this place.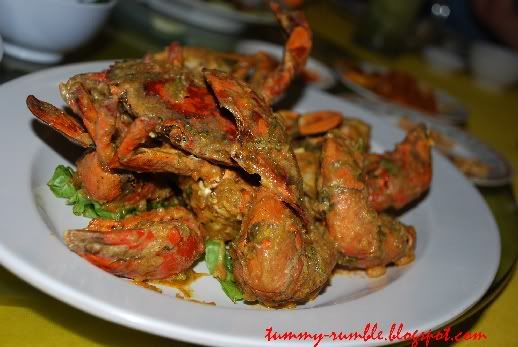 Crab cooked with Salted Egg 1.5kg (Ham Tan

Hai

) (RM64.50)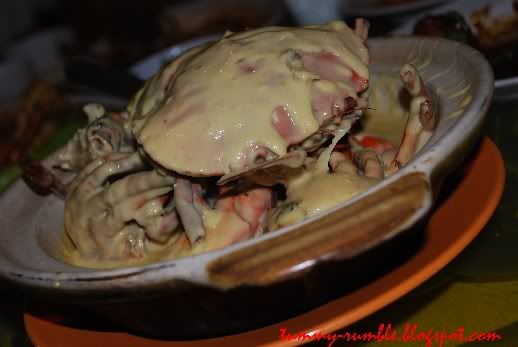 Butter Crab 1.5kg (RM64.50)


Mantou

(to go with the butter crab) (RM9)


The style of cooking the crabs was good like usual. The Sauces had a punch. However, the crabs quality has definitely dropped. Some of the crabs didn't taste that fresh (probably dead crabs) and most of the crab meat was sticking to the shell. This is probably due to the cooking method of the crab. If crab is not cooked with high heat, it is not common for its meat to stick to the shell. This is quite a large put off for this place. It is called
King Crab
after all.
Anyway, I doubt I'll be coming to this place anymore. The restaurant is mostly empty. Maybe they changed their chef or something. This place used to be very well known for good food. However, the rave about this place has somehow died down.
The bill came to a whooping
RM407.70
. For the price you're paying, there are far better seafood restaurants about such as South Sea (near
Subang
Airport) or
Greenview
(
Rothman
roundabout)
.
South Sea Restaurant has a much greater variety to choose from.
Note: This post is based solely on my opinion.
Pricing
: About RM50 per person (mud crabs)
If lobster,
geoduck
,
alaskan
king crab, hairy crab or any of those sort of seafood is ordered, the price will fly exponentially
*Opinions expressed are solely based on my personal experience
Map
to King Crab Restaurant
Address:
103-107,
Jalan
SS25/2,
Taman
Mewah
Jaya
,
47301
Petaling
Jaya
,
Selangor
D.E.
Contact:
Telephone number: 03-78036999
Website:
http://www.kingcrab.com.my/
Opening hours: 11am-2.30pm, 6pm-10.30pm.
For weekends and public holidays: 8.30am-2.30pm, 6pm-10.30pm