>> Dec 29, 2009
A couple of weeks back, I went to Chynna Restaurant @ Hilton Kuala Lumpur Hotel for dinner. Hilton Kuala Lumpur Hotel is situated right opposite KL Central, making it quite convenient for tourist to travel about Kuala Lumpur.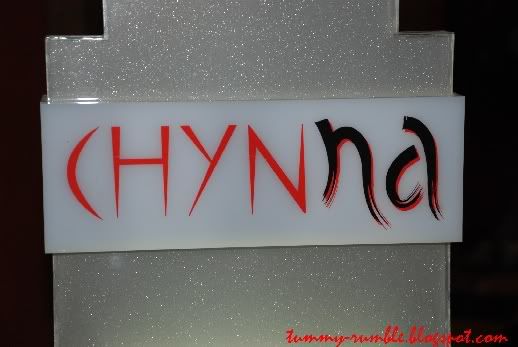 There were 7 of us, enabling us to request for a room. As Christmas was around the corner, there was a special festive menu set priced at
RM200
per person. It was a 6 course meal.
We were approached by a tea master from China who was keen on showing off his skills for my camera. This tea (the welcoming tea) is a little sweet as it was supposed to clear your taste buds before your meal.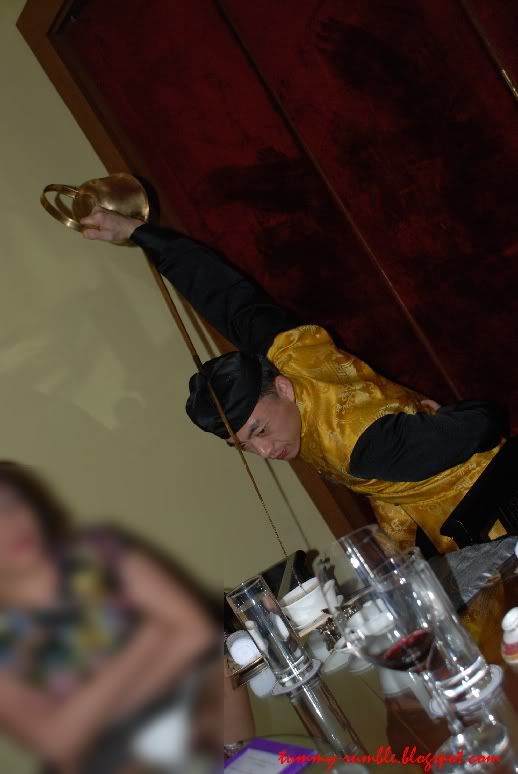 Tea Master at Work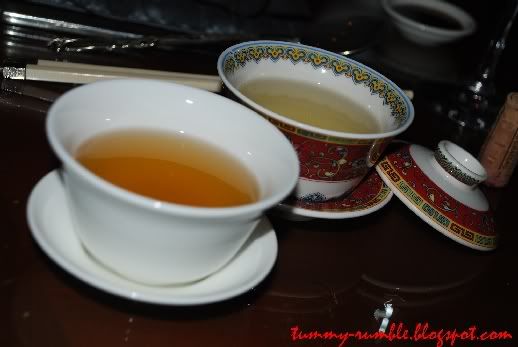 Welcoming Tea (darker in colour) and a Chinese Tea of Our Choice
Our meal started off with a combination of smoked oolong tea Sha Tian pigeon & golden roll stuffed with salmon & mango.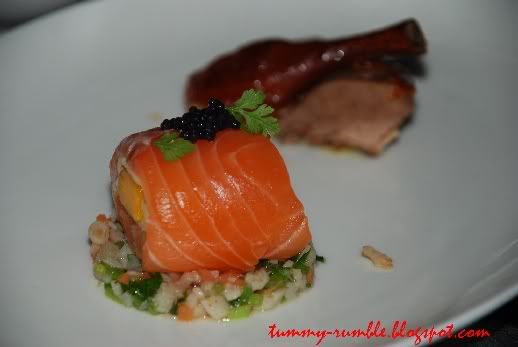 Smoked Oolong Tea Sha Tian Pigeo & Golden Roll Stuffed with Salmon & Mango


I must say, the pigeon was somewhat good. It had a crispy outside, and the meat wasn't tough. However, the bone in the middle either gave me a choice of leaving a large portion of meat behind or dirtying my hands. I chose the latter. I would rather not dirty my hands in a fine dining restaurant. The roll somewhat resembled a type of fusion roll found at most
Japanese Restaurants
.
Next came the soup. It was a sharks fin soup (sorry shark) with Chinese mushrooms, dried scallops, clams and sea cucumber.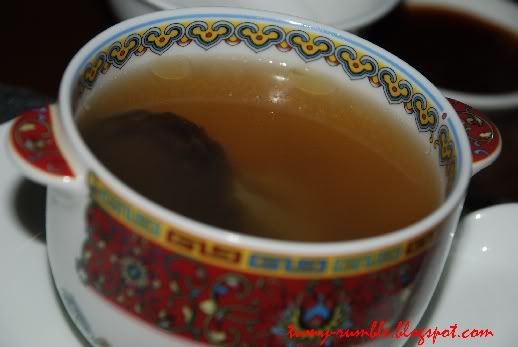 Double-boiled Superior Shark's Fin with Sea Treasure in Supreme Broth


The soup was somewhat tasty but at the same time quite light, which is typical of a Chinese double boiled soup. I quite enjoyed the multitude of flavours that was playing around my palate.
Next came the main course; a combination of crispy seared foie gras & Wagyu sirloin with US asparagus & honey chives potato.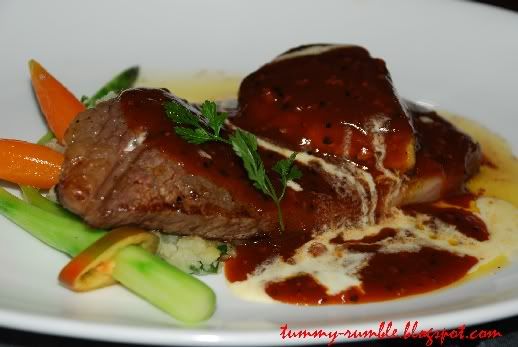 Combination of Crispy Seared Foie Gras & Wagyu Sirloin with US Asparagus & Honey Chives Potato
Normally, 2 strong ingredients wouldn't go well together but I feel that the combination of Foie Gras and Steak was not bad. I really did enjoy the Foie Gras, it was crispy and nicely browned on the outside and had that soft melt-in-your-mouth texture on the inside. The problem with this dish was with the beef. The steak contained too much excessive fat and the meat wasn't tender. A slab of Wagyu with a good marble score usually has a large amount of fat and meat in between each other which makes it soft. This however, had pure spongy fat around the meat and not in between the meat. I would guess that this wagyu probably only had a marble score of 2-3 only.
Note: Wagyu is a species of cattle. Wagyu doesn't mean the meat is always soft and tender. Always ask for the marble score if you are paying a high price for your steak.
The next dish was the stuffed cabbage heart with mushrooms & vegetarian duck in brown scallop sauce.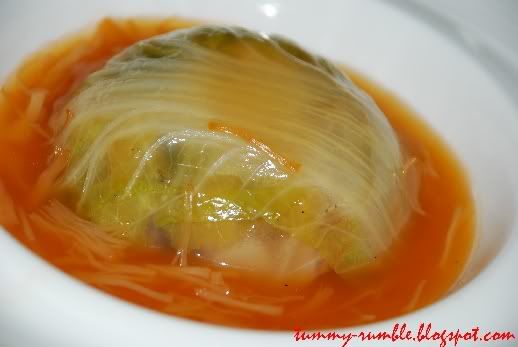 Stuffed Cabbage Heart with Mushrooms & Vegetarian Duck in Brown Scallop Sauce


This dish looked quite pretty in appearance as the cabbage was specially folded in to make a nice round dome. The vegetarian duck in the cabbage tasted more like meat than flour. No wonder there are more and more vegetarians out there these days.

Next was the noodle dish. My guess is that Chinese restaurants usually serve noodles/rice as the last course before dessert to ensure that the diners do not go home with a half-full stomach.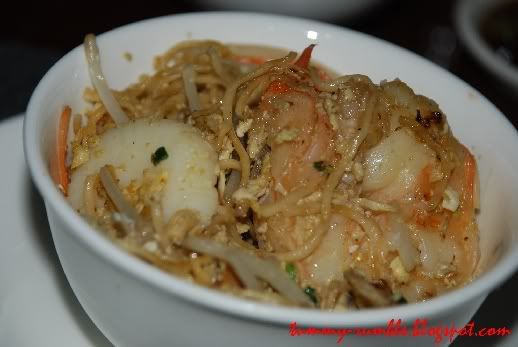 Noodles with Assorted Seafood & Vegetables, Hong Kong Style


The noodles tasted good, and came with nice big and succulent prawns. The scallops and clams were also big and juicy. One of the fine things about dining at hotels is that the ingredients are usually larger and better in quality compared to other non-hotel restaurants. However, the price you're paying is higher as well.
We ended our meal with the dessert; ice-cream with some condiments.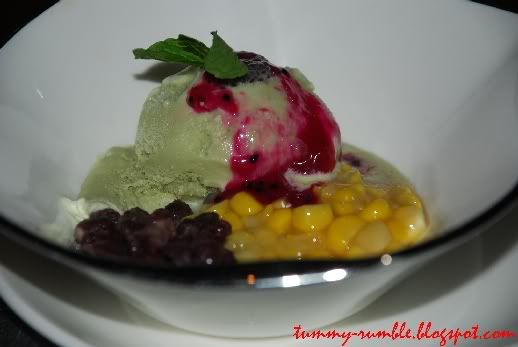 Mint Ice-Cream with Red Beans, Corn & Nata de Coco
The dessert was a little disappointing. The ice-cream on its own was fine. However, eating it with the other condiments was a wrong choice. It definitely didn't match well with each other.

Anyway, the dinner was quite good, but in terms of value for money, I would suggest you find somewhere else to eat. I have been here a couple of times before. Definitely one of the better Chinese fine dining places you can find around Kuala Lumpur. After all, you are paying for the environment as well!

Note: Hilton Kuala Lumpur Hotel is part of the Hilton group, which allows you to get discount for food and non alcoholic beverages based on how many diners are present. (100/number of diners) = percentage of discount allotted. Minimum of 2 people. For more than 10 diners, a discount of 10% will be allocated throughout.
Example: 2 people would entitle you to a 50% discount. 3 would be 33% discount.
Attire:
Smart-Casual
Restaurant rating
: 8/10
Pricing
: About
RM160
per person.
For Dim Sum:
About
RM60
per person.
*Ratings are based on ambience, service, value and food quality for the price you're paying. Opinions expressed are solely based on my personal experience
Map
to Chynna, Hilton Kuala Lumpur Hotel
Address:
Chynna Restaurant,
Hilton Kuala Lumpur,
3 Jalan Stesen Central,
50470 Kuala Lumpur.
Contact:
Telephone number: 03-22642264 / 03-22642592
Opening hours:
Monday-Friday 12:00 PM - 10:30 PM
Saturday & Sunday 11:00 AM - 10:30 PM