>> Dec 31, 2009
Since the day my uncle promised me this wonderful lunch 6 months ago, I have been waiting long and patiently for this day. A week ago, I was given the task of booking the seafood restaurant of my choice. Finally, I decided to reserve a table at Unique Seafood over South Sea & Pantai Seafood Restaurant.


Cafe & Restoran Unique Seafood 23

This restaurant has a whole array of seafood tanks containing seafood from all around the globe, hence the name Unique Seafood. Their seafood ranges from the ordinary mud crabs to various types of fish (Goliath Grouper aka Long Dan, tiger grouper, red snapper, kelah, river patin and more), Alaskan King Crabs, Australian King Crabs, Snow Crabs, Geoducks (pronounced gwee-duck), Australian/Boston/Sabah Lobsters etc.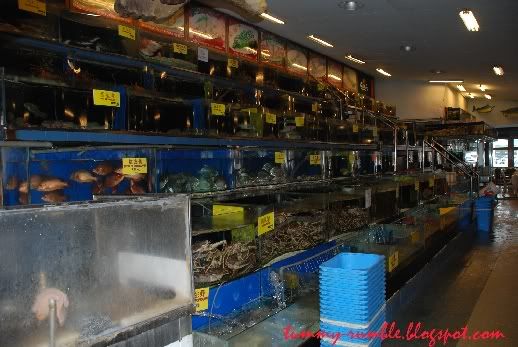 The vast variety of seafood
Patrons get to choose their seafood of choice, which will then be slaughtered and cleaned before being sent to the kitchen to be cooked.

Today, I had the opportunity to savour the Alaskan King Crab. There are many types of Alaskan King Crabs
(I will do a post on it another day)
. Today we had the Golden / Bronze Alaskan King Crab and a couple more dishes. I'll leave the photos to do the talking.

We started the meal with the lobster and geoduck sashimi. We opted for the Australian Lobster

(RM 288 per kg)

which has a much better texture than the local and American lobster. We also chose the Californian geoduck

(RM 168 per kg)

over the Mexican geoduck (I wouldn't know the difference as I was still a geoduck virgin till today).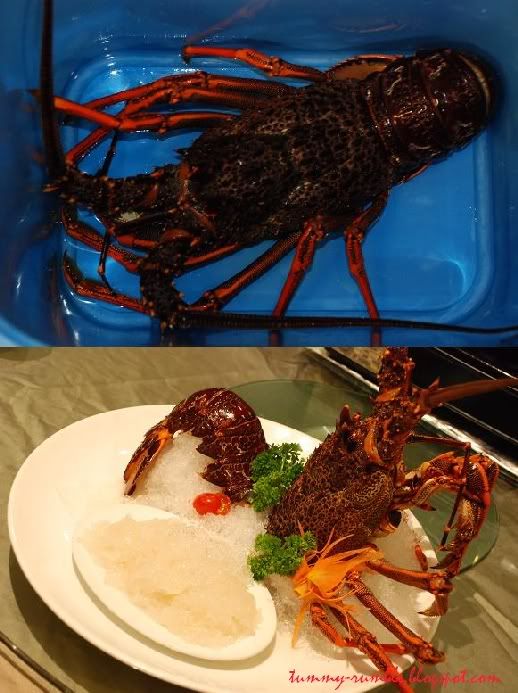 Australian Lobster Sashimi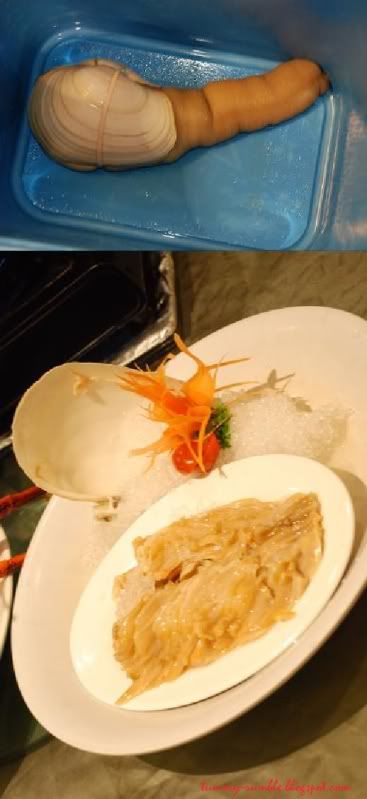 Californian Geoduck Sashimi
Sashimi dishes at Chinese Seafood Restaurants are usually served with a herb based soup. This is for people who do not fancy raw seafood. My personal favourite is to have the lobster and geoduck half cooked before consumption. Simply dip them in the hot soup for about 3-5seconds, then take them out and dip them in some wasabi and soy sauce. Ahhhhh, heavenly. The geoduck tasted somewhat sweater than abalone but at the same time, tougher as well. It resembles a giant penis which will become flacid once taken out of water (couldn't resist mentioning that).
Note:
Do not overcook the geoduck as it will turn rubbery and tough
Our next dish was live scallops
(RM18 a plate)
.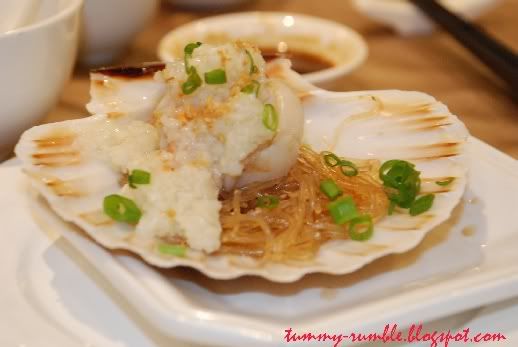 Scallops Cooked with lots of garlic and Tang Hoon
The first thing I did was to chuck all the garlic away. Garlic with scallops? The strong overpowering flavour of the garlic would mask the sweet, mild scallop flavour. Why waste the live, big and juicy scallops? Lots of garlic should only be used when the seafood is not fresh, which was not the situation today.
Next came out kam heong La-la
(RM36 for the whole plate)
.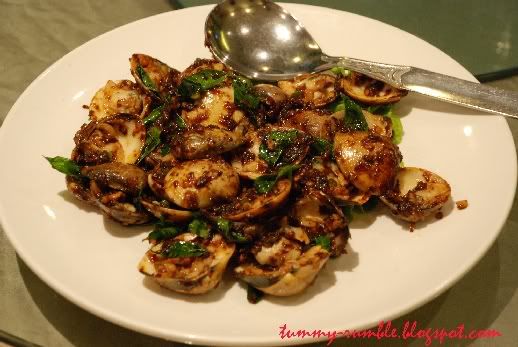 Kam Heong La-la
The clams were big and nice. The kam heong flavour (dried prawns, dried chilli and lots of garlic) certainly was good.
Then came the crab dishes.
Australian King Crab Cooked in Superior Stock
I called this the 'gangster crab'. This is because the crab has very short legs but a gigantic body and exceptionally large pincers. Its sort of like a dense and heavy monster compared to the Alaskan King Crab. People usually go for the Australian King Crab
(RM 298 per kg)
for its large amount of roe. The orangy, semi-red roe was supposed to be richer, softer and stronger in taste than the ordinary mud crab egg. The sauce for this dish wasn't over powering, thus enabling us to savour the taste of the crab. The sauce tasted like the same base for shark's fin soup minus the shark fin but somehow, it was nicer. In my honest opinion, the meat texture for this crab tasted comparably similar to the mud crab.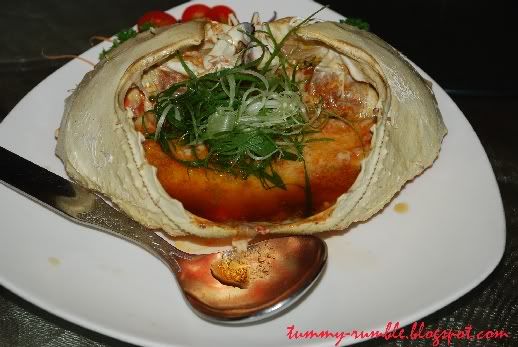 Steamed Egg with Australian King Crab Roe
I really like the soft texture of the chicken egg with that rich, soft and orangy crab roe. The good thing about a large crab like this is, with its giant shell, there was more of the best part of the crab (the inner flesh surrounding the shell). True crab connoisseurs go for this part of the crab as it has the most crabby flavour in the crab (this part is usually orangy in colour, resembling cooked crab shell colour).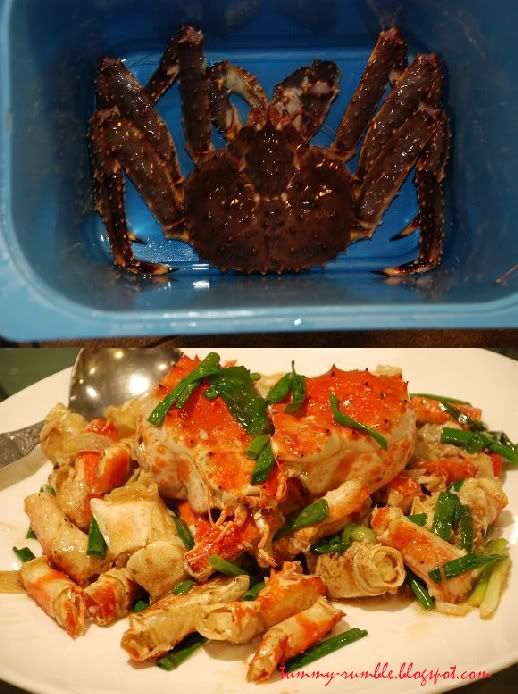 Spider Crab (Bronce Alaskan King Crab) cooked with ginger and spring onions
The Spider Crab
(RM218 per kg)
had the taste of the Australian Lobster and Mud Crab fused together. Like the Australian Lobster, it has a very soft shell that was chewy but hard to break. However, unlike the Australian King Crab, this crab has very long and muscular legs but a much smaller body and tiny pincers. I quite fancy this dish as the crab flesh had that nice chewy bite to it. The legs of the crab were full of meat as well.
Then came the remainding of the lobster, fried with salt and pepper.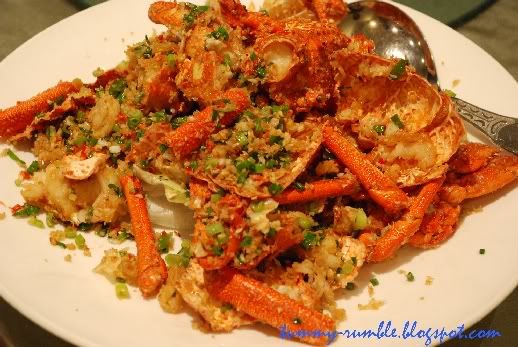 Australian Lobster Fried with Salt and Pepper
A few months back, I sampled lai lui har (mantis prawn) cooked in this style at South Sea Restaurant. I really like seafood cook in this style. However, my opinion is seafood cooked in salt and pepper will overpower the natural taste of the seafood, which is what people are paying good money for in the first place. Most restaurants offer lobsters cooked in this style or either with Yee Mein, which is also nice as well.
Anyway, this lunch fill me right up to the just full but not bloated level. This would probably be one of the most expensive lunch I will ever eat in my life (price of the lunch will not be disclosed).
As this is my first time to
Unique Seafood
, I would have to say they provided us superb service. There was a waiter always on stand by in our room to fulfill our needs (probably due to the vast amount of seafood we ordered). I must say, for such an expensive lunch, one of the more value for money seafood was the Alaskan King Crab. Although still quite pricy, it didn't cost as much as the other seafood but tasted one of the best among the other dishes. Definitely a good choice to go for.
Restaurant rating
: 8/10
Pricing:
About
RM50
per person (if only mud crab is ordered, any other seafood and the price will fly sky high).

*Ratings are based on ambience, service, value and food quality for the price you're paying. Opinions expressed are solely based on my personal experience
Map
to Unique Seafood
Address:
Cafe and Restoran Fresh Unique Seafood 23,
Lot 9B-3, Jalan Kemajuan,
Section 13,
46200 Petaling Jaya.
Malaysia.
Contact:
Telephone number: 03-79602088, 03-79602066
Fax: 03-79602099
Website:
www.unique-seafood.com.my
Opening hours
11.45am to 2.30pm / 6pm to 10.30pm daily.