>> Dec 7, 2009
I've been having too much good food in Malacca. I think I'm growing fat. Anyway, this place is better known as the Bunga Raya Oh Chien by the Malaccans. This stall has been operating for more than 70 years, dating back to before the Japanese Occupation. It has been operated by the Lim family for 3 generations now. I still find that this stall sells the best Oh Chien in Malacca, even though many other stalls have sprout up all around the city.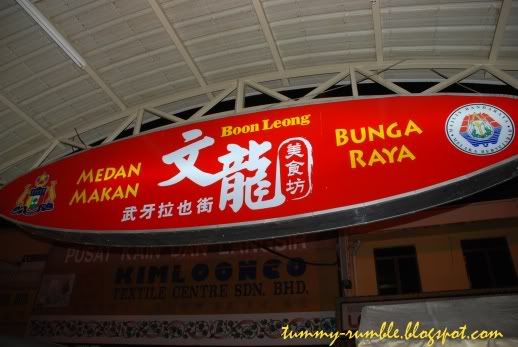 Bunga Raya Oh Chien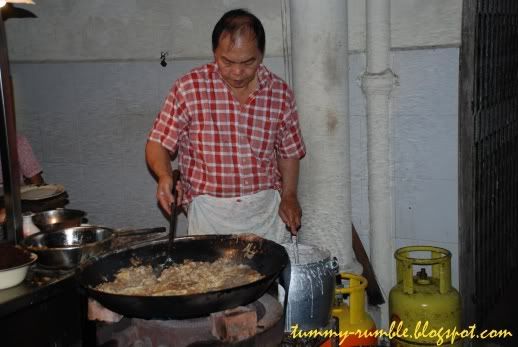 'Oh' means oyster in Hokkien. 'Chien' means fried. Joined together, it means fried oyster (*wonders how the egg came in). The difference between Oh Chien served in Malacca and KL/PJ is that the Oh chein here comes with a layer of flour. I prefer the Malaccan Oh Chien. I still feel that it is far superior to the KL version which is simply eggs with oysters. Even the Penang version of the dish doesn't come close.
Sorry penangnites!
Anyway, let me take you through a step by step process on how the omelette is made.
>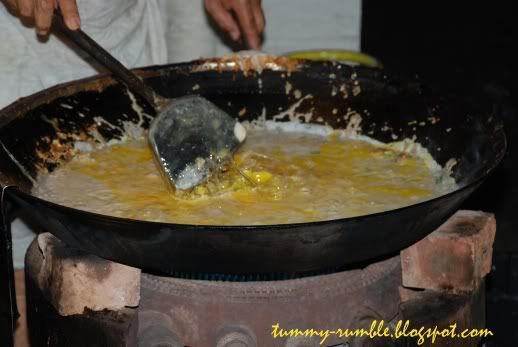 Mr
Lim
places a layer of (tapioca flour mixed with water and spring onions) onto the hot pan. He then cracks about 8-10 eggs onto the pan to form a layer of the egg above the flour mixture.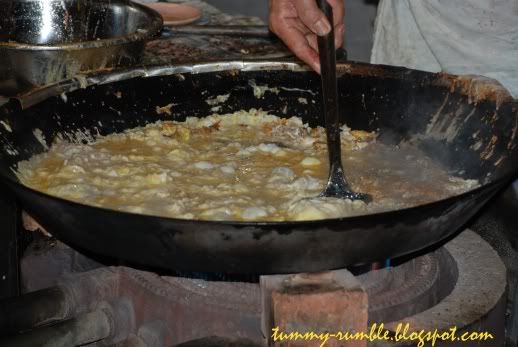 When the flour and egg mixture cooks a little, it becomes firm, making it easier to turn. Mr
Lim
then flips the mixture to ensure that both sides are equally cooked. He then mixes in the chili paste to give the eggs a slightly spicy taste. (Mr
Lim
makes his own chili paste by frying dried chillies in oil.)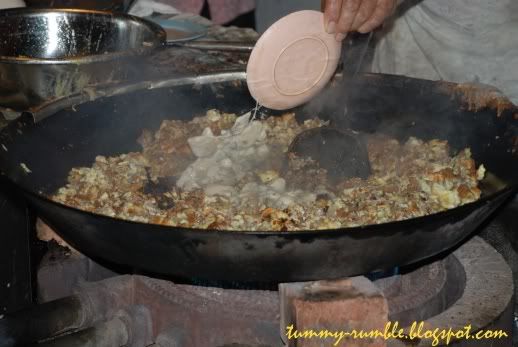 Mr
Lim
then chucks in the oysters and mixes the content of his pan evenly. The final step is to wait for the
omelette
to brown before serving.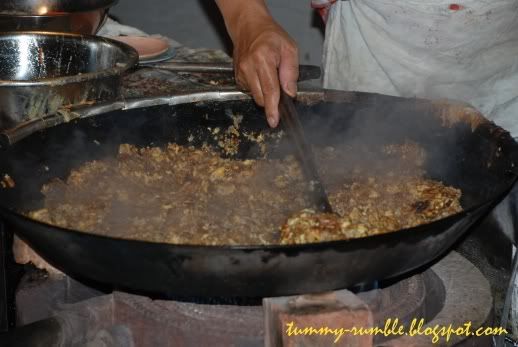 When the
omelette
is brown and crisp, Mr
lim
then
ladels
them out onto a plate, which will then be garnished with lots of coriander leaves. Most customers order take away, but one can choose to dine in the coffee shop next door.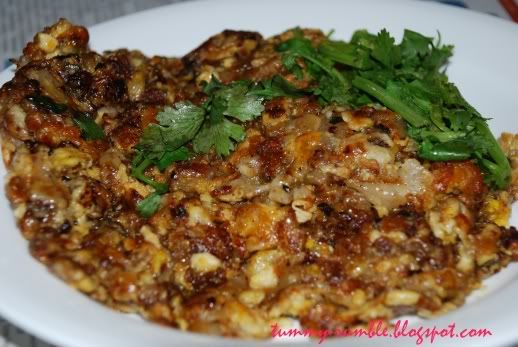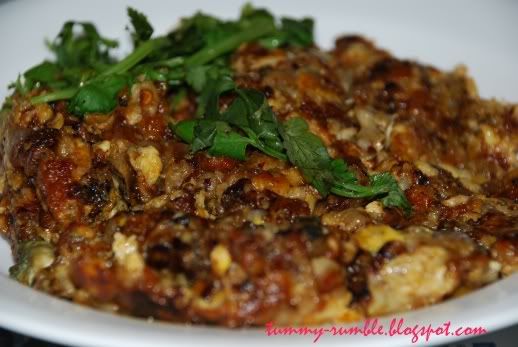 Oh Chien fried to crisp


Each plate of the oyster omelette is priced at
RM6
. The portion is relatively big.
This is my favourite Oh
Chien
stall in Malacca. I would most certainly patron this place again. In fact,
every time
I come to Malacca, I make sure I have time to visit this place.
Note: This place is always packed. Expect to wait for 20-30
mins
before being served.
Restaurant rating:
8/10
Pricing:
Under
RM10
per person
*Ratings are based on

ambience

, service, value and food quality for the price you're paying. Opinions expressed are solely based on my personal experience
Map
to
Bunga
Raya
Oh
Chien
Address:
Bunga Raya food court
Lane off
Jalan
Bunga
Raya
75100
Melaka
.
Opening hours:
7pm-12pm. Closed on Tuesdays