>> Dec 23, 2009
Last Sunday, Feeq invited Kelvin, The Nomad Gourmand and me for porridge at Hon Kee Restaurant. We were supposed to meet there at 10am, but being Malaysians, we reached there about a half hour later.

Eric Wong, owner of the Damansara Uptown branch recently opened about 6 weeks ago. The Wong family initially operated in Jalan Hang Lekir, where Eric's grandfather started selling porridge 60 over years ago. Since then, they have erected new branches at Lot 10 Hutong (lower ground floor) and Damansara Uptown.


The porridge is freshly cooked in huge steel pots early in the morning, and then separated into smaller pots to be mixed with the ingredients of choice upon serving. The porridge comes in a choice of raw fish
(RM5.50)
, cooked fish
(RM5)
, pork meatballs
(RM5)
, pork innards (
chup
chap)
RM5
, shredded chicken
(RM5)
, century egg
(RM5)
, or any combination of the ingredients above
(RM6.50)
.
We started off with some curry
chee
cheong
fun with pork. This is one of the only places I know that serves pork curry. It certainly was different to that usual beef/mutton/chicken/fish curry.
Chee

Cheong

Fun with pork curry


We were then served a combinations of
Chinese
fried crullers. I didn't quite fancy any of those
Chinese
fried stuff other than the
Yau
Cha
Kwai
which went quite well with the porridge. Its not that I didn't like the crullers served here, I didn't even try them. Its just that I'm not really a big fan of those kind of stuff.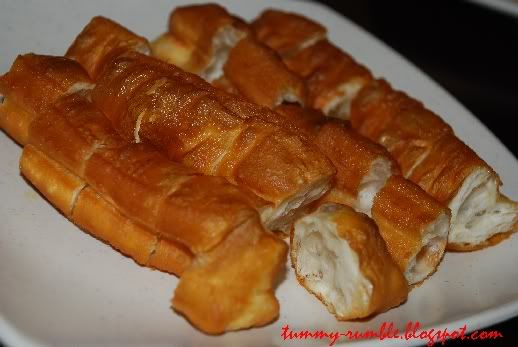 A plate of

Yau

Char

Kwai



We then proceeded to the man draw of this shop- the 'Raw Fish Porridge'. The fish used to make this dish is called Wan
Yu
(
Haruan
in Malay, a species of
snakehead
). The Wan
Yu
is believed (by Chinese) to contain medicinal
benefits
, especially to accelerate wound healing. The fish is bought daily from their dealer in the market to ensure that the fish is especially fresh. The fish is thinly sliced and drizzled with sesame oil.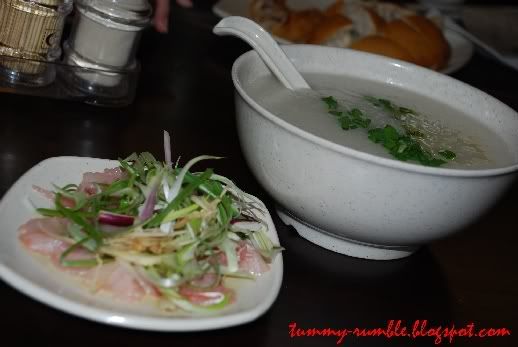 Raw Fish Porridge


We sort of chucked all the fish in to stir before consumption. However, some people may choose to slowly dip the fish into the porridge one at a time to ensure the fish is not overcooked
.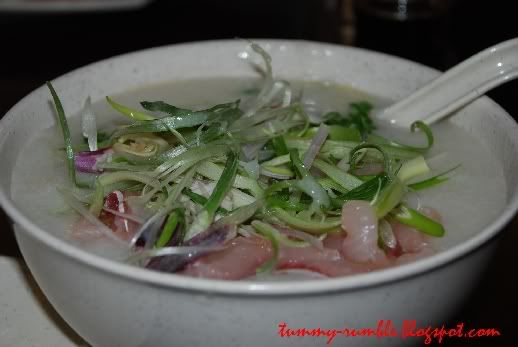 The porridge was smooth with that nice and almost perfect consistency. I'm not sure if the porridge was blended to achieve such a texture. Some people prefer to taste the soft diluted rice lumps in their porridge but I prefer it this way.
We also requested to try the century egg and chicken porridge.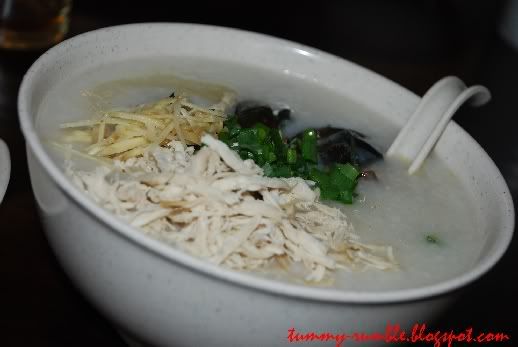 Century Egg and Chicken Porridge


I must say, it tasted somewhat pleasant. Nothing really to shout about.
My conclusion, this place is definitely a good place for porridge lovers. I'm not really a big fan of porridge myself, but I must say I sort of enjoyed the raw fish porridge at
Hon

Kee

Restaurant
.
Special thanks to Eric Wong for the invite!
Restaurant rating
: 7/10
Pricing:
About
RM12
per person
*Ratings are based on

ambience

, service, value and food quality for the price you're paying. Opinions expressed are solely based on my personal experience
Map
to Hon
Kee
Restaurant
Address:
No71,
Jalan
SS21/1A,
Damansara
Utama
,
47400
Petaling
Jaya
,
Selangor
D.E,
Malaysia
Contact
Telephone number: 012-2380362
Website:
http://www.honkeeporridge.com/
Opening Hours:
7am-10pm daily