>> Nov 30, 2009
I was supposed to go to Sage @The Gardens today but apparently someone was sick of western food. So we settled for Jap at Restaurant Jyu Raku @Subang Jaya today. We usually patron this place instead of Rakuzen next door. Both of them differ slightly in terms of food and pricing.

Jyu Raku is set up by the ex-head chef of Rakuzen Subang Jaya, which is situated just next door. Apparently he left Rakuzen to team up with the owner of the shop lot. They're currently doing quite well if you ask me.

Jyu Raku imports all their food specially from Japan. Even their vegetables and those edible flowers that come along with the food are from Japan.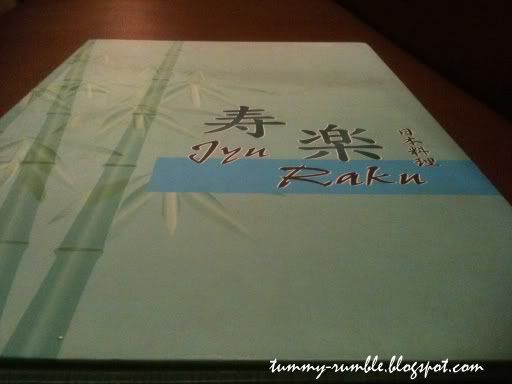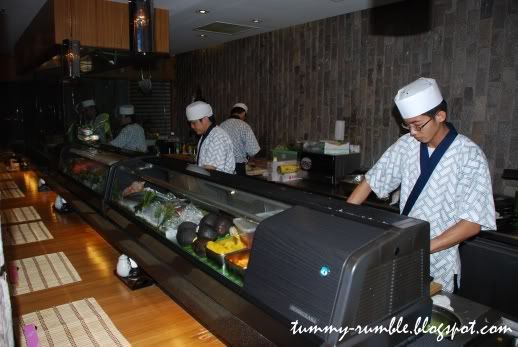 I must certainly say that service at this was impeccable. This is what happens when you're on the same row of shop lots as another 2 Japanese restaurants. Tea was served right upon entering. The waiter then came along to recommend us what was good that day.

We started off with a salad to share among the 4 of us before proceeding to 2 rolls.


Avocado To Seafood

Salada

RM28

(avocado and seafood salad)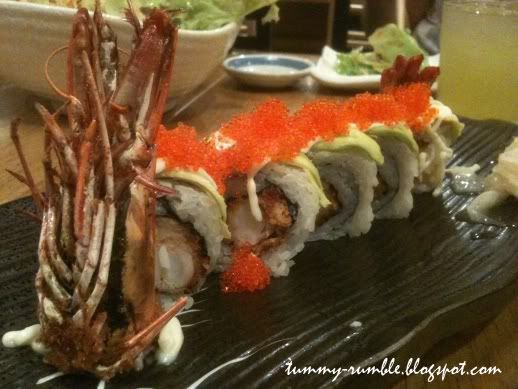 King Roll RM28

(better known as dragon roll)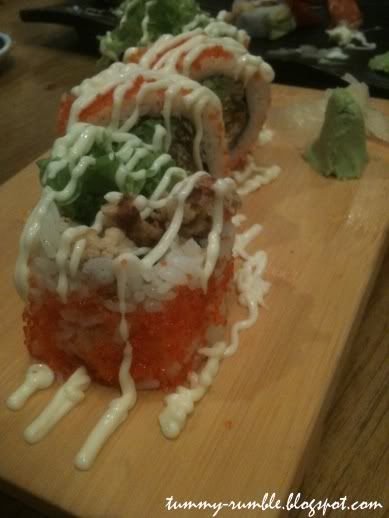 Spider Roll RM28
(soft shell crab roll)
I have to say, the rolls were pretty good. The rolls here contain a good amount of rice to ingredient ratio, unlike some other places who just stuff it with rice.
Next came the
hand roll
, tempura and everything else!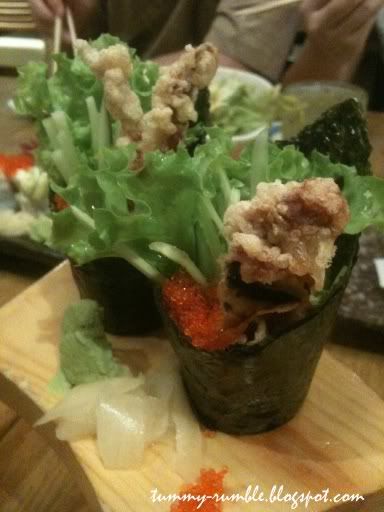 Soft Shell Crab

Temaki

RM9
(each)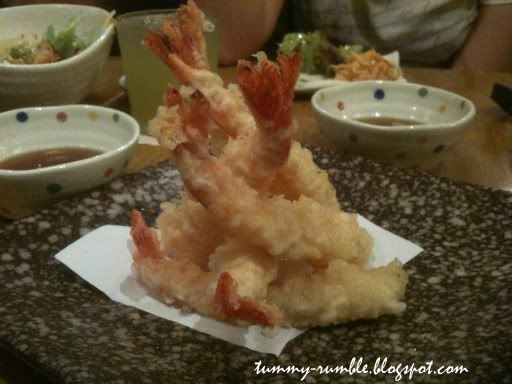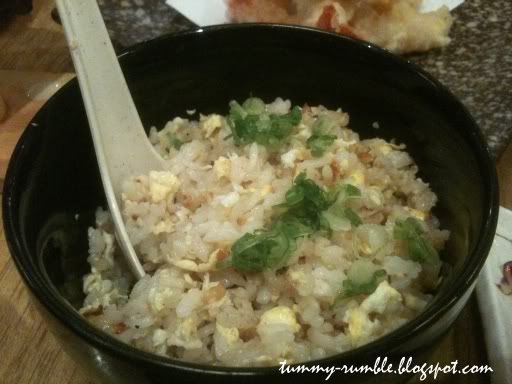 Garlic Fried Rice RM9
Niku

Soba

RM22

(hot
soba
with beef)
We also ordered a grilled fish which was only found around the seas of Japan. The fish was in season. I forgot what it was called in
Japanese
but nevertheless it tasted good. Lemon really does wonders to seafood.
Grilled Fish RM65

(sorry I forgot the name)
We were too full for dessert. The last time I was here, we had the green tea ice-cream with red bean. I'm sorry I do not have a picture of that.
Overall, I must say that this is one of the better
Japanese
restaurants in town. Our bill came up to about RM240. I must say that I am more willing to spend money on quality food than
gorge
myself at some buffet outlet. They sum up to about the same price anyway. I will most certainly visit this place again.
Restaurant rating
: 7.5/10
Pricing
: About
RM70
per person
Set Meal Pricing: RM40
per person.
*Ratings are based on

ambience

, service, value and food quality for the price you're paying. Opinions expressed are solely based on my personal experience
Map
to
Jyu
Raku
restaurant.
Address:
13,
Jalan
SS15/5A,
47500
Subang
Jaya
,
Selangor
D.E,
Malaysia.
Contact
Telephone number: 03-5633 3819
Opening hours
11.30am-3pm, 6-11pm on Monday to Thursday.
Friday, Saturday, Sunday and public holidays, open from 12pm-10.30pm
Read more...