>> Jan 3, 2010
Formerly known as Quilin Restaurant on SS15/5A, Restaurant Pomander has long established its long line of regular patrons. Restaurant Pomander specialises in Pork Mee (Pork Noodles).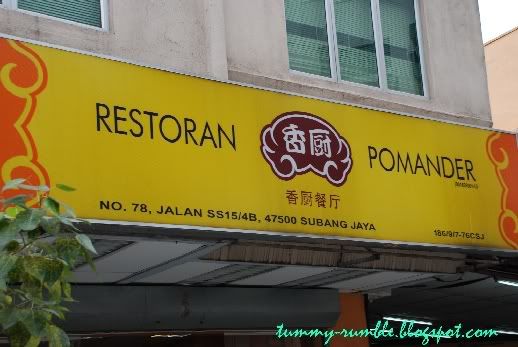 Restaurant Pomander SS15 Subang Jaya
A couple of weeks back, I met Rachel for lunch at this place. She being half a 'dunggu', lost her away again although she's been here a couple of times. Anyway, I ordered 2 bowl of noodles long before she arrived as this place as an infamously long queue.
The wait for a good bowl of noodles is about 30minutes on an average weekday. On weekends, the wait could reach up to 1 hour. However, one can always see regulars queueing up patiently for their bowl of goodness. Its as if there's coccaine in the food (I doubt there is, in fact I'm quite sure there isn't). There is a choice of Yellow Mee (the common yellow noodles), mee hoon (Bihun) and kuey teow.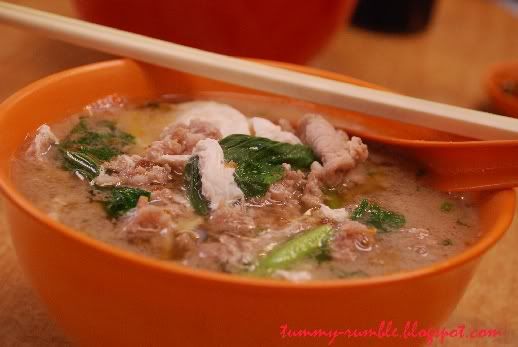 Pork Noodles with egg, small (Kuey Teow)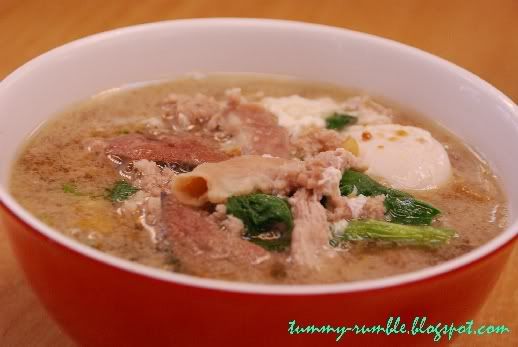 Pork Noodles with egg, large (Kuey Teow)
Yea, I know. the large bowl of pork noodles look smaller than the smaller bowl, but I assure you, it was the angle of the shot. Anyway, a small bowl of the noodles is priced at
RM5
, whereas the big bowl goes for
RM5.50
. A poached egg with the noodles cost an additional
RM0.50
. I personally prefer my pork noodles with an egg.
The pork noodles were good, like usual. The noodles came laden with minced pork, some sliced pork, liver (I opted for no liver) and lots of Chi Yau Char (lard fritters- pork fat fried till crispy). The soup was very porky and flavourful, but the thing I don't really understand is how does boiling pork/pork bones make the soup sweet? My conclusion is that a vast amount of MSG (ajinomoto) is being used to flavour the soup, hence the thirsty sensation after consuming the soup.
Anyway, this visit was the first time I sort of felt the over-saturation of MSG. I'm not sure if I'm willing to indulge in such a bowl of noodles in the future. However, if you take the MSG out of the equation, the noodles at this place sure beat the crap out of
Restaurant Sun Sea
in OUG.
Restaurant rating:
8/10
Pricing:

Under

RM10

per person


*Ratings are based on ambience, service, value and food quality for the price you're paying. Opinions expressed are solely based on my personal experience
Map
to Restoran Pomander
Address:
Restaurant Pomander
78, Jalan SS15/4B,
47500 Subang Jaya,
Selangor D.E,
Malaysia.
Opening hours:
Monday-Sunday: 7am-4pm. Days off not fixed