>> Jan 20, 2010
A couple of days in Kuala Kubu Bahru (KKB) is gonna get one to do something stupid (like traveling up to Bidor for duck noodles). Well, can't blame me eh? What else is there to do in KKB? I tried going to the waterfall, illegally fishing at the dam and searching for food around. KKB is just 'sad'. No offence to those whose home town is KKB.

Anyway, my friends managed to persuade me to drive up to Bidor to eat the so called 'best' duck noodles in Malaysia. The journey from KKB took about 1 hour (can't imagine actually traveling up from KL just for the noodles).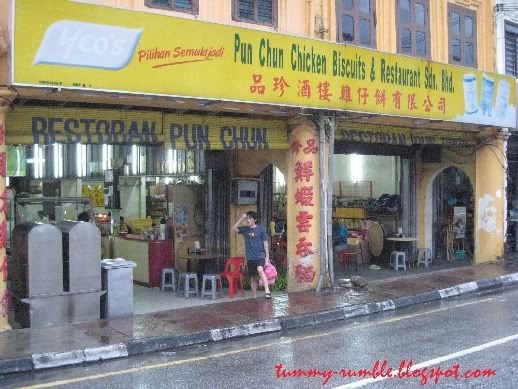 Pun
Chun
Chicken Biscuits & Restaurant
Pun
Chun
Chicken Biscuits & Restaurant
has been around for more than 70 years now. They specialise in their herbal duck noodles (
ngap
pei
meen
) and their Chicken Biscuits (
kai
zai
peng
).
We started off with some Wu
Kok
(yam/taro puff stuffed with meat).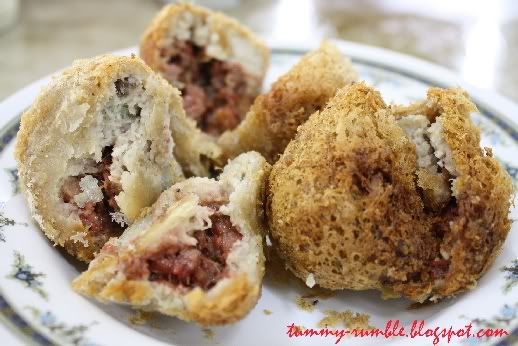 Priced at
RM1.60
each, they were quite good. They had that flaky texture on the outside, accompanied by that burst of yam upon sinking
ur
teeth into. However, I have to say the SS3
pasar
malam
(every
tuesday
) serves a better Wu
Kok
than this.
Next, we went for their all famous noodles.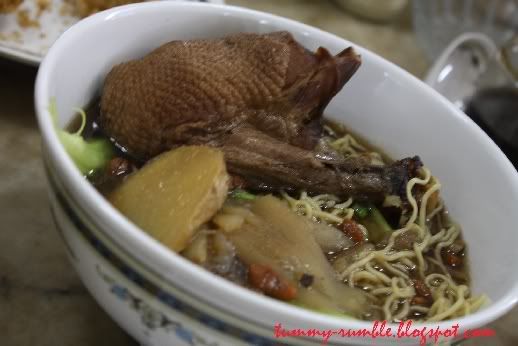 Herbal Duck Noodles (Soup)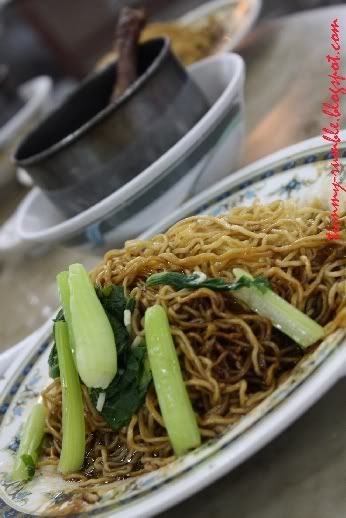 Herbal Duck Noodles (Dry)

The verdict? The noodles were springy and had their nice bite to it. In fact, the noodles were too springy that I suspect the use of artificial substances in it. Anyway, regardless of what it was made with, the noodles were good. The soup had was light and tasty, with flavours of the various
chinese
herbs (
kei
chee
,
pak
kei
, tong
su
, dried
longan
and more). It was quite nice, but probably contained quite a bit of MSG (I think it did).
Priced at
RM 7.30
for medium and
RM6.60
for small, the noodles were somewhat expensive. OK, the duck was expensive but not the noodles. Plain noodles would cost about RM1.80 (I know this because my friends liked the noodles so much that we came back 2 hours later for plain noodles). The medium portion is actually relatively huge. I would certainly like to know how big a large portion would turn out to be.
Before leaving, we decided to get some Chicken biscuits for our families.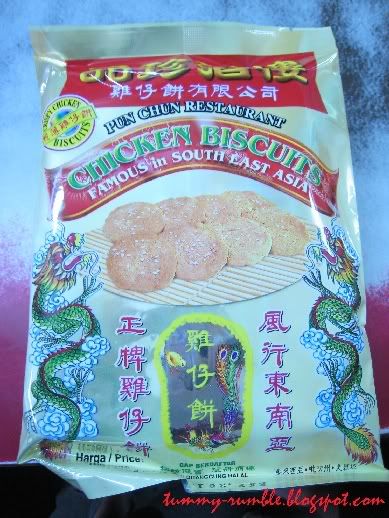 Chicken Biscuits

If my memory served me right, the biscuits were priced at
RM2.80
per pack. I am not a big fan of this sort of
chinese
biscuits but I have to say it was not bad.
Before leaving
Bidor
, we bought from some fruits from the fruit vendors outside the restaurant. The fruits were superbly sweet and were not too expensive (bargaining is possible here). Try going for their
pomallo
, guavas and
cempedak
.
I personally feel that it was not worth the trip specially to
Bidor
, just for the noodles. It was actually somewhat a let down to what I've been hearing about this place. If I was on the way to
Penang
or
Ipoh
, it certainly woulve have made a nice stop for lunch.
*Special thanks to Joo Hor for letting me hijack his camera.
Restaurant rating
: 7/10
Pricing:
About
RM10
per person
*Ratings are based on

ambience

, service, value and food quality for the price you're paying. Opinions expressed are solely based on my personal experience
Map
Pun
Chun
Chicken Biscuits & Restaurant
Address:
Pun
Chun
Chicken Biscuits (
Restoran
)
40, Main Road,
Bidor
,
Perak
.
Contact:
Telephone number: 05-4341554
Opening Hours:
5am-10pm daily.
(Closed on 1st & 2
nd
day of Chinese New Year and 16
th
& 17
th
day of the 8
th
month of the lunar calender)