>> Jan 22, 2010
Looking for the best Ice Kacang (Chap Shuit) aka ABC (Air/Ais Batu Campur) in KL? Well, I'm not actually certain if its the best, but it certainly was a very good bowl of ice kacang. This place is one of those hidden gems where churning out good food but is not so well known. It is located along Jalan Kepong Bahru, and appears to be one of those shabby looking places that one would not stop to dine in if nobody pointed out that they serve a superb ice kacang. Anyway, this place is located 2 stalls from the T junction at Jalan Kepong Bahru, beside Loong Kei 'bak kua' (dried meat) shop.

Note: there is ample parking space just across the road from this stall.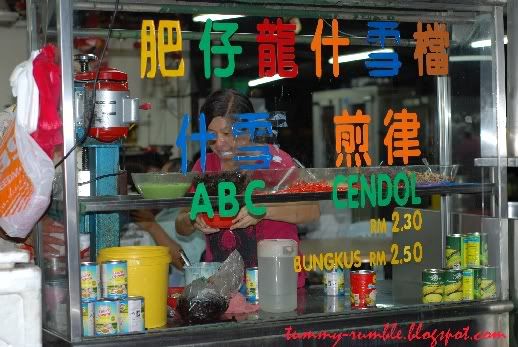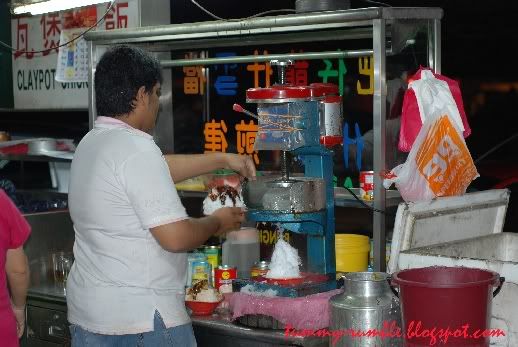 Fei

Zai

Long Ice

Kacang
(looks at the guy then *wonders* where the stall got the name from)
This shop also serves Chinese fried noodles (their
Hokkien
Mee
was not bad), Satay and grilled chicken wings. As we actually came to sample their famous mixed ice, we ordered a bowl each. The good woman was kind enough to keep dishing out a bigger bowl of
ais
kacang
after she say me trying to snap a good shot of it with my camera.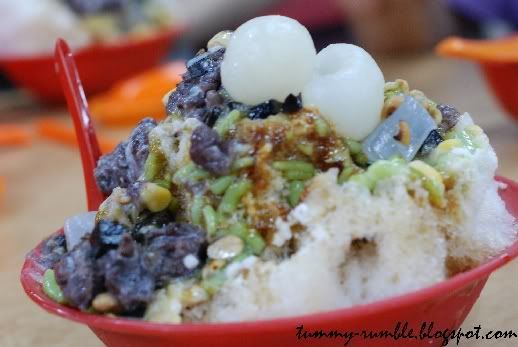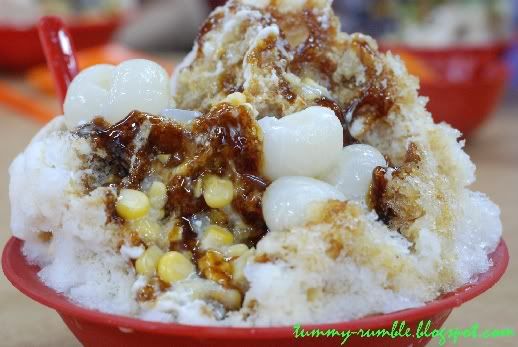 A good bowl of 'Air Batu Campur'
The ice was so finely
shaven
that it
literally
melted in your mouth. Accompanied by that rich gooey
gula
melaka
, just heavenly. This ice
kacang
also came without that pinkish rose syrup crap that gives that artificial flavour and colour to your ordinary ice
kacang
. It had a good mix of cincau (leong fun/black jelly), cendol, red beans, corn and longan, typical of an ordinary ice kacang. The reason this bowl of ice kacang stands out is because of their finely shaven ice and good gula melaka. A bowl of ice
kacang
was priced at
RM2.30
. One could opts for extra ingredients which would cost
RM0.50
more.
The stall serving noodles also dishes out some average noodles (not exceptionally good, mind you).
I have to say, that was one of the best ice
kacang
I've tasted in a long long time. I would most certainly make that 40 minutes trip again just for a taste of that good stuff.
Restaurant rating:
9
/10
Pricing
: Under
RM10
per person
*Ratings are based on

ambience

, service, value and food quality for the price you're paying. Opinions expressed are solely based on my personal experience
Map
to
Fei
Zai
Long
Za
Xue
Dang 肥仔龙杂雪档 (Fat Boy Ice
Kachang
)
Address:
Fei
Zai
Long
Za
Xue
Dang 肥仔龙杂雪档, (please refer to the map above for directions)
Jalan
Kepong
Bahru
,
52100
Kuala
Lumpur
Malaysia.
Contact:
Telephone Number: 016-6061566 (Ah Meng)
Opening hours:
2pm-12am daily. (Days off not fixed)