>> Jan 27, 2010
A couple of weeks back, I went for lunch with Ching Yi at The Magnificent Fish and Chips Bar in Bukit Bintang. Yes, I got lost. I'm a dungu (dummy) when it comes to directions around KL city (Anywhere else in PJ and I'm fine).

The place was situated along Bukit Bintang. Finding a suitable parking right beside the restaurant was a little tough. However, there is ample parking space at a paid parking lot right behind the row of restaurants (about 5mins walk).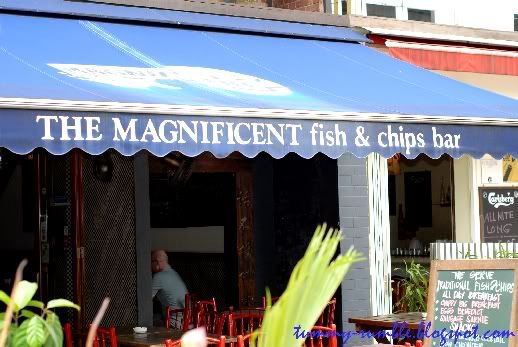 The Magnificent Fish & Chips Bar
The restaurant is like an English Bar/Restaurant serving
English
breakfast,
English
traditional fish & chips etc. However, the fish used in their dishes here are actually Australian fish (don't ask me why).
As the restaurant's name suggest, we just had to go for their famous fish and chips. There was a choice of Australian
Barramundi
(
siakap
), Butter Fish, King Fish (looks like a Tuna, has firm meat but its not a tuna fish), Parrot Fish, Gold Band Snapper (something like
Jenahak
), King George Whiting (a fish from Southern Australia), Scottish Salmon, Silver Cod and Flake (Shark Family). I am an avid fisherman hence the knowledge on fish.
Note:
please don't go for the dory, although its the cheapest, you're gonna regret it..
We had the crab cocktail and some mushy peas to share. I went for the King Fish whereas
Ching
Yi went for the
Barramundi
.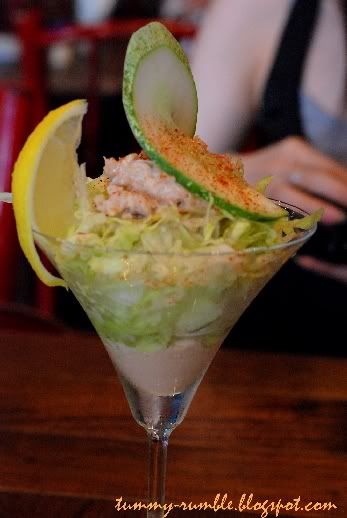 The crab cocktail
RM24
was just alright. Nothing really to say about it. It wasn't bad, but it didn't stand out either.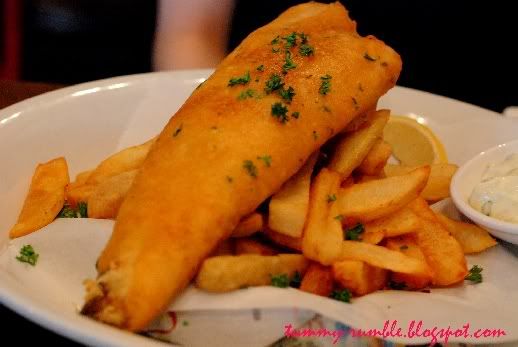 Deep Fried

Barramundi

in Batter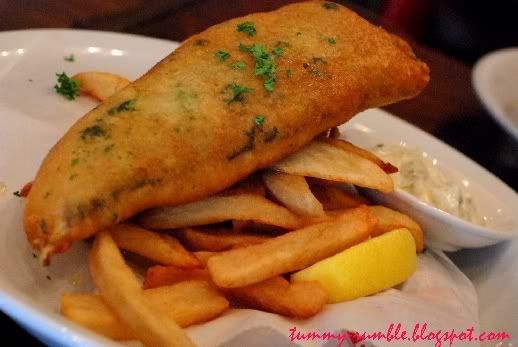 Deep Fried King Fish in Batter
The batter was crispy on the outside, but slightly soft on the inner side. Accompanied by that flaky fish flesh of the fish, it sure made a very good lunch. The fish was relatively fresh. I must say, this has to be one of the best fish and chips I've tasted around
Kuala
Lumpur
. However, on some pieces of the chips (large cut of fries), there was a slight beer after taste probably from the batter used for the fish.
The difference between the
Barramundi
RM36
and the King Fish
RM38
was that the King Fish had a much firmer meat texture.
After all
, the King Fish is off the mackerel family and can grow up to a whooping 90pounds or more. I can't really say which one is better. I guess its personal preference, some people prefer a softer fish whereas some prefer their fish meat a little more firm.
Note:
Traditional English Fish n Chips are usually made by chucking the fish of choice into a batter made up of flour, baking soda and beer and then deep frying it. From what I've tested in the kitchen, using extra cold water and things like soda water, beer or any other sparking drink makes the batter crispier.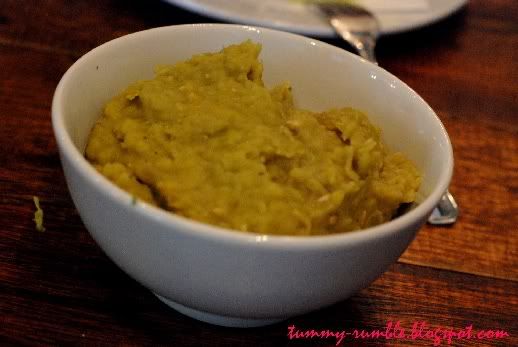 The mushy peas
RM5
had to be the bigger let down ever. After reading tones of review on how good it is, this was a total let down. Okay, I'm not really a big fan of peas. It was just as the name suggest, mashed up peas. A peas lover might find this good.
Overall, I have to say this is a restaurant I would most certainly come back to. Their fish and chips is one of the best in town. The meal for two came up to about
RM120
. It certainly was quite
pricey
for fish and chips.
After all
, it is located right in the middle of KL city, what else could you expect?
Restaurant rating:
8/10
Pricing
: About
RM65
per person.
Service: 8/10
Price : 6/10
Quality: 9/10


*Ratings are based on

ambience

, service, value and food quality for the price you're paying. Opinions expressed are solely based on my personal experience
Map
to The Magnificent Fish & Chips Bar
Address:
28,
Jalan
Changkat
Bukit
Bintang
,
50200
Kuala
Lumpur
,
Malaysia.
Contact:
Telephone number: 03 2142 7021
Website:
click here
Opening Hours:
Monday - Thursday: 8.30am-1am
Friday: 8.30am-3am
Saturday: 10am-3am
Sunday: 10am-1am