>> Jan 31, 2010
I'm a sucker for Fish Head Noodles. When my uncle informed me of this Fish Head Noodles place a stone throw from his house, I just had to go sample it.

This place has gone through a massive renovation. It used to be a shabby looking den dishing out 'tai chao' Chinese food, but has since been transformed into a cafe environment restaurant.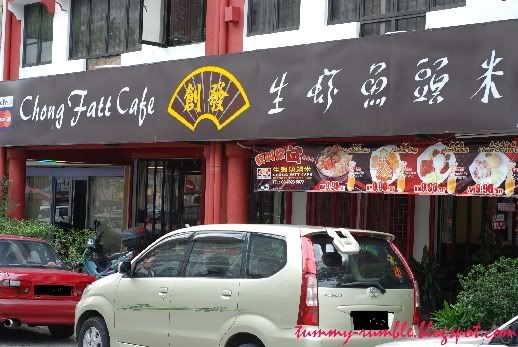 This place is sort of like those station one joints that serves Hong Kong style drinks and Western food. However, the main draw to this place has got to be their Sang Har Fish Head Noodles. A TV crew was spotted reviewing this place a couple of weeks back.
I went for Jasmine Tea and their all famous Sang Har Yu Tao Mai (Fresh Water Prawns & Fish Head Noodles)
RM13.90
. RM14 a bowl is relatively cheap for the large fresh water prawns in the noodles.
The tea was too sweet for me. Didn't really like it. It was priced at
RM5.90
. I just needed something to drink. Nothing great about it.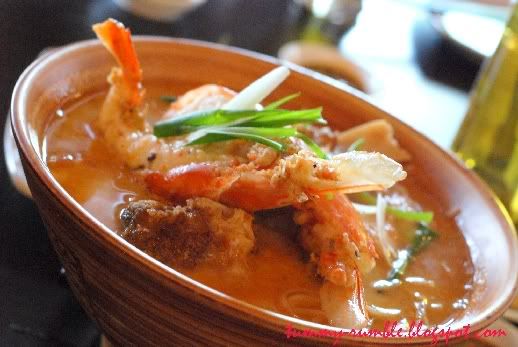 Sang Har Yu Tao Mai (Fresh Water Prawns & Fish Head Noodles)
Like I said in my
previous post
, Fish Head Noodles is made by deep frying the fish head and chucking it into fish soup, Chinese wine, preserved vegetable, tomato and a dash of evaporated milk. The orangy red colour soup was courtesy of the fresh water prawn roe. This is the same type of prawns used to make Sang Har Mein (Fresh Water Prawn Noodles).
The noodles had a strong distinct taste of evaporated milk. It wasn't as sour as the Fish Head Noodles found at Goon Wah. It sort of tasted like mass produced fish head noodles if you get what I mean. Its not that the noodles were bad, I really enjoyed it, but at the same time felt that it sort of resembled Wing Soon Fish Head Noodles in Kuchai Lama. However, the prawn roe did give a nice fragrance to the dish. The colour sure looked appetizing as well. The soup was tasty (not sure if it was from MSG) but I still drank quite a good portion of it.
Not being a big fan of Fresh Water Prawns, my auntie went for the Fish Head Noodles with Fish Maw.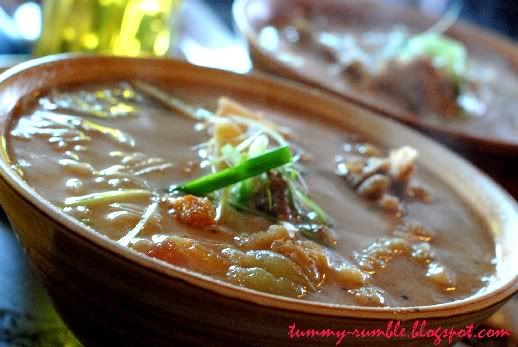 Yu Wan Yu Tao Mai (Fish Head Noodles with Fish Maw)
I didn't sample the dish but I must say it looked quite good.
Overall, this restaurant is certainly worth eating at. I wouldn't mind coming back to this place.
Restaurant Rating:
8/10
Pricing: About
RM15
per person.
Service: 7/10
Quality: 8/10
*Ratings are based on ambience, service, value and food quality for the price you're paying. Opinions expressed are solely based on my personal experience
Map
to Chong Fatt Cafe (Yu Tao Mai aka Fish Head Noodles)
Address:
18 & 20, Jalan 2/50C,
Taman Setapak Indah Jaya,
Off Jalan Genting Klang,
53300 Kuala Lumpur,
Malaysia.
Contact:
Telephone number (Main Branch): 03 4023 1088
Opening Hours:
10am-11pm daily.