>> Jan 10, 2010
My father wanted to treat a colleague for dinner and I was given the choice to pick out a restaurant. We initially planned to have dinner at Planter Jim's at Jalan Telawi 2. However, we changed our mind after seeing the restaurant half empty. Crowd attract crowd I guess. Anyway, we opted to go for Japanese food at Mizu @ Bangsar Village One.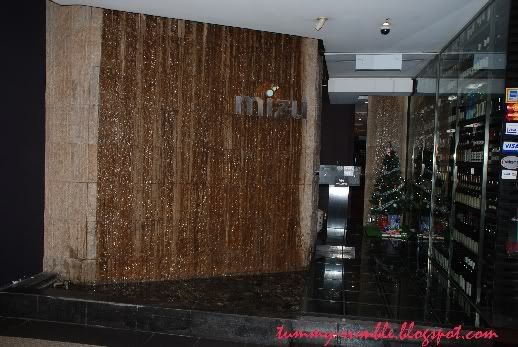 Mizu

, Japanese Fine Dining


I've been to
Mizu
for lunch a couple of months back. However, I was half broke the last time here so I went for the set lunch. This time round, I know I won't be footing the bill. Thanks dad.
We started of with a platter of assorted
sashimi
. The
sashimi
platter was priced at
RM135
.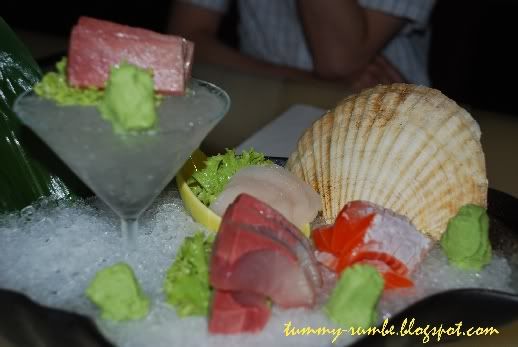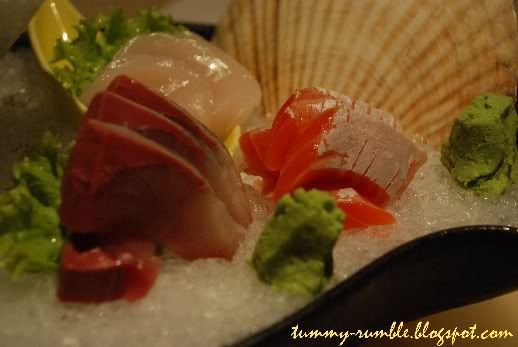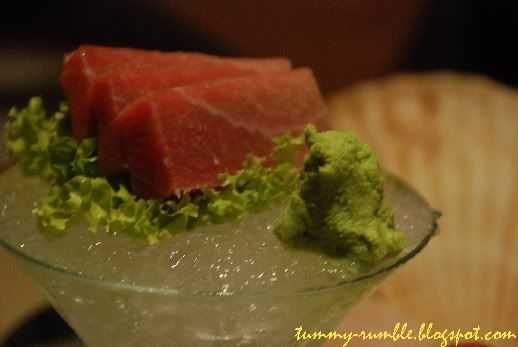 There was only four types of fish served on the platter, and one piece per person. However, the
sashimi
was thickly cut into square pieces, which is typical of a posh Japanese restaurant. The
sashimi
was also of quality fishes and not those (fish that no one else want) which is very typical when you order a assorted
sashimi
at Japanese Restaurants. Anyway, we each had a slice of
Otoro
(fattest part of the tuna belly), Salmon, Butter Fish and Japanese Mackerel. The
otoro
was soft and melted in my mouth, definitely my favourite of the 4 fishes (its also probably the most expensive of the fishes).
Next came the plate of assorted sushi.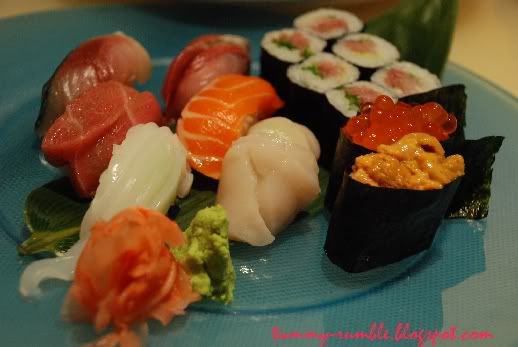 Priced at
RM85
. This sushi came with one of almost every type of sushi served in the restaurant. There was salmon, tuna (not tuna belly), Uni (sea urchin), Salmon Roe, Mackerel, squid, butter fish and a roll of
toro
(tuna belly). The fish was thinly sliced and totally covered in portion of rice, which is typical of a properly done sushi. I have to say, although a little pricey, the sushi's were good. My father, being a big fan of sea urchin sure did enjoy the Uni sushi.
Our next order was three different types of rolls. We went for the
Mizu
roll (must be the restaurant's specialty),
toro
maki
and the Sake Cheese
Maki
.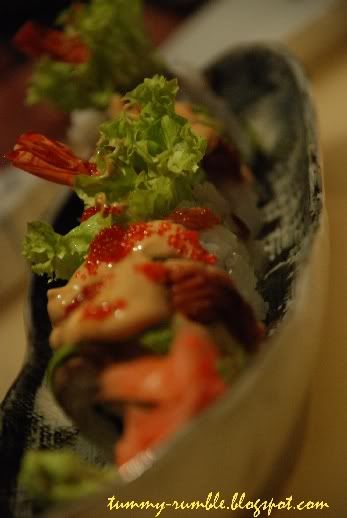 Mizu

Roll
The
Mizu
roll
RM35
is actually something like a
Rakuzen
's Dragon Roll other than the fact that there is additional
Unagi
(eel) placed on top. The roll is also made up of 2 prawns instead of just one, which actually allow one to feel crunchy texture of the prawn. Definitely one of the best roll I've tasted around Malaysia.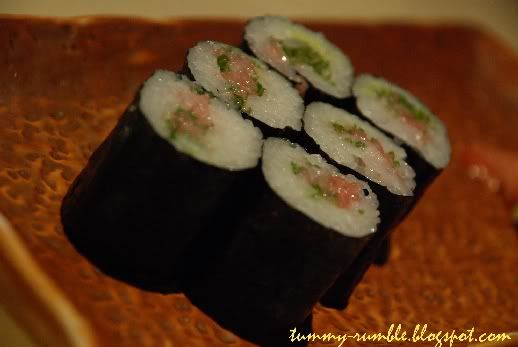 Toro
Maki
My brother chose this dish, which consisted of
toro
(tuna belly) wrapped in rice and seaweed, garnished with a very light flavoured oil. I did enjoy the roll, but I have to say, this has got to be one of the most wasteful way to eat
toro
. A typical tuna would have
sufficed
for this roll. The roll was priced at
RM40
meaning, each piece cost about RM6.60.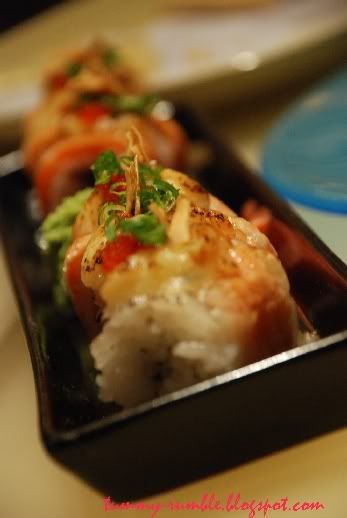 The Sake Cheese
Maki
RM35
consisted of a layer of salmon, topped with 3 different types of cheese. The distinct taste of cheese could be smelt even without tasting it. It would make a good choice for a cheese lover.
Next came the assorted tempura priced at
RM36
.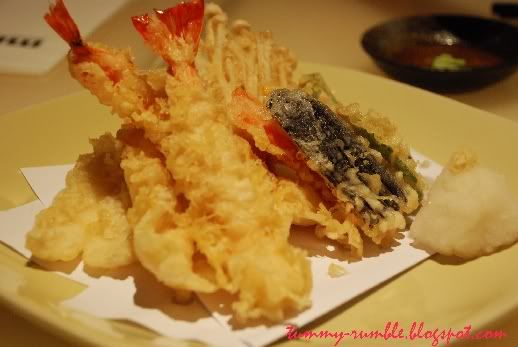 It came with 3 pieces of large prawns, slices of fish, sweet
potatoes
, some bean and yam. The prawns had that
springy
bite to it meaning the prawn is very fresh or it has been dipped in excessive
boric
acid. I choose to believe the prawns were fresh.
Our next dish was the assorted grilled fish. Priced at
RM140
, it consisted of 3 types of fish namely, Saba (mackerel), Cod and another fish which I am uncertain of but certainly did taste good. The fish came in quite big pieces. You pay for what you get I guess, hence the price.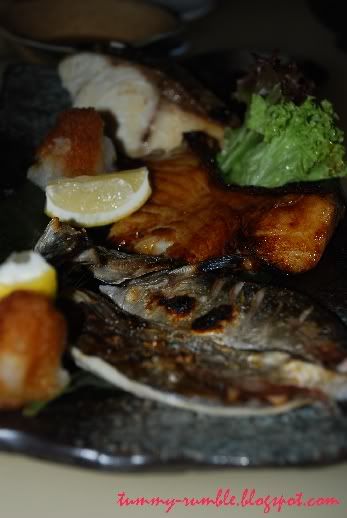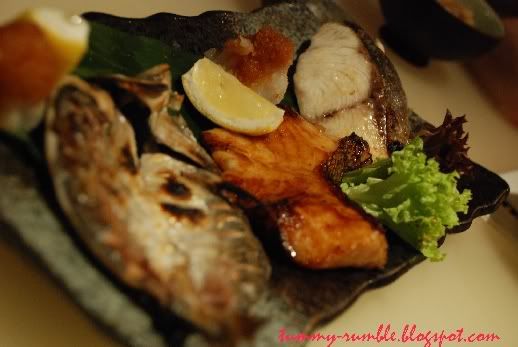 Yaki
Zakana
(which means grilled fish in Japanese)
The fish was fresh and grilled to perfection. It had that nice, crispy skin but the flesh was soft and flaky. I fancied the cod over the mackerel.
We had some garlic fried rice to go with the fish.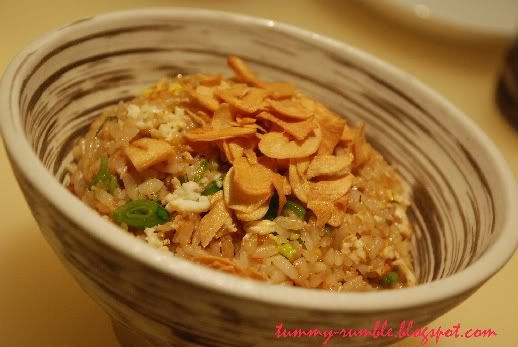 I have to say, this has got to be one of the better garlic fried rice I've eaten. Definitely beats
Rakuzen

'
s and
Jyu

Raku

'
s. Lots of garlic bits, fried until crispy and golden brown in colour.
Anyway, the bill came up to
RM605
for the 4 of us. I have to say, the food here is quite
pricey
. But then again, we ordered
Otoro
(fattest part of tuna belly) and
Toro
(tuna belly) and also lots of fish.
I would definitely come here again (with my parents of course or anyone who wants to pay for me). The service here was top notch. Plates were frequently changed to ensure there is no residual flavour of the previous dish. I guess there always is a price to pay for good food.
Restaurant rating
: 8/10
Pricing
: About
RM100
per person.

*Ratings are based on

ambience

, service, value and food quality for the price you're paying. Opinions expressed are solely based on my personal experience
Map
to
Mizu
, Japanese Fine Dining
Address:
Mizu
Restaurant,
F6, First Floor,
Bangsar
Village 1,
Jalan
Telawi
Satu
,
Bangsar
Baru
,
59100
Kuala
Lumpur
.
Bangsar
Village One (old wing), above cold storage
Contact:
Telephone number: 03 2283 6988
Opening Hours:
Monday to Sunday (as long as
bangsar
village is open?)