>> Jan 18, 2010
My uncle recommended me this place some time ago. As it was situated in Kuchai Lama, it wasn't too much of a hassle for me to go for lunch. Restoran Goon Wah is supposed to be famous for their XO fish head noodles.

Anyway, I dragged Jien along with me right before class started. The other two jokers gave some lame excuse, thus they missed out on the good food. Its their lost anyway. Armed with my phone as GPS, we headed of to find the place.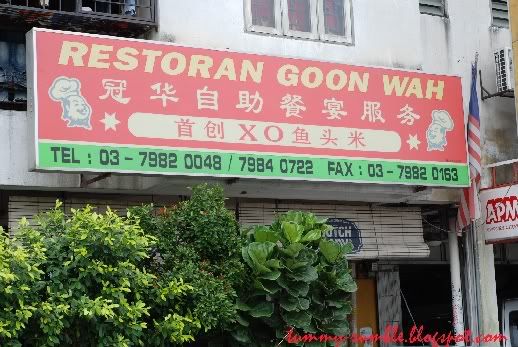 There was already a crowd at the restaurant upon arrival. I figured, the bigger the crowd, the better the food. Seating was a pain, but service was efficient and good. Even the food didn't take long to come
We wanted to order a portion of Fish Head Noodles and a portion of
Claypot
Loh
Shu
Fun (rat tail noodles) but the good woman told us that one portion of the Fish Head Noodles is for 2 people. Thus, we resorted for just the Fish Head Noodles
(RM17 for 2 people)
. The fish used for the noodles is called 'ling yu' in Chinese.
The pot of noodles came with the usual stuff
eg
:
kiam
chai
(
chinese
salted vegetables), tomatoes, pieces of deep fried fish head. The only exception of the fish head noodles here is the yam pieces. I guess it brings out that mild taste to the soup. Anyway, I'm not too sure if evaporated milk is used here (even if there is, it wasn't much), but there was the distinct taste of
chinese
wine.
Although I prefer the evaporated milk type of fish head noodles, I have to say, the Fish Head Noodles at Goon
Wah
somehow tasted quite good. There were lots of the crispy fish pieces. The only flaw I can find with the noodles is that it came with too little soup. I would have
preferred
more soup to go with my noodles.
After the pot of noodles, we weren't really that full (the portion was reasonably sized, we're just big eaters). Actually, it was probably due to the fact that the
Claypot
Loh
Shu
Fun looked darn good (and I'm
greedy
).
Note: Lao Shu Fen (Chinese Name). Lou Shi Fun (Canto). They are the same thing :)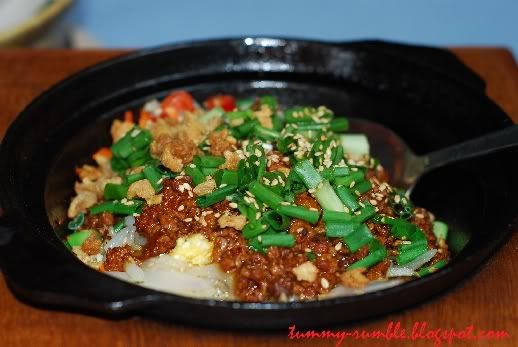 The
Claypot
Loh
Shu
Fun
(RM7.50)
was definitely one of the best I've tasted in a long time. Although they didn't have that raw egg to mix with it, the chunks of minced pork, lard fritters, fried onions and he be (dried prawns) made up for it. In fact, I think a raw egg would actually do more harm to the dish. I certainly would recommend this dish.
I certainly would recommend this place to you readers. A very good place for lunch (they only open for lunch). Please try it out and let me know how it goes.
Note:
Restaurant Goon
Wah
does
catering
services as well.
That's
probably why its off on weekends.
Restaurant rating:
8.5/10
Pricing
: About
RM15
per person
*Ratings are based on

ambience

, service, value and food quality for the price you're paying. Opinions expressed are solely based on my personal experience
Map
to Restaurant Goon
Wah
Address:
Restoran
Goon
Wah
,
G13 & 14,
Jalan
3/115C,
KP 2,
Taman
Kuchai
Lama,
Off
Jalan
Kuchai
Lama,
58200
Kuala
Lumpur
Malaysia.
Contact:
Telephone number: 03-7982 0048
Fax: 03-7982 0163
Opening hours:
9:30 am – 3:30 pm, off on Sat and Sunday.