>> Feb 12, 2010
I've heard so much about Kin Kin Chili Pan Mee. However, I've been delaying my trip to this place for quite some time now (due to the distance). Restoran Kin Kin currently has 2 branches; the main branch is situated off Jalan Tar at Jalan Dewan Sultan Sulaian 1 whereas their 2nd branch is located in Pandan Indah.

The owner of Restoran Kin Kin, Mr Tan, claims to be the first person selling pan mee in Kuala Lumpur. The key word there is 'claim'.

Anyway, as Zhi Ven wanted to pick Chloe up from IMU, we had no choice to go to the Pandan Indah branch, which was run by foreigners. Zhi Ven assured me that the taste was as good as their main branch (I shall judge for myself one day). He still vows that Kin Kin is the best pan mee place in town. I have yet to agree.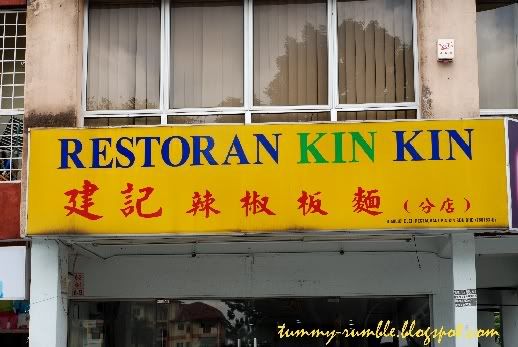 The noodles and ingredients at this branch is
pre
-made. Everything is laden out in nice big containers. I guess the boss doesn't want to let slip of his 'secret recipe'. The job of the workers were to dish the specific amount of ingredients into each bowl after cooking the noodles. Nevertheless, I shall try not to be bias.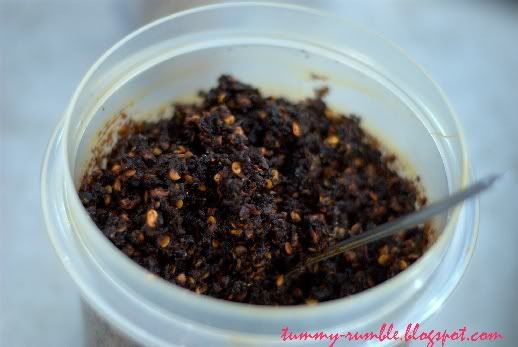 Chilli

knock you off the Richter Scale.
Supposedly, what sets Kin Kin apart from the other
chilli
pan
mee
places is their
chilli
paste. However, from what I've tasted at a pan
mee
place in
Taipan
(
USJ
), I guess they did not differ much. The
chilli
is made by frying dried
chilli
in oil to bring out that slight burnt taste.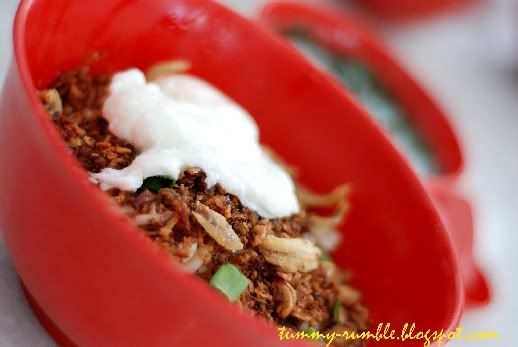 Kin Kin's Famous Dried Pan

Mee
The '
kon
loh
' pan
mee
comes with mixed meat (pork), some lard fritter (
chu
yao
char), some dried '
ikan
bilis
' and a poached egg. The
chilli
paste is for diners to add 'at their own risk'. I would advise diners not to be too adventurous with this. I love spicy food, but 1 heaping teaspoon of that stuff almost left me in tears. The noodles also came with a separate bowl of soup.
The correct method of indulging in this bowl of noodles is to actually mix everything up (including the runny egg yolk). The purpose of the egg yolk is to give that nice, smooth texture to the noodles.
As the portion wasn't exactly big, the 3 guys went for 2 bowls each. My first bowl of noodles came with a very solid egg yolk.
That's
what happens when the people cooking knows less about cooking when the people eating the food. Thankfully my 2
nd
bowl came with the poached egg half cooked.
The verdict? It was a decent (not exceptional) bowl of noodles. It sure tasted better than the average pan
mee
one could get at any hawker centre. I would certainly like to try their main branch one day.
Please be advised
that the aftermath of your indulgence isn't really pleasant when it comes out. The burning sensation would be more than enough to bring the most
macho
men to their knees. Over consumption of such a dish might even lead to colon cancer (no scientific research done).
Good day!
Restaurant Rating
: 7/10
Pricing:
Under
RM10
per
pax
*Ratings are based on

ambience

, service, value and food quality for the price you're paying. Opinions expressed are solely based on my personal experience
Map
to
Restoran
Kin Kin (
Pandan
Indah
)
Address:
Restoran
Kin Kin (opposite
Pandan
Indah
Police Station),
6-G,
Jalan
Perubatan
4,
off
Jalan
Pandan
Ilmu
,
Pandan
Indah
,
Kuala
Lumpur
.
Opening hours:
Tuesday-Sunday: 8am until 7pm (
Closed
on Monday)