>> Mar 2, 2010
The week before Chinese New Year, my 'heng tai' Kurau King invited us down to Klang to yum cha and collect something he pre-ordered for us. He is one of those true locals of Klang. He grew up in Port Klang. Hence, he knows the good food places around Port Klang.

Anyway, this time round, he brought us to the all famous Mo Sang Kor Bak Kut Teh 毛山稿肉骨茶 in Pandamaran, Klang.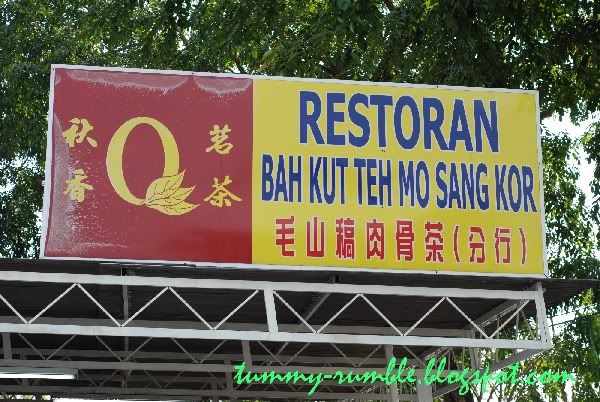 Restaurant Mo Sang

Kor

Bak

Kut

Teh

毛山稿肉骨茶
This place resembles some small shack that isn't that well kept. The tables are those unstable plastic tables found in 'real' hawker stalls. Anyway, we ordered a combination of some fatty meat and lean meat to share among us. The
bak
kut
teh
at this place comes in individual bowls.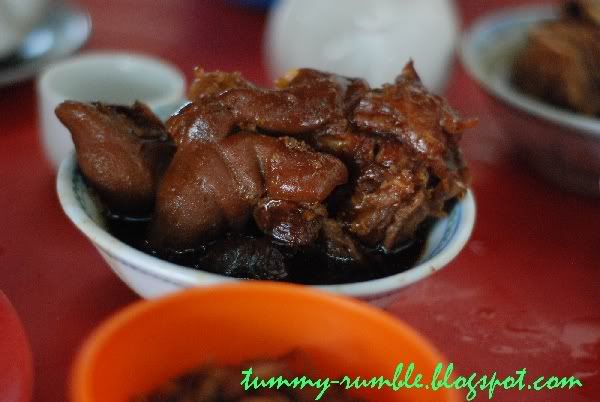 A bowl of fat meat and skin
I am personally not a fan of fat. Hence I opted for the lean meat. The others kept going on about 'I'm not eating it if there's no fat in it'. Oh well, hopefully they don't end up contributing to the income of doctors in the near future.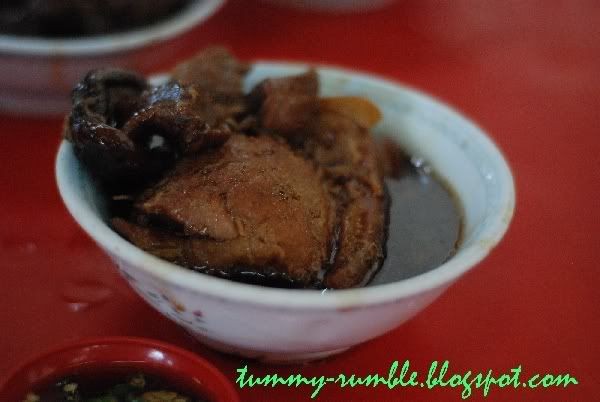 This was my bowl of
bak
kut
teh
. I have to say, although limited in soup quantity, that small bowl tasted extraordinarily good. The soup was thick and had that nice meaty and herb flavour. Some people prefer the more liquid type of
bak
kut
teh
. I personally don't mind either. As it was lean meat, the meat didn't have that soft melt in your mouth texture. However, the soup was good enough to send me asking for me.
Unfortunately,
bak
kut
teh
restaurants in
Klang
have this
tendency
to
NOT GIVE OUT MORE SOUP!
In some places, you might even end up getting scolded for asking for more soup. Thus, we were playing the 'who dares to ask for more soup' game. Eventually,
KK
volunteered. Thankfully he didn't get scolded. However, he received the cold treatment with a slight nod. Alas, the soup never did make it to our table. They were determine not to give out any extra soup, and we were too afraid to ask again (alright, they weren't as scary as I portrayed them to me, but one wouldn't get any extra soup at this place).
After stuffing ourselves with one of the best
bak
kut
teh
I know of, we sat down to 'yum
cha
' for a bit. I somehow took this picture of
KK
pouring tea.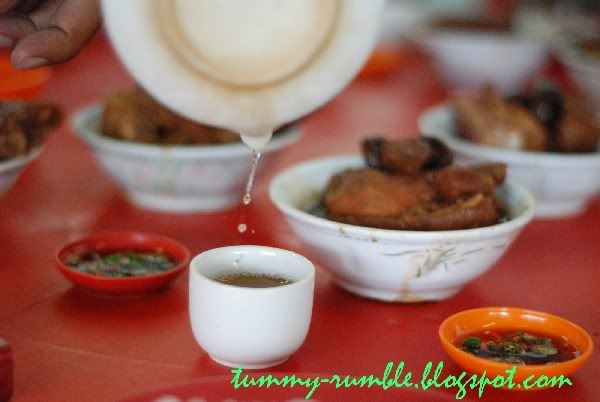 The
bak
kut
teh
was priced at
RM7
per bowl (doesn't matter what cut of meat is required). I find the price very reasonable. One could also buy the prepacked herbs at Mo Sang Kor.
Although distance is a restrain, I would certainly come back to this place in the future. Special thanks to
KK
for paying for the meal AGAIN! I will have to treat him one day.
Restaurant Rating:
8/10
(I

woud

have considered giving them 8.5 if they had given me more soup)
Pricing: About
RM10
per person


*Ratings are based on

ambience

, service, value and food quality for the price you're paying. Opinions expressed are solely based on my personal experience
Map
to
Restoran
Bak
Kut
Teh
Mo Sang
Kor
毛山稿肉骨茶
Address:
Restoran
Bak
Kut
Teh
Mo Sang
Kor
毛山稿肉骨茶,
145,
Jalan
Chan Ah
Choo
,
42000
PandamaranPort
Klang
,
Selangor
Darul
Ehsan
.
Contact:
Telephone number: 012 312 3125 / 012 904 2421 / 012 264 8558
Opening hours:
6am until the
bak
kut
teh
runs out (about 12pm)
5pm until the
bak
kut
teh
runs out (about 9pm)
Off days are on the 1st and 15
th
day of the Chinese Lunar Calender
Restaurant Mo Sang
Kor has 2 more branches
in
Klang
. I shall list their address below. Enjoy.
Lot 2982,
Persiaran
Raja
Muda
Musa
,
41100
Klang
,
Selangor
Darul
Ehsan
Tel: 016 619 8310
41,
Lebuh
Bangau
,
Taman
Berkeley,
41150
Klang
,
selangor
Darul
Ehsan
.
Tel: 019 272 7728