>> Feb 21, 2010
Sorry about the long hiatus. I was busy 'celebrating' Chinese New Year. Events that made this CNY a memorable one, some 'asshole' rammed my car while I was waiting for the traffic light to turn green. How someone can manage to hit a stationary car still amazes me. I guess there are retards driving on the road eh?

Another event would be that crazy stomach spasm that woke me up in the middle of the night due to 'food poisoning'. It was so pain that my uncle had to put in an IV line to administer anti-spasmodic and pain killer. So anyway, back to topic.

Whenever my father feels like eating dim sum on Sunday, I'll have to come The Emperor @ Sheraton Subang (currently taken over by Grand Dorsett Subang. I portray it as such a bad thing, when actually, the place isn't that bad itself. Sometimes, I'm just a little bored of visiting the same old place. I like pork, and this place only serves HALAL dim sum.

We started our meal with some of the fried / baked stuff.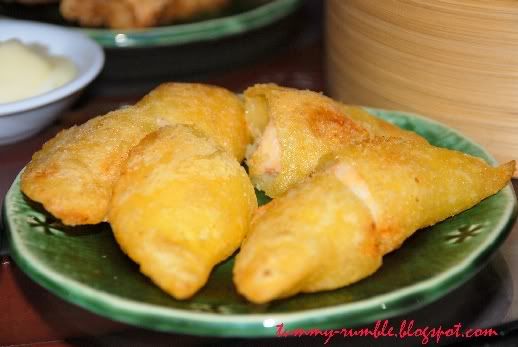 Salad Prawns
Priced at
RM12
a plate, the salad prawns eaten with a good dip of mayonnaise gives that nice cool crunchy feeling to one's palate. It is advisable to consume this dish while it is still warm and crunchy.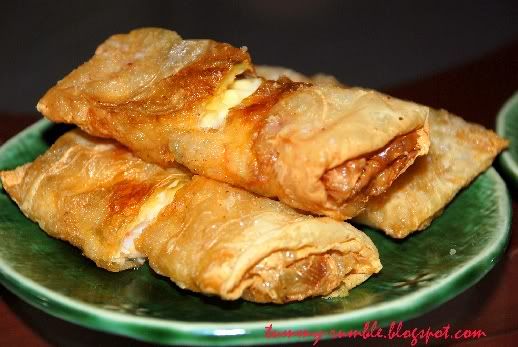 Deep Fried Prawn Roll with Cheese
Priced at
RM12
, this cheese prawn roll is just superb when consumed pipping hot. Careful not to burn your mouth on it. The melted cheese and succulent prawns wrapped with bean curd is just divine. I always had a thing for prawn and cheese.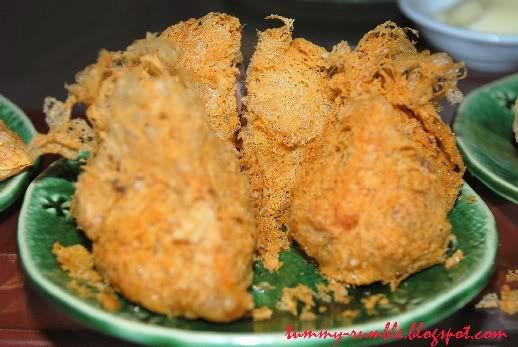 Wu

Kok
Stuff with yam and crispy on the outside, this dish has a good flavourful bite of meat in the inside. Priced at
RM8
a plate, it sure is value for money. I would consider this to be one of the better
wu
kok
around. Another good
wu
kok
that I have tasted would be at SS3
pasar
malam
(every
tuesday
).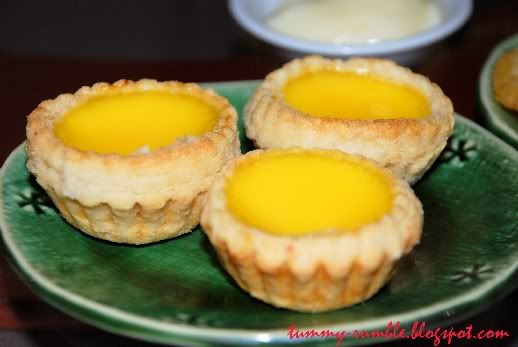 Egg Tart
Priced at
RM7
for 3 pieces, this egg tart makes an excellent dessert. Although a tad bit
pricey
for just 3 pieces, I assure you that this egg tart is worth every bit spent on it. However, do note the egg tart is only nice when taken freshly baked.
We then proceeded to some of the steamed stuffed.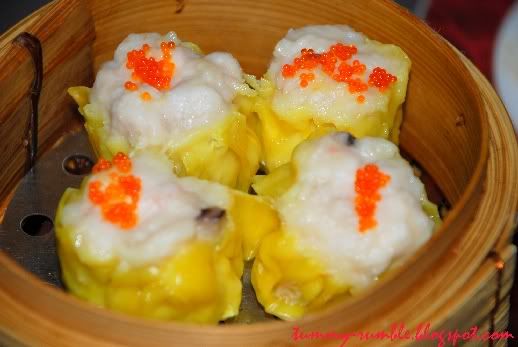 It would have made a remarkable dish if the
siew
mai
was made out of pork. I would only give it a so-so since it was chicken. It was one of the best chicken
siew
mai
that I've eaten though. The
siew
mai
was priced at
RM10
.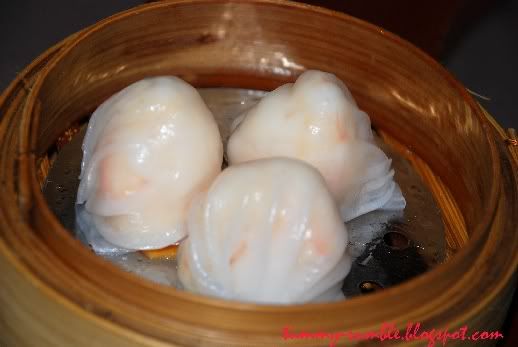 Har
Gao
(prawn dumplings)
Priced at
RM11
, the prawn dumplings fared better than the
siew
mai
. The prawns were crunchy. As can be seen in the picture, the layer of 'skin' used to wrapped the prawns were so thin that it appears
transculent
. A good
har
gao
can be determined on how fine the 'skin' of the
har
gao
is. This dish didn't disappoint.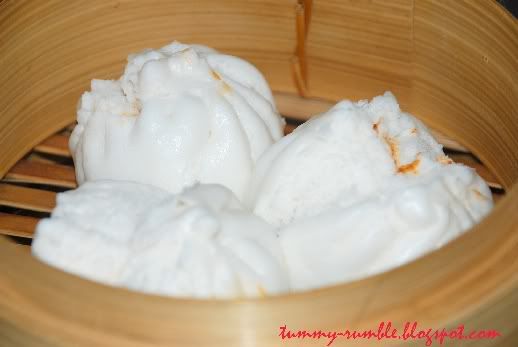 This is one of the better chicken char
siew
pau
I've eaten. Although halal, it had that distinct sweet char
siew
taste. The
pau
was
RM8
per 3 pieces.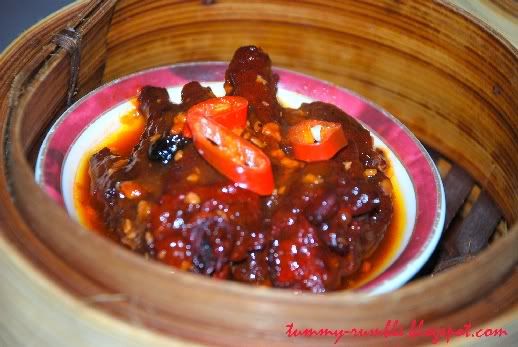 Phoenix Feet
(chicken feet)
Chinese people have the
tendency
to name dishes with cool names like dragon this and phoenix that. Sorry about the
sucky
picture, I assure you the dish turned out better than the picture. The chicken feet was seasoned well. If you are a fan of chicken feet, this dish would definitely not disappoint. The phoenix feet with black bean sauce was
RM6
.
Steamed Scallop Dumpling Emperor Style
Like I said earlier on, Chinese restaurants love giving such names to their food. I am still not quite sure what emperor style means. This dish wasn't anything exceptionally. It was priced at
RM15
.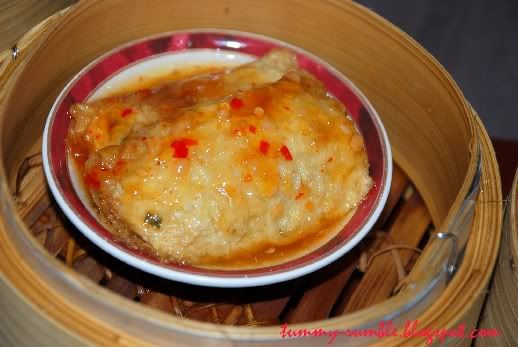 Steamed Fish Cake with Thai Sauce
This dish was okay. End of story.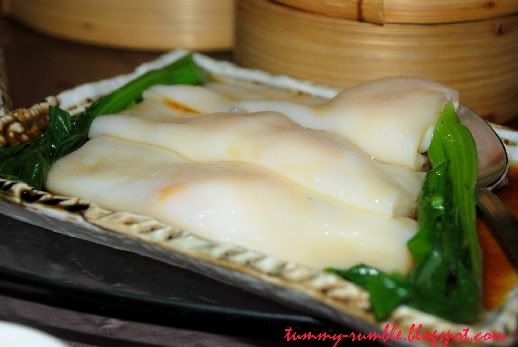 Steamed

Cheong

Fun
The
Cheong
Fun at this place comes with a choice of scallops (
RM15
), prawns (
RM12
) or chicken char
siew
(
RM8
) stuffed in its core. The amazing thing about this dish is that nice slightly spicy
sambal
. Topping the
cheong
fun with some of that
sambal
does wonders to this dish. My brother is addicted to that
sambal
.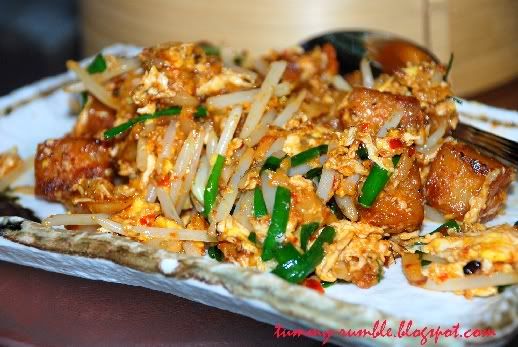 Stir Fried Carrot Cake with

XO

Sauce
If you are a fan of fried carrot cake in
pasar
malam
, this dish would send you to heaven and back. This is a way superior version of the '
pasar
malam
' carrot cake. Fried with lots of egg, bean sprouts, '
chai
poh
' and some
chilli
, this dish is worth every cent of that
RM14
.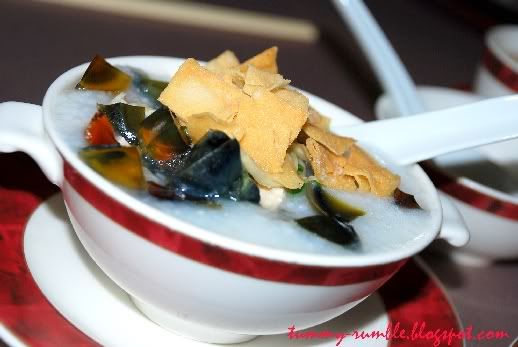 Pei Dan

Chuk

(century egg porridge with chicken)
The porridge is alright. Nothing really special about it. It was priced at
RM7
.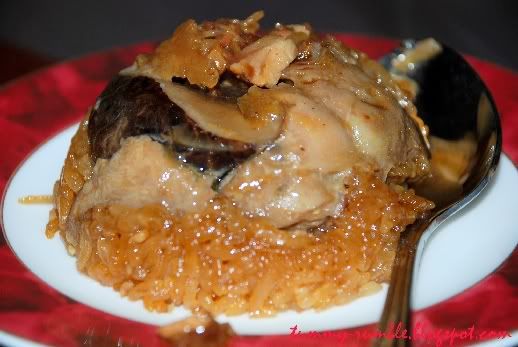 This dish just couldn't do without pork. However, it didn't taste that bad.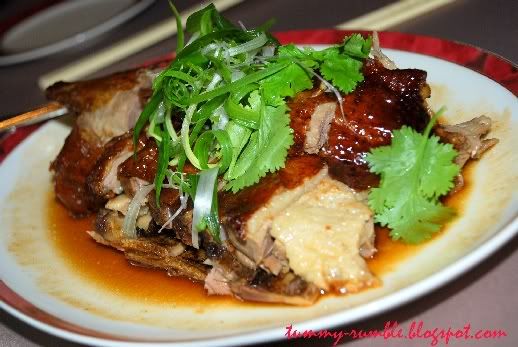 Roasted Duck
The duck was too fat for my liking. The skin wasn't that crispy as well. Nothing really great. Lots of good hawker stall would easily put this roasted duck to shame.
All in all, the dishes that make us come back for more and more is no doubt their Fried Carrot Cake with
XO
sauce and their salad and cheese prawn rolls. For a halal restaurant serving dim sum, the chef sure did a remarkable job substituting chicken for pork.
I would have to give credit to the waiter and waitresses. I receive good service 4/5 times I visit this place. Occasionally when there is a function, the dim sum comes out cold which is very disappointing. Cold dim sum taste like crap. Enough said. As to that, all my dishes this time round were pipping hot when served. Hence, I would have to give this place an 8 for being one of the best halal dim sum place in town.
Restaurant Rating: 7.5/10
Pricing: About
RM35
per person


*Ratings are based on

ambience

, service, value and food quality for the price you're paying. Opinions expressed are solely based on my personal experience
Map to The Emperor, Grand
Dorsett
Subang
(Used to be known as Sheraton
Subang
)
Address:
The Emperor,
Grand
Dorsett
Subang
,
Jalan
SS 12/1,
47500
Subang
Jaya
Selangor
Contact:
Telephone number: 03 5031 6060
Opening hours:
Open Daily
Lunch : 12 noon to 3.00pm
Dinner : 6.00pm to 10.30pm
Sundays and Public Holidays
Lunch : 10.00am to 3.00pm