>> Feb 24, 2010
I went to this place at Happy Garden called Joy Cafe quite some time ago. Its situated on one of those shophouses on the right when one turns into happy garden. Put it this way, even a blind fella can find this place. (inside joke) sniggers at Wei Jin and Geoh Soon.

Anyway, Emi brought me to this place as she said that the nasi lemak was quite good. Parking could be a pain at times. However, if walking is no issue, finding a parking lot should be quite brisk then.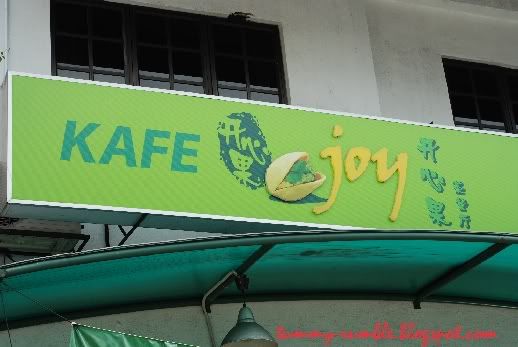 Joy Cafe has this nice clean interior, that gives you an impression that this is no random not so good yet not so crappy place that serves lots of different variety of food. The drink 'bar' is situated within viewable radius from all tables in the cafe. I notice that people like to see how their drinks/food is prepared.
Joy Cafe has a good variety of food, ranging from noodles to rice. They also had an extensive drinks menu. The specialty at this place, is their yoghurt and their yoghurt drinks. Their yoghurt is made daily. They have 5 types of yoghurt (rozalle, aloe vera, dark chocolate, soursop and wheat grass). They usually prepare 2 different flavours a day. I guess preparing all 5 everyday would be too time consuming.
Anyway, as we came for nasi lemak, we ordered a plate each. I also went for their wheat grass yoghurt drink whereas Emi had a glass of pineapple juice. I thought I made the wrong choice at first, but how wrong I was.
Wheat Grass Yoghurt Drink
The yoghurt tasted quite pleasant, with that nice wheat grass flavour
(If you don't know how wheat grass taste like, I'm sorry but its quite hard to describe it to you)
. The wheat grass flavour wasn't too over powering. The drink wasn't too sweat. It had that nice balance of yoghurty flavour while at the same time, wasn't too thick. With one flavour turning out so nice, I can't help but imagine what the other 4 flavours would taste like. I would certainly like to give it a try in the near future. The yoghurt drink was priced at
RM5
a glass.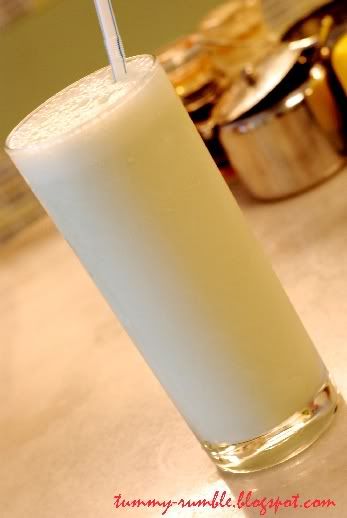 Other than ice, there wasn't anything else added to the pineapple juice. From what I could see, the juice was quite thick before the ice dissolved in it. The juice was priced at
RM5.90
if my memory served me right (it was somewhere around there anyway).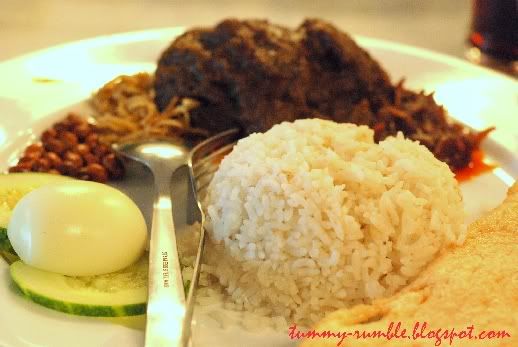 Nasi Lemak with Chicken Rendang
The nasi lemak had a very nice and fragrant smell. I would say, lots of coconut milk (santan) was used in the making of this dish, which could be a good but unhealthy thing. The rendang was reasonably good. Overall, this dish would certainly make a satisfactory meal. It might not have been the best nasi lemak I've tasted but it certainly was above average.
Note:
I've heard from people that this place dishes out a very good beef brisket (ngao lam) as well.
All in all, I would say that Joy Cafe is a place worth dining at. I will be back to check out their various flavours of yoghurt drinks. This would certainly make a good place to 'yum cha' as well.
Restaurant Rating:
7.5/10
Pricing:
About
RM15
per person
*Ratings are based on ambience, service, value and food quality for the price you're paying. Opinions expressed are solely based on my personal experience
Map
to Joy Cafe, Happy Gardens
Address:
Joy Cafe,
540 Jalan Riang 11,
Happy Garden,
58200 Kuala Lumpur.
Contact:
Telephone number: 012 268 1123
Opening hours:
Closed on Mondays.
Open 11am-10pm Tues to Sun