>> Feb 8, 2010
2 weeks ago, ywlow wanted to fish at Starcruise (Pulau Indah Fishing Pond), a pond that has seen his absence for 2 good years. Kurau King aka Jeffrey, Kenny and me decided to tag along to watch the pro (ywlow) at work.

Located just behind the starcruise terminal, this pond is one of the biggest pond (about 2km circumference) in the Klang Valley. According to Kurau King, the pond holds the largest variety of fish found in the Klang Valley.

Note: taken from MFN, written by KK

So far the 'natural' fishes there are :
- Baracudda
- Belanaks (mullet)
- Tarpons
- Kitang
- Sembilan
- Talang
- Tilapia
- Hell lot more which I don't know their names.

"Introduced fishes :
- Siakap (Barramundi)
- Buntik
- Jenahak (Red Snapper)
- Pompano
- Senangin Taiwan (looks like Jew Fish but its not)
- Kerapu (Grouper)

The species of fish found at this pond is quite similar to the ponds around Port Klang. Anyway, I caught 2 Senangin Taiwan that were about 1kg each. One of the fish was actualy from ywlow's rod.

KK taught me the art of using KFC to fish for Brackish Tilapia (aka Salt Water Tilapia). With our bounty, we headed off to a very good restaurant in Klang.

This restaurant is one of those hidden jewel only known tp locals. Since KK is a regular, we left it to him to place the order. We had a total of 5 dishes.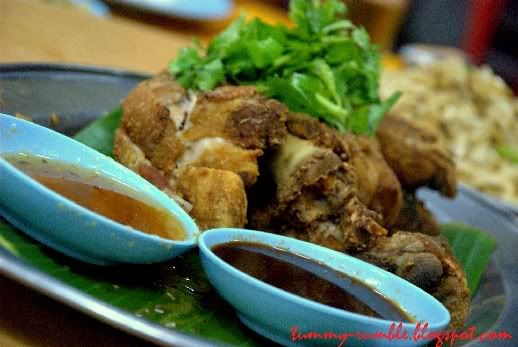 Crispy Pork Leg with Plum Sauce
The pork leg had that nice crispy exterior, with lots of fat accompanied by soft, tender meat on the inside. The dish was very good.


**
wonders which
wok (kuali)
is big enough to deep fry the whole leg
**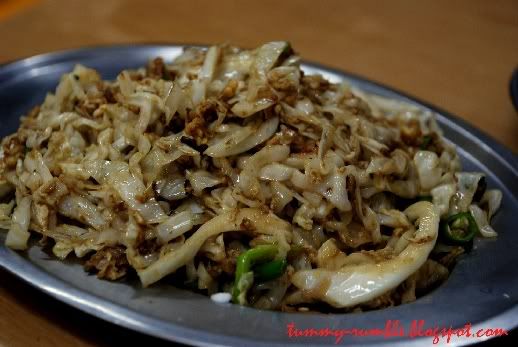 Cabbage fried with Dried Shrimps and
Cili
Padi
(bird's eye
chili
)
I used to think that vegetables taste bad no matter what you do with it. I realised how wrong I was after tasting this dish. I found it to be one of the best tasting dish of the night (all the dishes were relatively good). The dish was a little too oily though.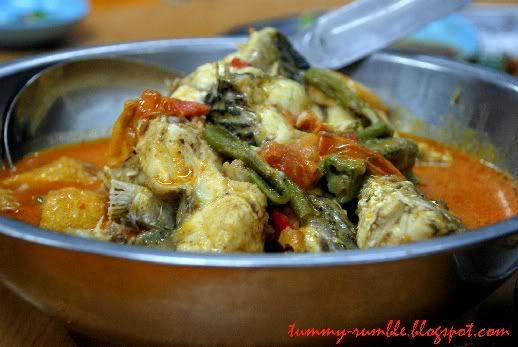 Senangin

Fish Curry with Vegetables
According to
KK
,
senangin
is a tasteless fish. Thus, he asked the restaurant to cooked it with curry. Curry is usually cooked with a good deal of spices which would mask the delicate taste of good fish. As '
Senangin
' is considered a
'not so good / tasteless'
fish, what better way to cook the fish than curry?
The curry did justice to the fish. The dish was very good. It went well with the white rice. A good deal of coconut milk was probably used in the dish (unhealthy).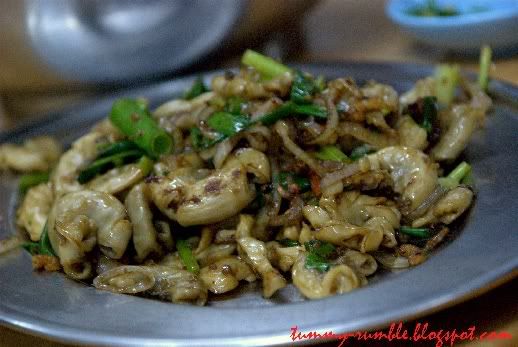 Spare Parts (

chup

chap) cooked

Kam

Heong

Style.
Chup
Chap (intestine, liver etc) and me don't get along well.
Chup
Chap is one of the only thing (
Durian
as well) I won't touch. The other diners found the dish relatively good.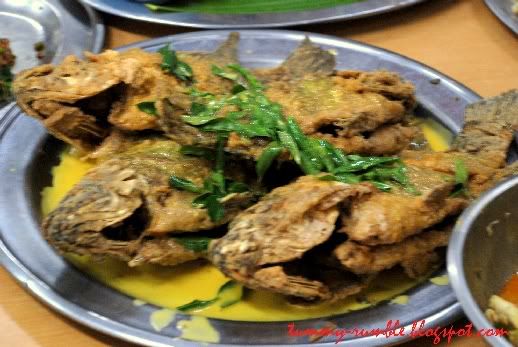 Deep Fried Salt Water

Tilapia

with Butter Sauce
I usually hate eating '
Tilapia
' since that faithful day my friend told me he saw a whole school of '
fei
zhou
yu
' (Red
Tilapia
) swimming in an
Indah
Water Pond. However, as these
Tilapia
(s) grew up in a salt water environment eating mullets, I made an exception.
This had to be the winner for the night. The fish was as crispy as can be (it wasn't hard, it was crispy). Accompanied by that butter sauce used in butter crab, this dish was just superb. The fish were about 1kg each. 4 kilos of fish proved to be a little too much for the six of us.
Overall, this restaurant is managed to satisfy 6 hungry stomachs. I am probably not willing to travel all the way to
Klang
to eat '
tai
chow' food, but if I happen to be around that area, why not?
Special thanks to
Kurau
King for the dinner. Apparently the restaurant did not charge for the cleaning and cooking of the fish.
Restaurant Rating:
7.5/10
Pricing
: About
RM25
per person

*Ratings are based on

ambience

, service, value and food quality for the price you're paying. Opinions expressed are solely based on my personal experience
Map
to Restaurant Soon
Chui
Address:
Restoran
Soon
Chui
,
Lorong
Sepat
2,
Taman
Teluk
Pulai
,
41100 Port
Klang
,
Selangor
Darul
Ehsan
.
Accidentally disabled comments.. I have (re)enabled it.