>> Feb 14, 2010
Gong Xi Fa Cai.

Today is the first day of Chinese New Year. If you're looking for a place to have dinner on one of the 15 days of CNY, head on down to Imperial Garden Restaurant, situated a stone throw from Hilton, Petaling Jaya.

My grandparents are die hard fans of Tai Thong Restaurant (and their group). Since a very long time back, we've been having dinner at Tai Thong very very frequently. The best part is, the dish that we order is usually quite similar. Talk about a family of boring people eh?

Well, now that the Tai Thong Restaurant at Selangor Dredging has closed down, their army of cooks have been relocated to Imperial Garden Restaurant in Petaling Jaya.

Anyway, as my family knows the 'chief chef' (chief and chef is only 1 alphabet apart) Lee Wee Hong quite well, we received exceptional service every time we're here. The occasional visits from the man himself, and recommendations and customizations of dishes we would like to sample.

Chef Lee prepared every single dish on the table that night.

We started with 'yee sang', a Chinese dish that resembles a salad, consisting of shredded white radish, carrots, red pepper, ginger, Chinese parsley, smashed up peanuts, crackers, sesame seed, jelly fish and abalone or raw salmon. A sachet of five spice powder and some sweet plum sauce dressing is used to bind the 'salad' together. I'm also proud to say yee sang was invented in Malaysia.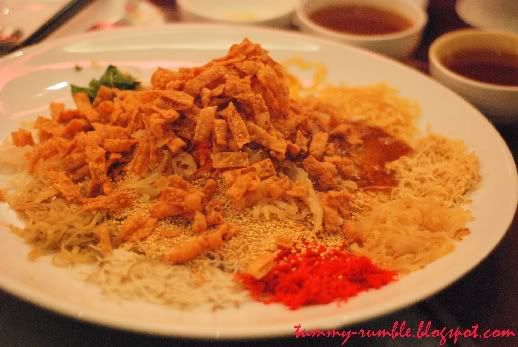 I'm not really a big fan of
yee
sang. I usually go after the raw salmon and crackers. However, I just eat the dish for the sake of eating it as its Chinese New Year. Nobody celebrates
CNY
without
yee
sang. This dish was so-so. The jelly fish
yee
sang was priced at
RM48
(my grandma brought her own abalone).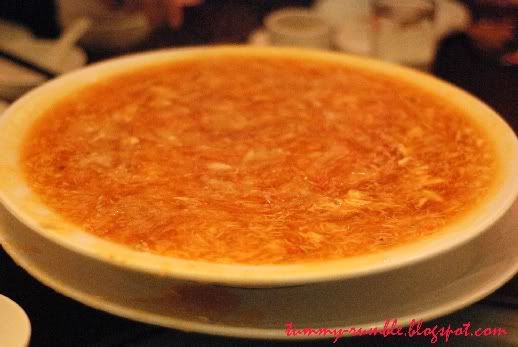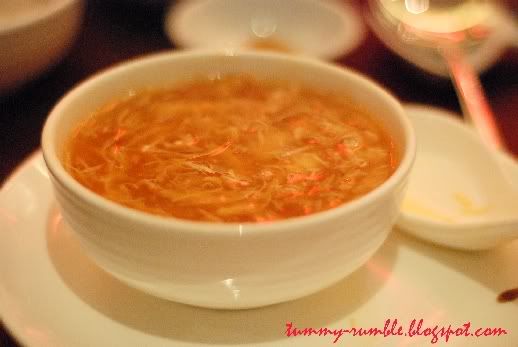 This dish was customized specially by Chef Lee for us. The soup was very good. I have tasted quite a good deal of shark's fin soup. I can tell the 'fake' jelly like substance that some restaurants serve to their diners. I assure you we did not receive such stuff. The soup in fact, had too much shark's fin for my liking. (I'm sorry shark, but I'm still gonna eat you, I won't go shark fishing though)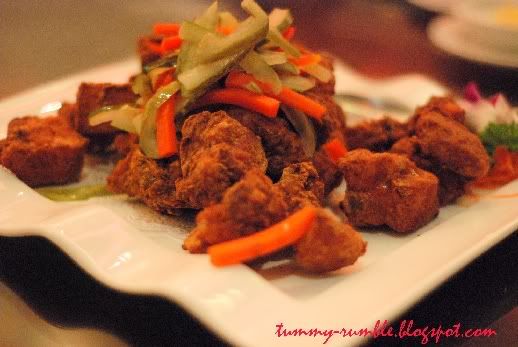 I love pork ribs. I will travel far and wide for pork ribs man (I prefer the Western Style of cooking pork ribs). This dish had a
litle
too much fat for my liking. However, it still tasted quite good. The ribs was priced at
RM70
.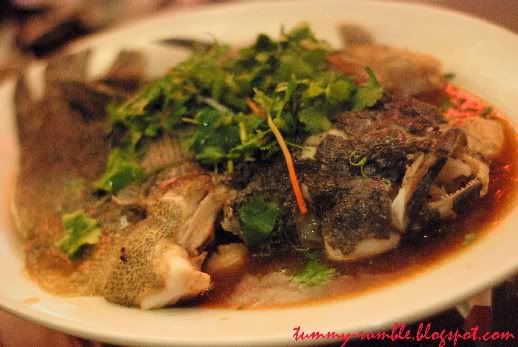 Steamed 'Soon Hock' with Superior Soy Sauce
Soon Hock aka Marble
Goby
is one of the more expensive fresh water fish (don't included
Kelah
and
Empurau
). The fish resembles a log and its main defense mechanism is its
camouflage
(
ing
) appearance. It is a
carnivorous
fish and has a nice firm meat texture.
This fish was specially selected by Chef Lee for us. The fish weights a whopping 2.5kg. The fish was extremely fresh and steamed to perfection. By perfection in terms of steamed fish, it means the fish was 80% cooked but the meat falls of the bone easily. The backbone of the fish is also slightly reddish pink but there is no sign of blood. The secret to creating such a nice accompanying sauce in steamed fish is to add rock sugar into the soy sauce (I've tested it). This fish is usually priced at about
RM130-RM180
per kg.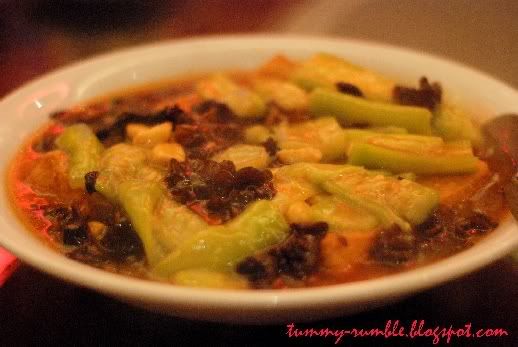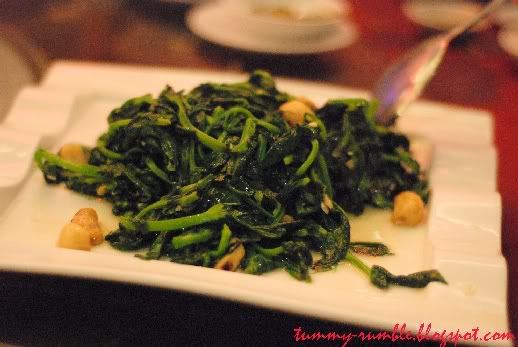 Fried '

Dao

Miao

' with Garlic
The
tao
foo sure was good. One of the better
tao
foo I've
tasted
. However, the fried green
vege
was just average, or maybe slightly below average. It lacked that 'wok
hei
' that can be found at most '
tao
chao
' restaurants.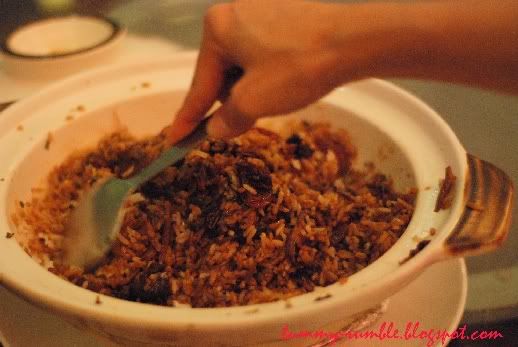 Claypot

Rice with Meat and Chinese Sausage
This dish is one of the most fattening rice dish that I know off. The rice is cooked in the oil emitted by pork sausages (lap
cheong
) and fatty meat. The dish did not taste that well this time round. Maybe it was because we told Chef Lee to cut down on the fat stuff, hence the lack of meaty/fatty flavour. The rice was
RM78
.
Chef Lee told me that this dish took him 5 long years to master. Every step in making this dish is very important for it to turn out well. 5 years to learn a dish? Its as long as someone would take to study medicine.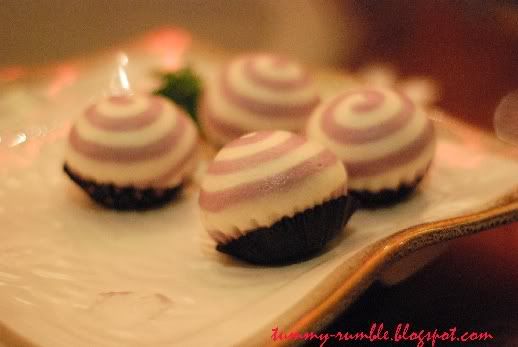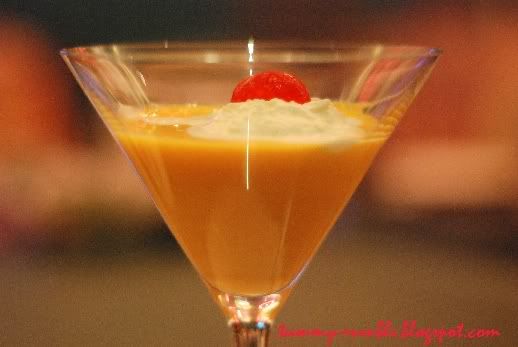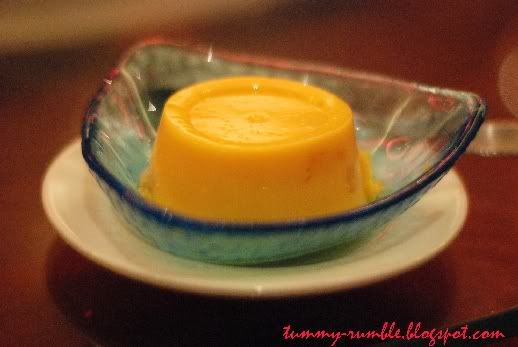 The mango mousse and pudding were okay. My uncles who are very fussy eaters love the Yam Paste
Pao
. They even ordered 10
paos
each to bring home.
All in all, the food was good. I might be a little bias in rating Chef Lee's cooking as he has been dishing out dishes for my family for at least 10 years now. I would suggest that if you are interested in dining at this place, please request for Chef Lee to prepare your dishes. After you meal, kindly pour the good chef a glass of whiskey as well.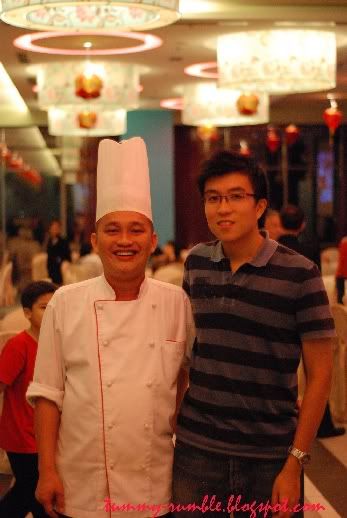 Chef Lee getting his picture taken with me
Restaurant Rating:
8.5/10
Pricing: About
RM50
per person (seafood and shark's fin price is based on market value).
*Ratings are based on

ambience

, service, value and food quality for the price you're paying. Opinions expressed are solely based on my personal experience
Map
to Imperial Garden Restaurant
Address:
7
th
Floor,
Intan
Square,
No. 3,
Lorong
Utara
C,
46200
Petaling
Jaya
,
Selangor
Darul
Ehsan
.
Contact:
Telephone number: 03 7956 6868
Opening hours:
Monday-
Saturay
: (lunch) 11.30am-2.30pm. (dinner) 6pm-10.30pm
Sunday: (lunch) 9am-2.30pm. (dinner) 6pm-10.30pm.