>> Mar 9, 2010
The last time I went to Jakes about 2 years ago, I found the food to be crappy and the service lousy. I thought to myself, this place cannot be getting positive reviews, one after another if they're serving rubbish to their customers. After all, Jake's is well known to serve one of the best steaks in town.

Anyway, I decided to give this place another try. Maybe 'shit happened' the last time I was here. Parking is really a hassle. Try to be patient or pray you're super lucky.


Restaurant Jake's Charbroil Steak
This time round, we were seated upstairs. Jake's has this rustic American Midwest sort of setting, which makes it a great place for bringing the family or even a date.
For appetizers, I heard that the Crispy Potato Skin (with crunchy vegetables, smoked beef & cheese) is remarkable. However, as I am a big fan of nachos, I chose to go for the Beef Nachos
RM22.90
.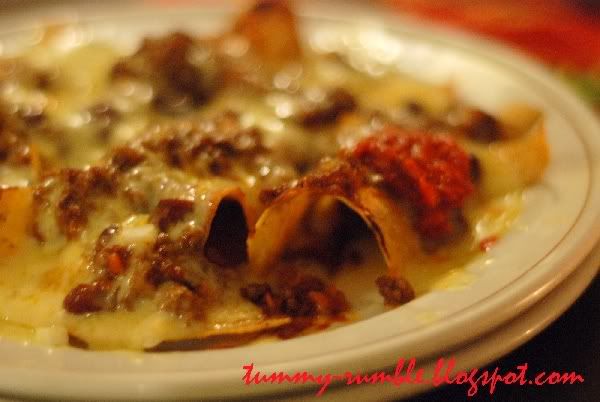 Beef Nachos

The nachos was one of those special dishes that were only served on weekends. However, it wasn't very good. Some of the nachos were soggy, the sauce wasn't anything special, the cheese was alright. All in all, it resembles one of those prepacked nachos that could be purchased at almost all cinemas in the UK.
I thought to myself, they can't be that bad. I'll be more than willing to let them off the hook if they dished out a good steak for me.
For steaks, they usually come in 4 cuts; the rib-eye, T-bone, tenderloin and sirloin. Their choice of beef ranges from Australian Wagyu to Australian grain fed cow and New Zealand beef. This time round, they were having a special menu of beef from the US. I went for the Black Angus Rib-eye
RM88
.
Note:
most of Jake's meat are served with some potato, corn and vegetables. Mustard is also served along with every meat.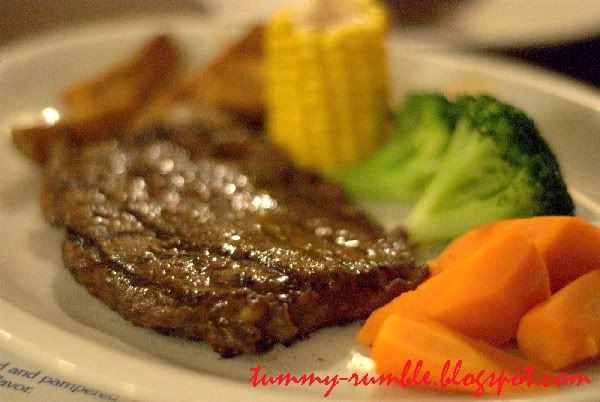 Jake's is one of those places that serves up good, 'honest' meat. Honest as in meat cooked with minimal marinate. I rather have my steak cooked in this manner rather than dishing all sorts of sauces into it. Sauces just end up distorting the flavour of the beef.
This Rib-eye hit the marked right on. The beef was cooked to medium-rare, nothing more nothing less, which was what I requested. The beef was succulent and quite tender. For the price I was paying, I was quite delighted with my meat. Looks like they managed to redeem themselves after all.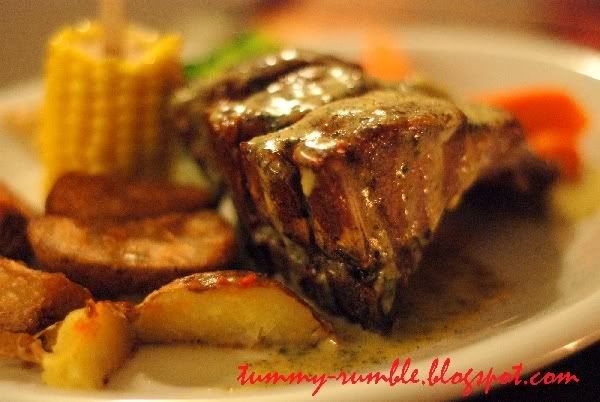 Rack of Lamb cooked in Mint Bernaise Sauce
The lamb was asked to be made well done. I rather have it medium. Although I ended up eating half of it, it wasn't dish after all. The marinate wasn't strong, the meat was slightly tough due to it made well done, but overall, I must say it was quite good. The lamb was priced at
RM48.90
.
As for dessert, I wanted to go for the Country-style Hot Apple Pie. However, I was quite bloated from the steak and half a rack of lamb. I guess this will have to wait for my next visit.
Jake's managed to change my lousy opinion towards them. The last time I was here, we came in a crowd of 12, maybe that was the reason why they couldn't cope with our orders. Think about it, placing 12 main courses on the table simultaneously is a little difficult. Another reason could be Jake's improved tremendously.
Anyway, I was satisfied with my meal. If considered meat for meat, Jake's might be able to match up to Prime (le meridien). I certainly would want to come back again.
Restaurant Rating
: 8/10 (maybe 8.5 if the nachos wasn't a disaster)
Pricing
:
RM70-100
per person
*Ratings are based on ambience, service, value and food quality for the price you're paying. Opinions expressed are solely based on my personal experience
Map
to Restoran Jake's, Charbroil Steaks
Address:
21, Jalan Setiapuspa,
Medan Damansara,
50490 Kuala Lumpur.
Contact:
Telephone number: 03 2094 5677
Fax number: 03 2092 2894
Website:
www.jakes.com.my
Opening hours:
Mon-Sat: 12.00 PM - 3.00 PM (Lunch), 6.00 PM - 11.00 PM (Dinner)
Sun: 6.30 PM - 10.15 PM (Dinner Only)
Jakes also has another branch in Starhill gallery:
Address:
STARHILL SHOPPING CENTRE
LG11 Lower Ground Floor,
Feast Floor,
181 Jalan Bukit Bintang,
55100 Kuala Lumpur.
Tel: 03-2148 1398, Fax: 03-2148 2398
Opening Hours
Mon-Sun: 12.00 PM 1.00 AM