>> Mar 13, 2010
My schedule has been pretty hectic last week. Sorry about my long absence.

Restoran Greenview is situated a click away from rothman's roundabout. This place has been serving up good seafood for quite a long time.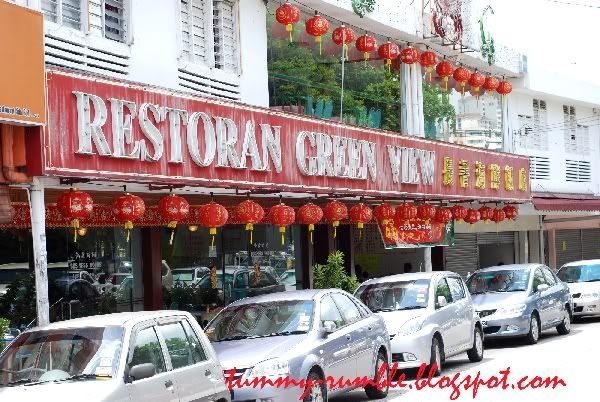 I was suppose to decide where to bring this VIP from Sabah for lunch. As he was quite a bit fan of Fresh Water Prawn noodles, I was contemplating bringing him to
Soo Kee
@ Jalan Imbi. However, I felt that
Soo Kee
was a little too far from Subang Jaya.
Parking could be a slight issue at Greenview. Some slight walking before and after dinner would do your stomach good anyway.
Crabs served at Greenview are from Indonesia. This would be a relief for people who believe that Sri Lankan crab grow up eating human corpse from the tsunami. The crabs are priced from
RM60-RM100
per kg. The higher the price tag, the larger the crab.
Note: My personal opinion is that the
RM60
per kg suffice, as the size difference from the
RM70
and
RM80
per kg is quite negligible. Even the
RM60
per kg crabs are humongous compare to most places.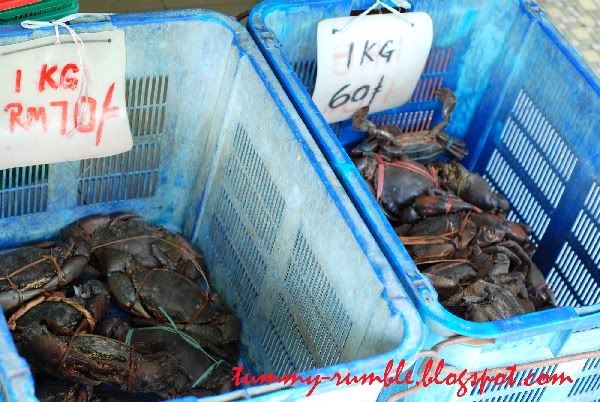 I use to have this paranoia since getting cheated for crabs quite some time back. Thankfully, Greenview weights the crab in front of you, to avoid dispute when paying the bill. Hence, whenever people tell me that greenview 'tok' or cheats people for their seafood, I have to disagree with them. They are in fact one of the more honest places serving crabs.
I ordered a plate of Fresh Water Prawn noodles (Sang Har Mein), their specialty bean curd (tofu), marmite pork ribs, 1 1/2 kg of salted egg crabs and their Singapore noodles to share among the 4 of us.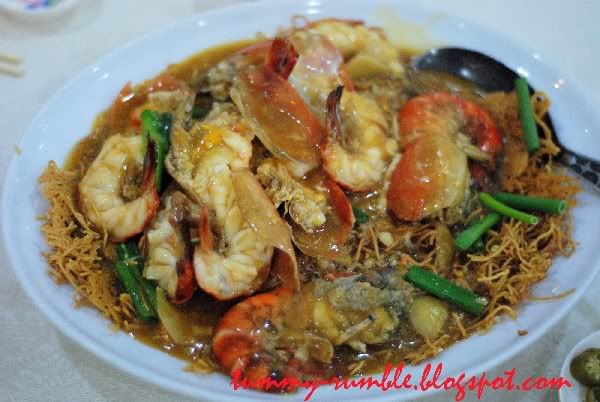 Fresh Water Prawn noodles
This noodles is priced on the weight of the prawns ordered. The prawns are
RM150
per kg. The prawns were pretty small that day as it was 1 week into Chinese New Year and they had a shortage of supply. The plate of noodles above was
RM86
. We had a total of 4 prawns.
Although a little pricey for smaller prawns, the noodles didn't disappoint. I still find this to be one of the best Sang Har Mein in town
(Soo Kee and a few other places in KL could give them a run for their money)
. The noodles were crispy, and when soaked with that flavourful sauce, it just makes me want to go on eating this and nothing else until I'm full.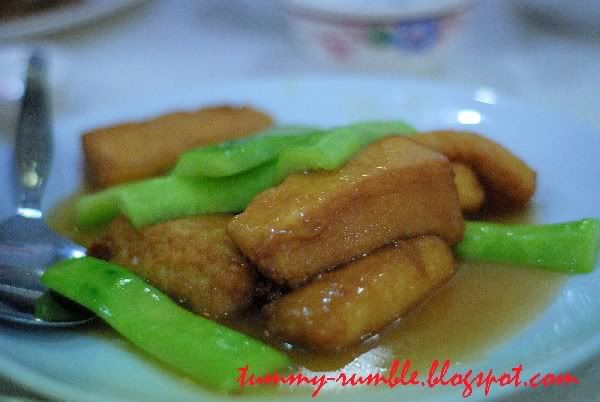 This is their specialty tofu. It was alright. It was priced at
RM10
.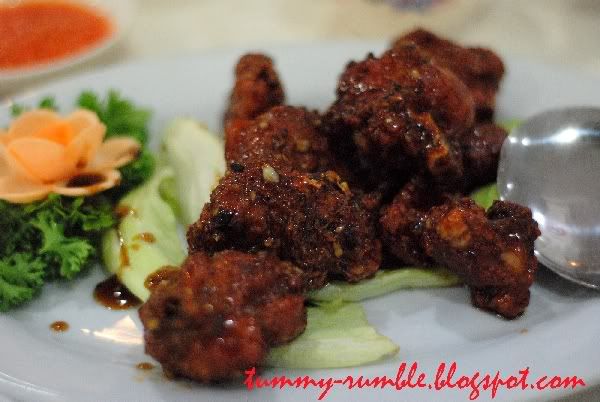 This pork ribs were actually not bad. But when there is so many good dishes about, I guess it didn't really shine up. I was keeping my stomach for the crabs. This dish was priced at
RM16
.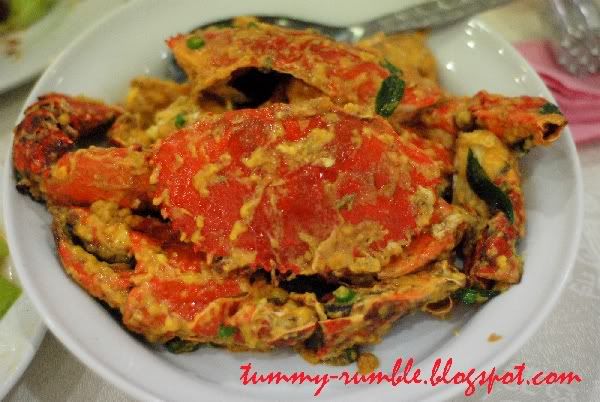 Salted Egg Indonesia Crab
(Ham Dan Hai)
This crabs were priced at
RM60
per kg. This dish was
RM90
. This dish is also undeniably the best salted egg crab I have tasted till date. The crabs were generously coated with salted egg and the meat came off easily and tasted good. The salted egg mixture didn't taste of sugar and did not contain much of that overwhelming panda extract flavour found at Lala Chong.
Restoran King Crab
, South Sea and Lala Chong can't even come close to this (this one place in Cheras might actually be off similar standard to this place).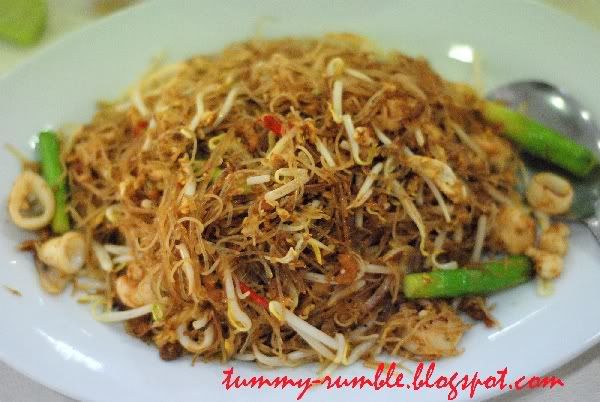 The noodles were reasonable. The noodles were ordered just to fill up the stomach (Chinese people like to end the meal with some carbs).
All in all, I have to say
Restoran Green View
is one of the better seafood places to eat in. I have never been disappointed with the crabs served here (some places are inconsistent). The suckling pig
RM140
(per piglet) is also not bad.
The meal came up to
RM250
. However, I was quite happy with it and would certainly recommend this place to others. I will definitely be back for more.
Note:
I have this feeling that my English sounds a bit constipated today. So, please overlook anything stupid I write.
Restaurant Rating:
8.5/10
Pricing:
RM50
per person (depending on what seafood is ordered)

*Ratings are based on ambience, service, value and food quality for the price you're paying. Opinions expressed are solely based on my personal experience
Map
to Restoran Greenview
Address:
6 & 8, Jalan 19/3,
46300 Petaling Jaya,
Selangor Darul Ehsan,
Malaysia.
Contact:
Telephone number: 03 7958 1076 / 03 7954 9263
Opening hours:
11am-11pm daily