>> Mar 22, 2010
Senses is probably the only restaurant in Kuala Lumpur serving modern Australian Cuisine. As the name goes, this place is bound to excite your senses.

According to KL-Studio.com:

Chef Michael is the Chef de Cuisine of Senses restaurant and responsible for the award-winning Senses Restaurant. His masterful creations in the kitchen amuse his guests - and their palates. Guided by Master Chef Cheong Liew, Chef Michael represents the rising stars of Modern Australian Cuisine where customers can expect exciting flavours and creative approaches to dining.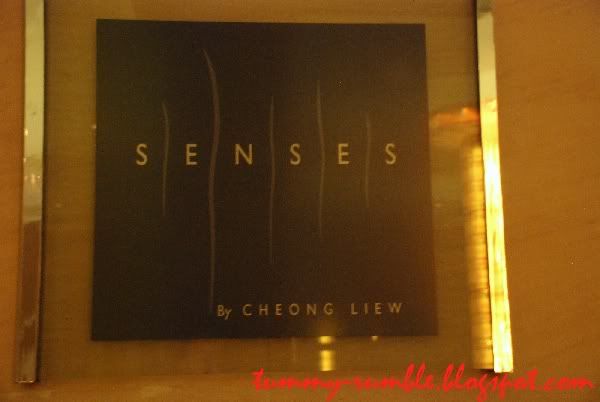 Senses is one of those top end fine dining places that place lots of emphasis on the quality of your food. Every dish in the menu has a recommended accompanying wine to go with it. From appetizer to main course, everything is bound to be something special.
We were served some bread to begin with. At senses, the butter accompanying the bread is from France. French butter tend to taste superior compared to butter anywhere else from the world. It was so creamy and smooth that it almost resembled cheese. The texture was just wonderful.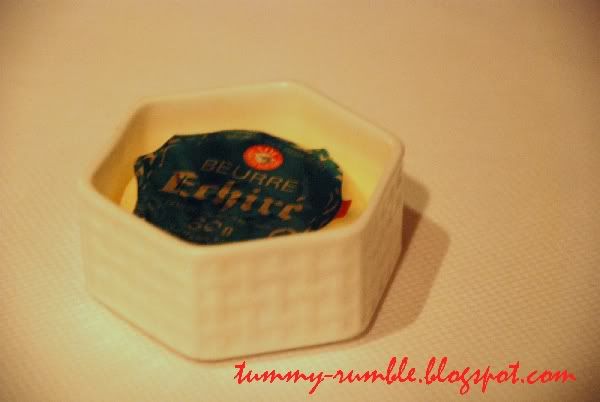 We shared 2
appetizers
to start of our meal.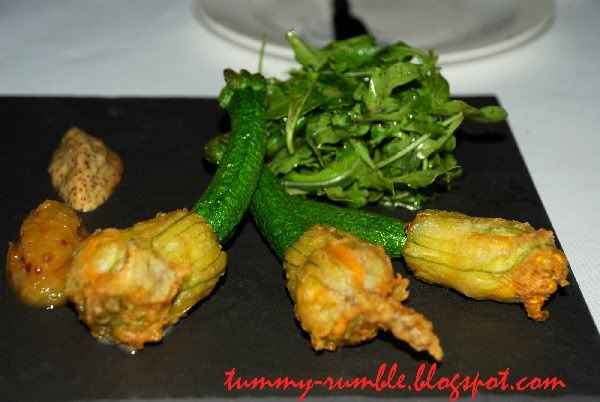 The zucchini flower (
RM78
)was a rather unique dish. Instead of serving the usual zucchini, this dish revolved around its flower and a small portion of its stalk. I found it to be quite pleasant to the palate. The crispy zucchini flowers were stuffed with scallops and served with organic green tomato jam in a bed of rocket salad.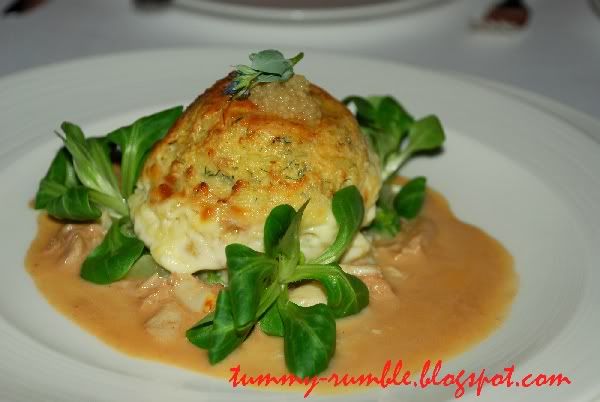 Queensland Spanner Crab Souffle
The crab souffle (
RM68
) was way too creamy for my liking. I got '
jelak
' or sick of the taste after 2 bites. I was rather disappointed with this dish.
Note:
My brother claims they serve a very good seafood soup here. I have previously tasted their
Hokkaido
scallops and I must say, it was rather good.
For the main,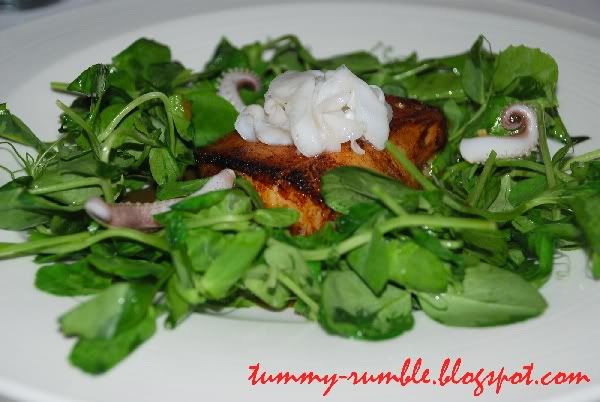 This dish was served with snow pea vine shoots, green chili and
coriander
sauce. This roasted cod fish (
RM88
) has got to be one of the best cod fish I've ever tasted in Malaysia. This dish is chef
Cheong
Liew's
specialty. After sinking my teeth into it, I was rewarded with remarkable flavour of fish marinated in soy sauce and other
Chinese
spices. This has got to be one of the best tasting dish in the restaurant. I highly recommend it.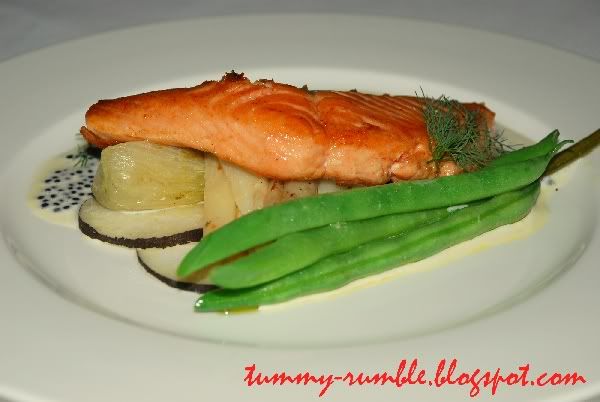 King Salmon
This New Zealand wild king salmon (
RM88
) was cooked in a cream-like sauce which was a little too bland for my liking. The cod
fared
superior to this plate of fish.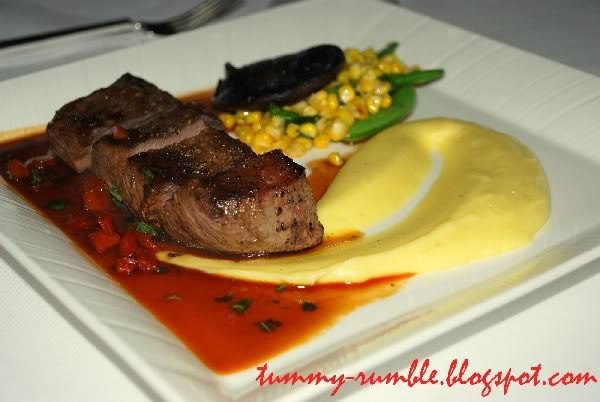 Farmed in Western Australia, this dish (
RM128
) was cooked quite neatly. The meat was medium, as requested. It wasn't tough, was well marinated, and went well with the wine. The wine smelt funny but tasted quite good.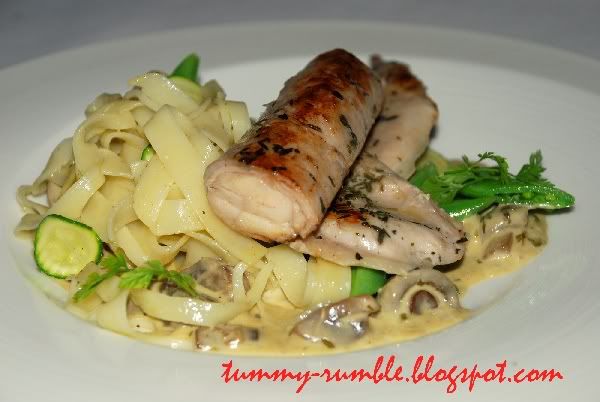 Yes, I know. I'm mean for eating someone
else's
pet. This farmed rabbit was gently cooked with french butter and herbs, placed on a bed of fettuccine pasta cooked with light cream sauce scented with mustard and tarragon. This dish (
RM78
) wasn't very good.
Taste-wise
, I was rather disappointed with it
Note:
For those of you who haven't tasted rabbit meat, it taste somewhat like chicken. I don't know why everything (frog etc.) seem to taste like chicken.
As for dessert,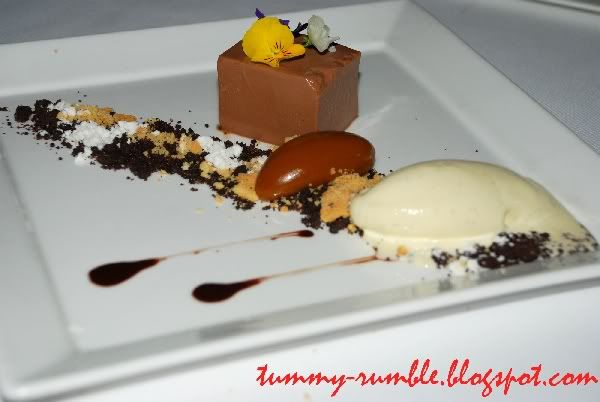 Considered the Rolls-
Royce
of chocolate, this smooth
Manjari
chocolate is made into an emulsion consisting of 30% chocolate and 70%
Evian
water. It is served with chocolate soil, Murray River pink salt caramel and pure cocoa oil. I have been longing for this dish (
RM36
) since the last time I came here. Take a little bit of everything, and swirl them together in your spoon and put it into your mouth. Just describing it makes me wanna eat it again. If my memory served me right, it used to be priced at
RM50
a couple of years ago.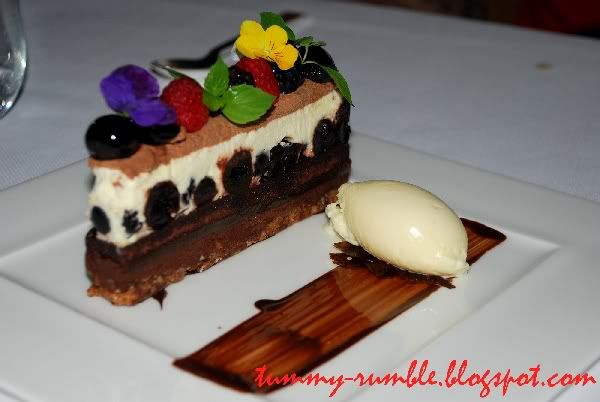 Specially created by chef
Cheong
Liew
, this cake (
RM36
) consist of 7 layers. From
bottomwards
up, nuts, chocolate brownie, apricot jam, mud pie, cherry, white chocolate, cake and fruits. The cake certainly didn't match up to the description. The alcohol taste was rather too strong, and the many layers produced a too complicated flavour in the mouth. I don't know, some people might actually like it, but I didn't really enjoy it.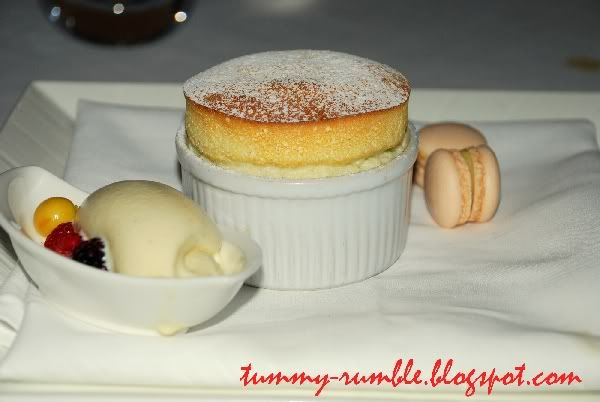 This Grand
Marnier
Souffle (
RM36
) required a 25 minutes preparation time. According to the waiter, the 25 minutes was to allow the chef to
rebake
another souffle if it somehow broke on the first try. It was alright.
The last time I was here a few years ago, I was treated to 6 of Senses desserts that are no longer in the menu anymore. Dang it, I used to have this fond memory that the desserts served at Senses were very very good. Compared to my visit 2 years ago, the desserts have reduced in price but the main has gone up quite a bit.
All in all, Senses is a restaurant serving rather good food. However, it pays not to be too adventurous in such restaurants. Go with the seafood soup, a steak or the cod and the
Manjari
Emulsion. You definitely can't go wrong with that. Anything else and something unexpected might turn up.
Dress Code:
Smart
Restaurant Rating:
8/10
Pricing: About
RM200
per person.
Service: 8.5/10
Quality: 8.5/10
Ambience
: 7.5/10
*Ratings are based on

ambience

, service, value and food quality for the price you're paying. Opinions expressed are solely based on my personal experience
Map
to Senses
Address:
Senses Restaurant,
Hilton
Kuala
Lumpur
,
3
Jalan
Stesen
Central,
50470
Kuala
Lumpur
.
Contact:
Telephone number: 03 2264 2592 / 03 2264 2596
Website:
http://www.kl-studio.com/senses.html
Opening hours:
Monday-Friday: 12:00 PM - 10:30 PM
Saturday: 7PM-10.30PM
Closed on Sundays