>> Jun 25, 2010
When it comes to eating around Ara Damansara area, unfortunately your choices are limited. The only few places I can think of that serves reasonable food would be Daorae, Kansai, E-San kitchen (Thai restaurant) and maybe the hawker centre Do Re Mi as well as the Cha Chan Ting next door. Lala Chong is seriously darn bad (I'm talking about the Ara Damansara branch not the Subang Airport's *I'll do a post on it some other time*). Seriously, that's about it. Sad huh?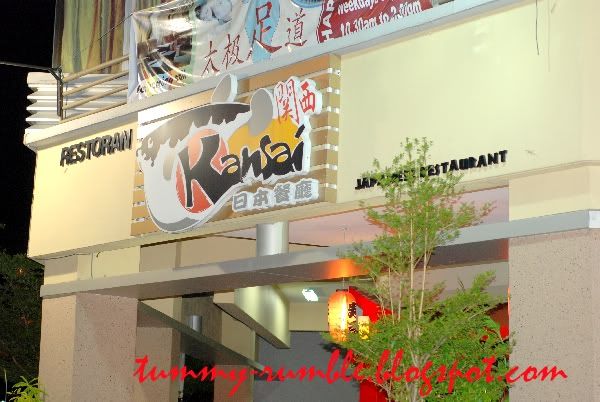 Kansai

Japanese Restaurant
Parking can be a bit of an issue here sometimes due to the over congested apartment next door that misuse the free parking area in plaza
NZX
(
Niu
Che
Shui
). I have no idea why this place is known as
Niu
Che
Shui
but
that's
not important.
Every time
I'm at
Kansai
, I usually order the same stuff. Its has sort of become a routine for me. We usually come here as its very near to my place (and Mr
Lim
is a nice guy who deserves some support). I'm sorry to say I still prefer
Jyu
Raku
or
Rakuzen

'
s food over this place.
Anyway, we started of with a soft shell crab salad (Soft
Kaniko
Salad)
The salad mostly consist of flour (instead of crab), lots of cucumber and radish
shredded
finely topped with flying fish roe. It is priced at
RM10.99
per plate. Although it is mostly flour with some bits of crab, it comes together very nicely I must say. Definitely worth a try.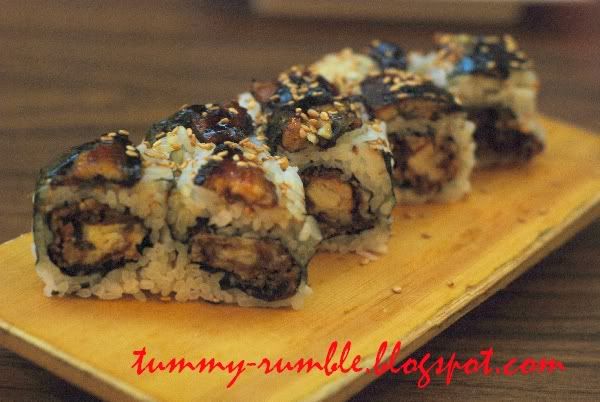 Priced at
RM17.99
, this is by far my younger brother's favourite roll. He says it is even better that
Rakuzen's
Dragon Roll or
Jyu
Raku's
King Roll. However, I beg to defer. I must say, this roll is a different taste and texture compared to the usual dragon roll. It is crunchy and has a nice bite to it. The
Unagi
(eel) topping the roll also gives it a nice flavour.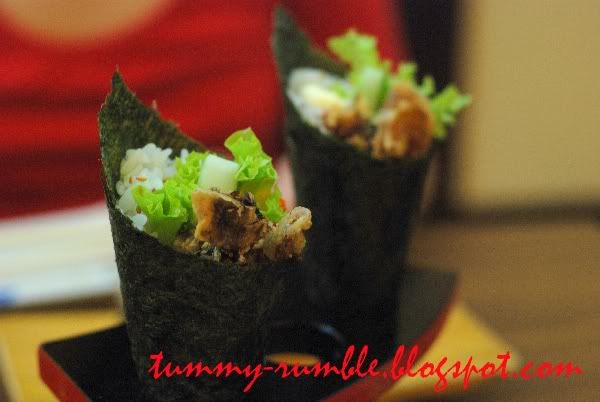 The Soft Shell Crab
Hand Roll
RM5.99
is basically a
California
roll except that the crab stick is substituted with soft shell crab. The roll was alright.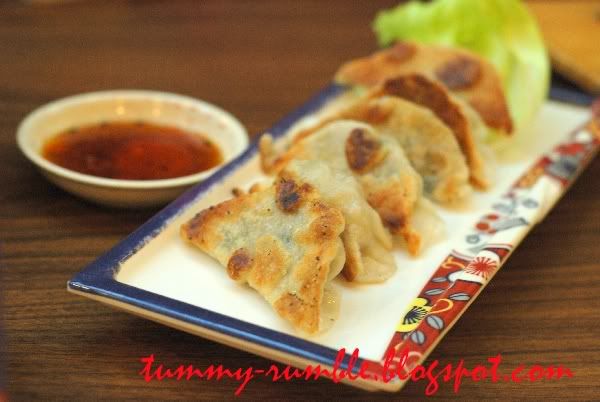 Gyoza
, the
Japanese
version of wanton is pan-fried and eaten with a little vinegar. I didn't really enjoy this dish. The flour was too thick for my liking. I doubt I'm gonna order this again. It was priced at
RM11
.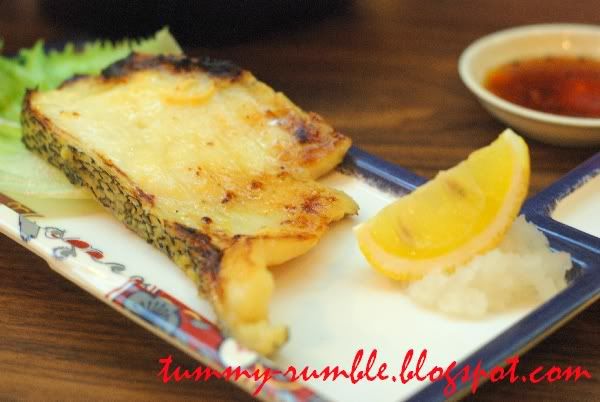 The cod was marinated in
teriyaki
sauce and pan-fried till crispy. It had a nice flavour and texture to it. It was priced at
RM23.99
. I found this fish to be nice but a little
pricey
for its size. Good things don't come cheap.
All in all,
Kansai
is a nice place to have a decent Japanese meal. It certainly doesn't even come close to being the best Japanese place around. The food is alright and the price is reasonable. I would still continue to patronise this place as its location makes it very convenient for me.
I'm off for dinner and then 'Knight and Day' after. Until next time.
*Opinions expressed are solely based on my personal experience


Pricing:
About
RM35
per person
Map
to
Kansai
@
Niu
Che
Shui
(牛车水)
Address:
Kansai
K-G-08, Block
STK
,
No. 2,
Jalan
PJU
1A/41B,
Pusat
Dagangan
NZX
, Ara
Jaya
47301
Petaling
Jaya
,
Selangor
Darul
Ehsan
,
Malaysia.
Contact:
Telephone number: 03 7883 0139 / 012 282 0050
Opening hours:
(12:00 p.m. – 3:00 p.m. & 6:00 p.m. – 10:00 p.m)
Closed on Sundays