>> Jun 23, 2010
SS15 has been famed for its row of Japanese Restaurant opposite Subang Jaya Medical Centre (now Sime Darby Medical Centre). Restaurant Ryu Men Tei was the first restaurant that initial opened for Japanese fare around that area. Then popped Rakuzen, then Jyu Raku and now Tomoe.

A long time back, I asked someone about Ryu Men Tei, its been there before I even came to Subang Jaya, which is a very long time ago. I once asked someone what does Restaurant Ryu Men Tei serves and the person told me it was a tea house.

One fine day, Tjinn suggested we go there for dinner. He wanted to eat their ramen (japanese noodle in soup). Since the boy just came back from India, we decided to cater to his wishes.

Parking can be a problem around the area due to the many Jap restaurants. If you're willing to walk, then it shouldn't be a problem.

The restaurant was empty except for another table that night. I really do sympathize with them. Ever since Rakuzen Subang opened up, this place has been empty. Its rather surprising its still up and running.

The food took surprisingly slow to come. Probably because it was freshly cooked upon order (restaurants that don't get many customers probably do not defrost their food until required *my personal opinion*). My ice green tea smelt of the cupboard (the usual cupboard smell you get when you keep something in it for too long, they should have washed the bloody cup).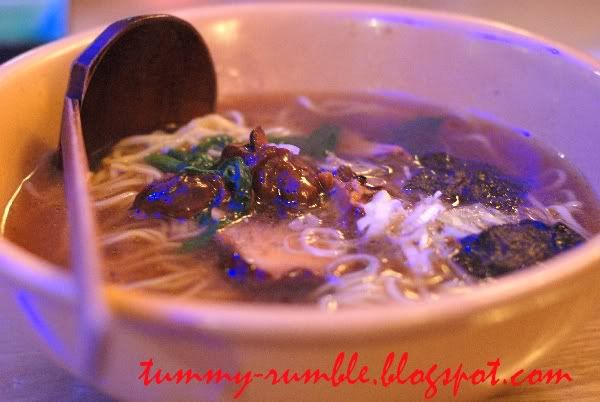 Pork and Seaweed

Ramen
The Pork and Seaweed
Ramen
(RM18
)was cooked in a
soya
sauce broth. True
ramen
is cooked with pork broth. Too bad most places in Malaysia are halal. The
ramen
was one of the better ones found in KL. The portion was alright but I rather it had a little more of the roast pork in it.
Note: all of us ate the same
Ramen
, so I guess there will only be one picture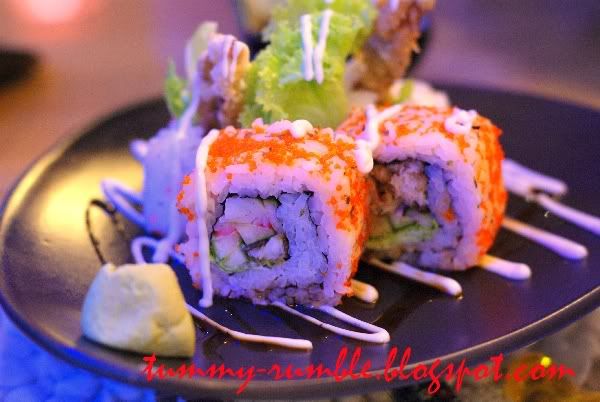 The Soft Shell Crab Roll (
RM20
) was alright. Tasted quite similar to
Jyu
Raku's
and
Rakuzen's
.
All in all, I would definitely come back if I'm craving for
Ramen
. I'm sorry but I'm a big fan of pork. Yes, I'll even come back after that funny smelling cup experience. So if any of you want a good taste of
ramen
that have PORK, you know where to go.
Note: Thank you for the meal (you know who you are)
*Opinions expressed are solely based on my personal experience


Pricing:
About
RM35
per person.
Map
to Restaurant
Ryu
Men
Tei
, SS15
Subang
Jaya
Address:
Restaurant
Ryu
Men
Tei
No.5
Jalan
15/5a
47500
Subang
Jaya
Selangor
Darul
Ehsan
Contact:
Telephone Number: 03 5635 2574
Opening hours:
11:30am-3:30pm, 6pm-11pm daily