>> Jun 13, 2010
It has been ages since I updated. I do apologize for that. I had exams after exams, and it was no walk in the park. See? I have a valid excuse.

Anyway, my auntie told me that Senja @ Saujana Hotel serves not bad steaks. So one fine day, I decided to give it a go.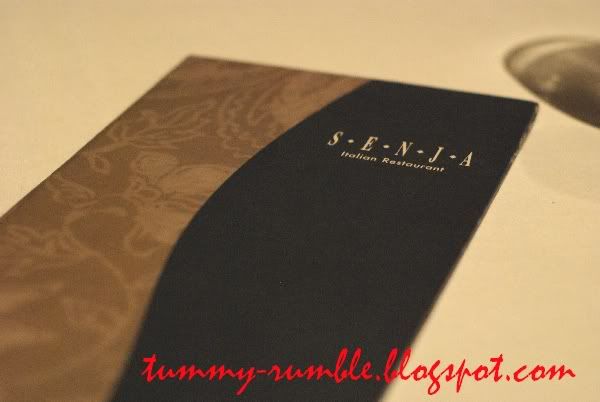 Parking wasn't an issue. It was even free. The place seemed kind of deserted. When I stepped foot into the restaurant, it was kind of empty. I guess the down turn of the economy sure has a pinch on food businesses nowadays.
After placing our orders, we were served olives as well as bread with balsamic and olive oil. It was alright. No biggie.
We ordered a pizza
bianca
to share. It was basically thin crust (
Italian
style) pizza dough drizzled with olive oil, garlic and rosemary and then baked till crunchy.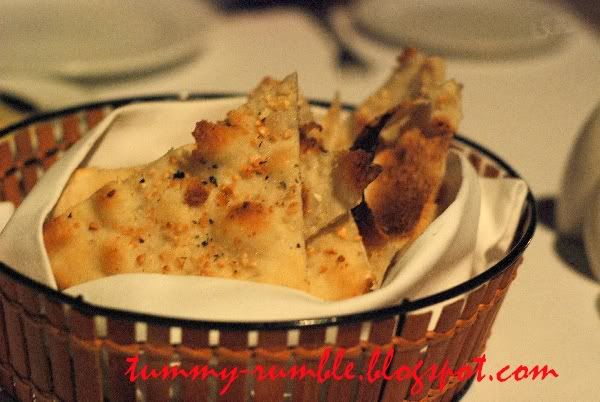 Pizza Bianca


This made a very good snack while waiting for the mains. It was priced at
RM25
.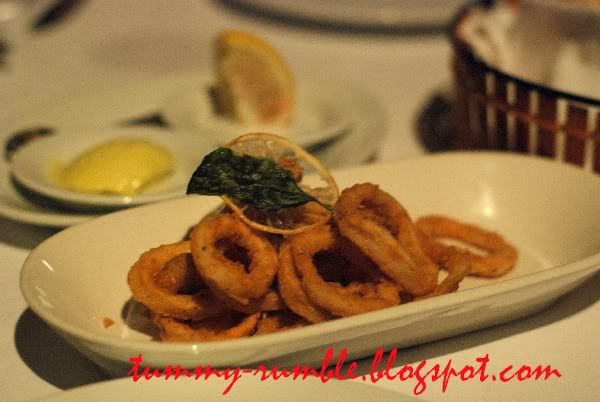 That's
how its spelt in the menu anyway. The calamari fritters barely made it to the average point. It wasn't crispy and nice on the outside. It came a little soft, although hot. This definitely didn't come close to a thumbs up. It was priced at
RM25
as well.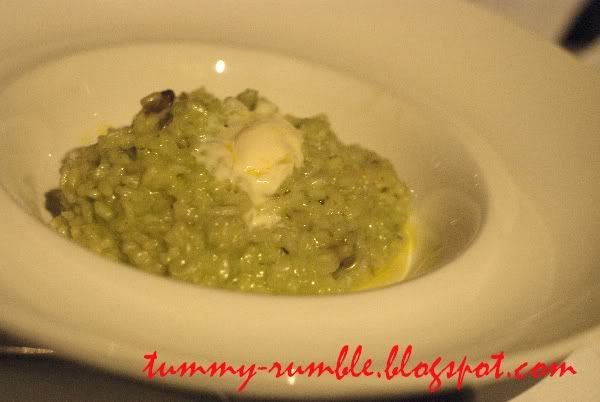 Fresh Pea Risotto with Fresh Clams and Herbs
It was not bad at first bite. The peas gave the rice a nice pleasant flavour. However, I couldn't imagine myself eating spoon after spoon of it. The word '
Jelak
' came to mind after 2 spoonful. It was priced at
RM38
.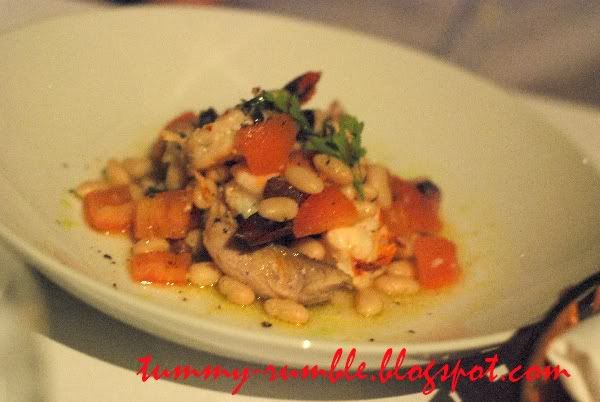 Sicilian Seafood Salad with Prawns, Calamari, Snapper & Lobster, freshly shaved

fennel

, parsley and lemon zest
This dish is a main. Someone was feeling healthy that day. The salad wasn't that great. It was edible, but surely not worth that
RM69
.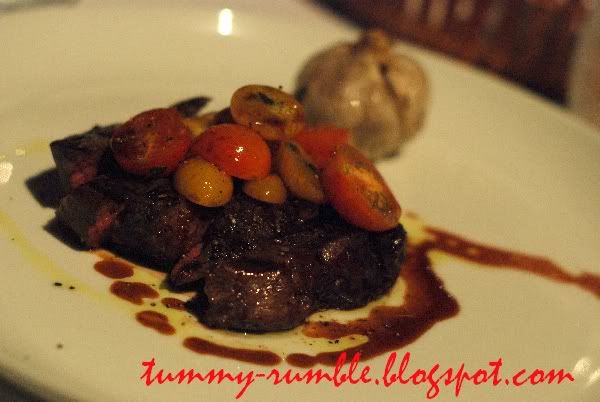 Char Grilled Rib Eye with Tomato Salad
This had to be the best dish that night. It was a slightly better than average steak. The tomato went well with the steak. Although it wasn't exactly expensive beef, it was cooked to medium which I asked for, and it wasn't tough. I was quite happy with it. The steak was
RM64
.
I heard the desserts here don't stand out in anyway. So we decided to skip dessert.
All in all, I probably will not come back to this place as I can think of many better places around to eat for the same price. However, if you somehow find yourself stuck in
Saujana
for a conference or meeting or something, you know where you can go to find average food.
After all
, I still can't seem to find an exceptionally good western food joint in
Subang
Jaya. Until then.
*Opinions expressed are solely based on my personal experience


Pricing
: About
RM80
per person.
Map
to
Senja
, Italian Restaurant
Address:
Senja
, Italian Restaurant,
Hyatt
Saujana
Hotel,
Section U2,
40150 Shah
Alam
,
Selangor
Darul
Ehsan
Opening hours:
Opens Daily
Dinner: 7.00 pm until 11.00 pm