>> Jul 20, 2010
Ever heard of Murni in SS2? Well, if you haven't, shame on you. Murni is probably the most famous mamak stall in PJ. During peak hours (8pm-12am), tables could be seen being placed out on the pathway of at least 10 shop lots to the right and left of Murni's actual shop lot. Anyway, William's as the name entails, is a mamak/western food place own by the brother of Murni.

Williams is situated behind the old Lim Kok Weng building. My mother would classify it as one of those road side stalls that looks dirty, dusty and any other horrible adjectives she can think of. Anyway, from the looks of how dodgy and dirty looking William's is, I doubt I would even bother to eat there if I wasn't introduced to this place by a friend quite some time back. Parking shouldn't be a problem here.

The food are pricier than Murni's. They share a few similarities though eg: Ribena Longan, Mi Raja, Roti Hawaii etc. As to which place serves better food, it is subjective. Some people argue Murni's is better, some people choose Williams. I personally feel that William's serves better food.

The portion at William's are extremely big. Some of their dishes could easily feed 2 people.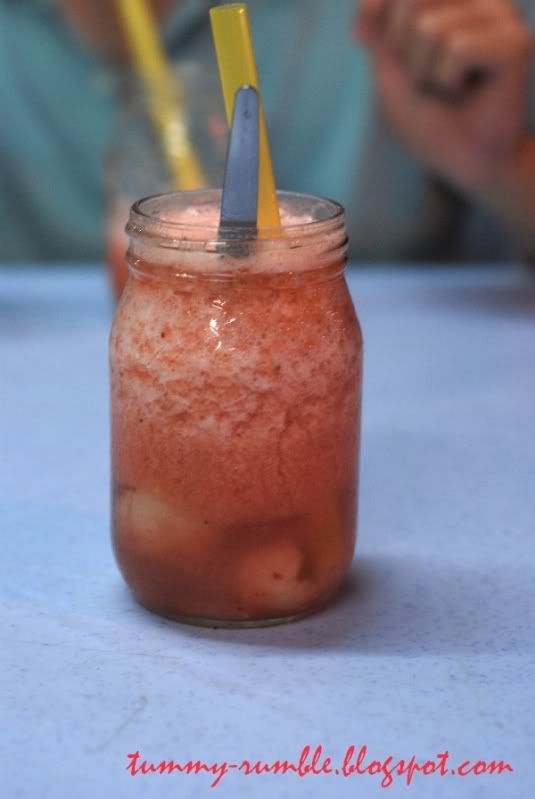 Ice Blended
Strawberry and

Passionfruit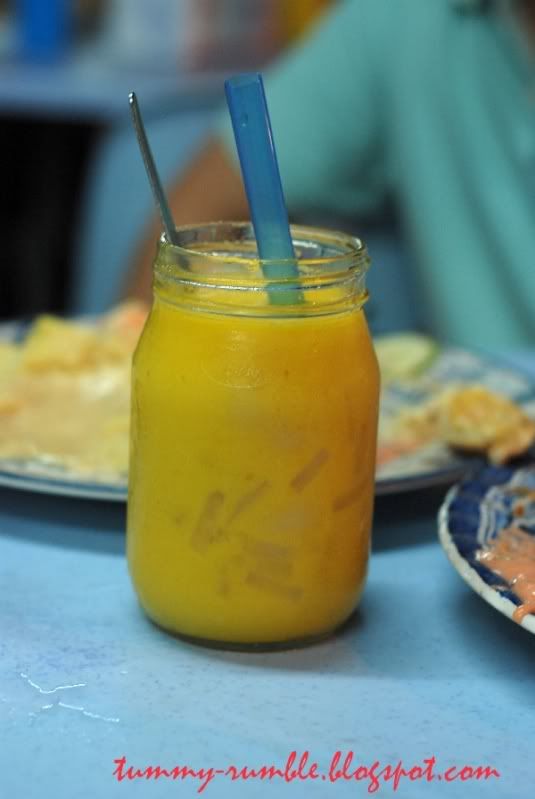 Each of the ice blended drinks are
RM4
. I actually ordered
Ice Blended Banana and

Passion Fruit
(this drink can only be found at William's), but the waiter somehow brought me the wrong order. Being the nice person I am, I chose not to make him redo my drink. The
Ice Blended Strawberry and

Passion Fruit
tasted too sweet and syrupy. I'll still prefer the banana and
passion fruit
over this. The mango ice blended was alright.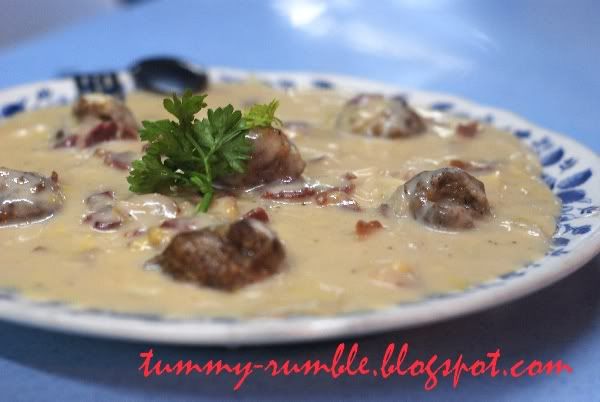 The meatball
carbonara
came with a good deal of beef bacon and
beef balls
. The
beef balls
were stuffed with
Mozzarella
cheese in the middle, giving it that nice, gooey texture when sinking your teeth into. The
carbonara
sauce however, wasn't anything special. The plate of pasta was priced at
RM20
.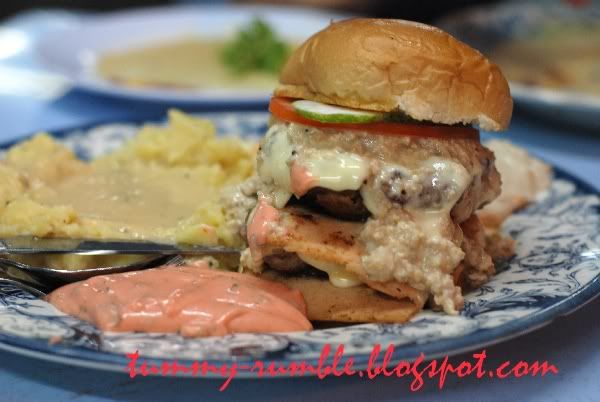 I still can't really tell what the 3 H stands for. All I gathered was Ham. Anyway, the burger came with two large slabs of beef patty, ham and cheese with a side of mashed potatoes. The burger bread of stuffed with lots of
planta
margarin
(that contains loads of trans fatty acid which can lead to cardiovascular diseases). As for the taste, it was alright. The burger was
RM25
.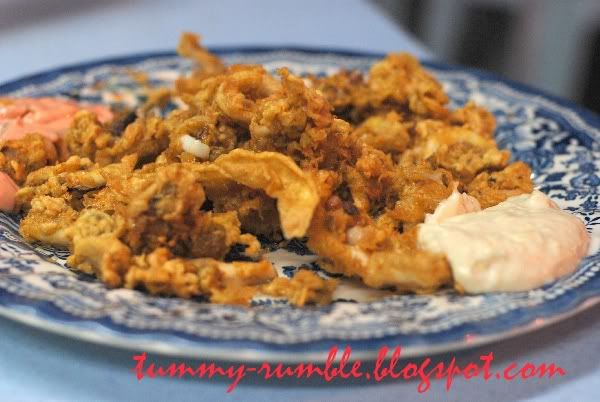 Sotong

Goreng

(fried Calamari)
We also ordered a plate of fried Calamari to share. Calamari is actually a type of squid and does not mean fried squid which people tend to confuse themselves with. Although extremely unhealthy and oily, I always liked their fried Calamari at William's. That plate was
RM15
.
Other popular dishes at William's are the various types of
Naan
, Beef ribs, Steak, soft-shelled crab fried rice, pastas cooked either with tomatoes, cream sauce or
Aglio
Olio
.
All in all, if you're looking for relatively cheap Western food that comes in extremely big portions, or you're looking for a nice place to hang out, head over to William's. William's is an extremely cool and funny guy. I especially like his inverted
Mc
Donald's logo shirt that shows a 'W' instead of M.
*Opinions expressed are solely based on my personal experience


Halal
Pricing:
About
RM25
per person
Map
to William's
Address:
Jalan
SS26/9 (same row as 7-11),
47301
Taman
Mayang
Jaya
,
Petaling
Jaya
,
Selangor
Darul
Ehsan
,
Malaysia
Opening hours:
6pm until about 2-3am