>> Jul 22, 2010
Well, I somehow found myself in Empire Shopping Gallery again. This time round, I chose to have lunch at Lam Mee Ya. I've actually been to their other branch somewhere in uptown.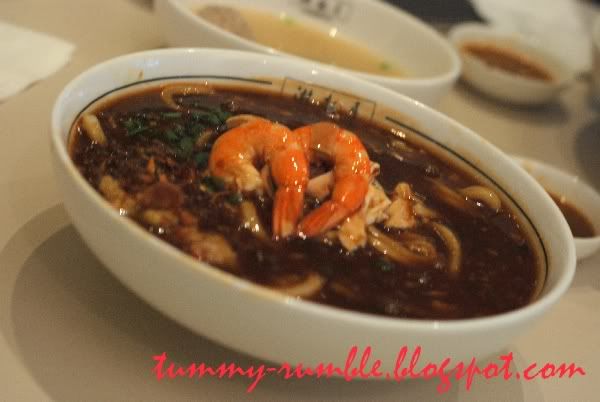 Lam
Mee
consist of those big fat noodles (used for
Loh
Mee
and
Hokkien
Mee
), cooked in a thick gravy, topped with prawns, shredded chicken, fried onions and basically anything else you want. The Lam
Mee
here was so-so. You can't expect much from a franchise now can you? A bowl is under
RM10
(not exactly sure as the pictures somehow managed to disappear from my phone).
We also ordered some fried Sui
Kow
(dumplings) and meatball. The drinks prices here are comparable to a bowl of noodles. If its any consolation, the juices are 100% pure juice though.
All in all, Lam
Mee
Ya is one of those places that serves average lame mee. Convenience is probably their selling point. I know a lot of people who are willing to tolerate average food if its served in a good environment over having the best food in a crappy place. It all boils down to personal preference as hawker food taste different when served in a nicer place somehow.
*Opinions expressed are solely based on my personal experience


Non-Halal
Pricing:
About
RM15
per person
Map
to Empire Shopping Gallery
Address:
Restaurant Lam
Mee
Ya,
LG31, Empire Shopping Gallery,
Jalan
SS16/1,
47500
Subang
Jaya
,
Selangor
Darul
Ehsan
,
Malaysia.
Opening hours:
10am-10pm daily