>> Jul 28, 2010
My computer is dying on me. It keeps getting hang and I have to end up resetting it. I somehow feel that Dell computers have a tendency to start giving trouble after 3-4 years (which usually corresponds to the warranty date). To top it up, photobucket isn't being very helpful at the moment. I had to upload my pictures 10 times to actually get it uploaded. Anyway, enough digression. Back to the food.

When it comes to food in OUG, one can always get a relatively large variety of good eats. There is a choice of Hakka Noodles at Restaurant Yang Kee, Curry Laksa at either Restaurant Hong Beng or Ah Loy Curry House, Pork Noodles at Restaurant Sun Sea or Pan Mee at Restaurant Swee Hing (there's always Steven's Corner if you run out of choices). Anyway, those are the only places that serves okay food. Anywhere else in OUG and you will be quite disappointed.

Parking is a very big hassle at Restaurant Swee Hing. You better pray lady luck is on your side if you're trying for a parking around here. To make matters worst, there is always a long queue for the pan mee at this place.

One can choose for the noodles to be pinched my hand or rolled out with the machine. There is also a choice for it to be cooked dry or soup based.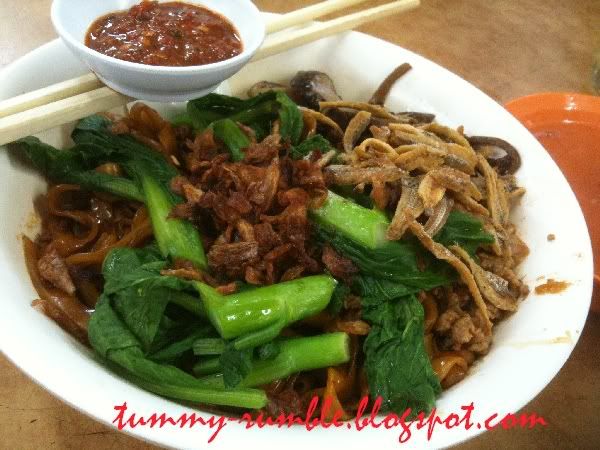 The noodles came with lots of minced pork, fried
ikan
bilis
, some
Chinese
mushrooms, vegetables and a good sprinkle of fried onions.
Tastewise
, I would rate it as okay (my friends however swear by the pan
mee
here). I still prefer the Pan
Mee
at
Lian

Heng
(SS19,
Subang
Jaya
). The noodles are
RM5
for small and
RM5.50
for large. Mind you, the portion is quite big.
All in all, worth a visit if you somehow find yourself in
OUG
. If you fancy a change, you can also try the fried pan
mee
at
Lucy's Stall
in happy garden which is quite nearby.
*Opinions expressed are solely based on my personal experience


Non Halal
Pricing: Under
RM10
per person
Map
to Restaurant
Swee
Hing
Address:
Restaurant Swee Hing,
Jalan
Hujan
Rahmat
3,
Overseas Union Garden,
58200
Kuala
Lumpur
,
Malaysia.
Opening hours:
Morning until it runs out (about 2pm)