>> Jul 14, 2010
I was in Kota Kinabalu for the weekend (or rather 38 hours). Due to my extremely short time spent here, I was unable to sample any of their local specialties (fish noodles, roti kahwin, ikan bakar[grilled fish] etc). However, I did manage to eat a good deal of seafood on my first night there. Contrary to people's believe, the seafood there wasn't cheap (I'm talking about their higher end seafood restaurants in town). Eg: Ocean Restaurant, Port View Restaurant and Grand Port View Restaurant.

Anyway, I have to say that we made a wrong choice choosing to go the Port View Seafood Village. Initially I chose Ocean Restaurant, however as it was raining, we decided to not inconvenient ourselves and go to Port View which is opposite Le Meridien.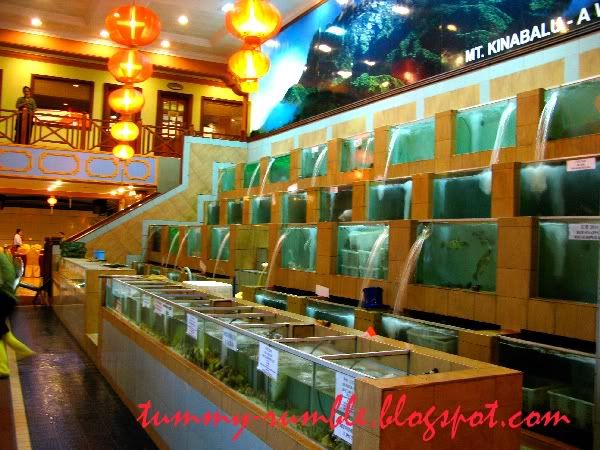 The various tanks of Seafood in tanks
Don't be fooled by the picture. It was a Friday night and most of their so called 'sought after' seafood were out of stock. The bigger king lobsters and some of their prawns were out of stock. To make matters worst, the service was utter rubbish. I had to wait 15 minutes before I could even begin picking my seafood.
The food didn't take long to come. However, they kept putting more dishes on the table even though we were not done with the previous dish yet. I had that 'rushed' feeling as I was afraid the next dish would get cold.
As for the food, we had to order 2 smaller king lobsters as they were out of bigger lobsters. This was rather disappointing as most of a lobster's weight are in its shell. Hence the bigger the lobster, the higher the meat to shell ratio in a lobster. It would certainly had made a nicer presentation as well. On the bright side, a bigger lobster 'might' have a slightly firmer/tougher meat. The so called 'king lobster' is known as
Sabah
lobster
back here in Kuala Lumpur.
Check out my
post
about the various types of lobsters.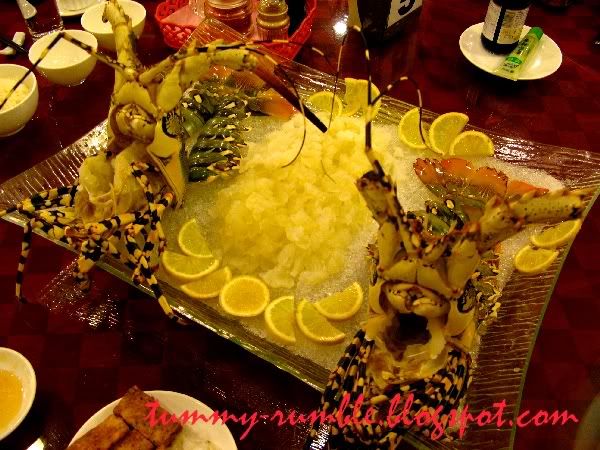 Sabah's

King Lobster

Sashimi
Unlike KL, the lobster
sashimi
was only served with
wasabi
and Japanese Soy Sauce. It didn't come along with that herbal broth for people who don't fancy eating the lobster raw. The Sabah lobster had a crunchier texture compared to the Australian Lobster. However, I felt that the extremely spicy wasabi didn't do justice to the lobster. I would suggest they provide milder
wasabi
for patrons to actually savour the delicate lobster flesh rather the taste of the
wasabi
. The lobsters were priced at
RM260
per kilo. I'm not telling you how heavy the 2 lobster above were.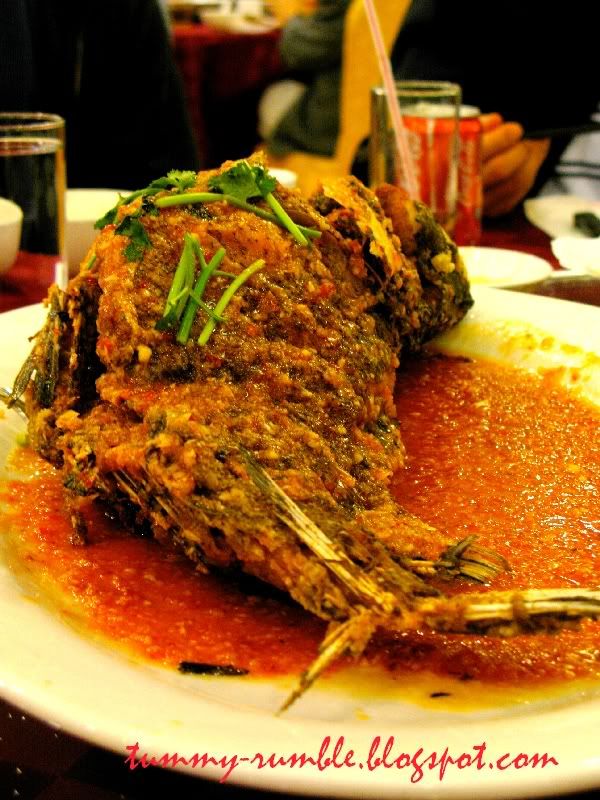 Deep Fried

Garoupa

with Thai Sauce
As one of our guest was a top surgeon in the states, he carefully dissected the fish into nice big portions for everyone. The fish was fried until crispy and the coated with a
thai
chilli
sauce which was not exceedingly sweet nor spicy (This sauce certainly tasted much better than its bottle counterpart found in most hypermarkets). Don't get me wrong, I enjoyed this dish very much. The grouper was
RM80
/kg. That fish was about 1.8kg if my memory serves me right. Anyway, to digress a little, I once caught a grouper that was 5 kilos.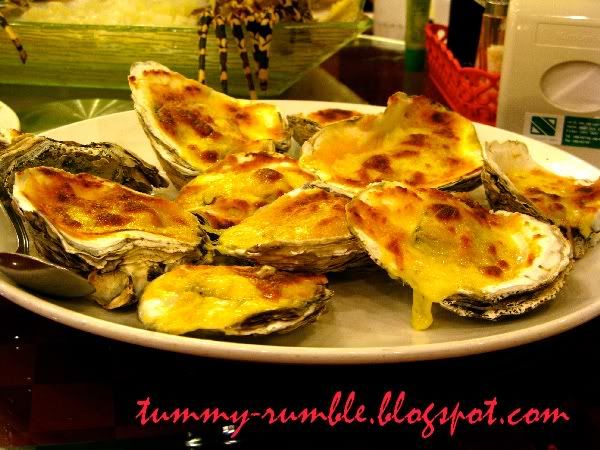 Oysters baked with Cheese
As we were afraid of food poisoning, I opted for the oysters to be cooked with cheese. The other option was to have it with a good squeeze of lemon (and tobasco) or cooked with garlic. The cheese oysters were nothing great. I've tasted better. The oysters were
RM9
each (cooking it with cheese cost
RM2
more).
Next we had a kilo of soft shell crabs cooked with salt and pepper.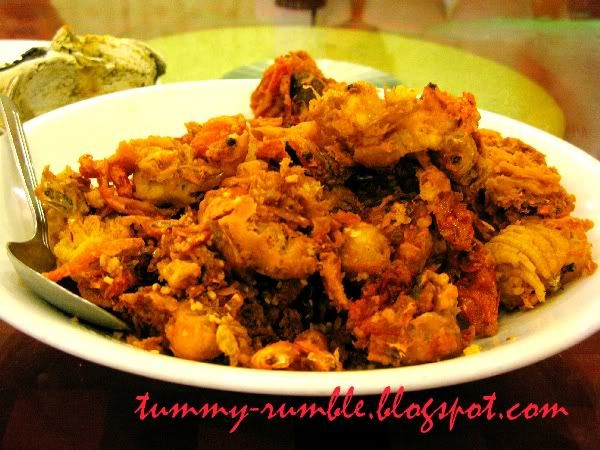 Deep Fried Soft Shell Crab with Salt and Pepper
Soft shell crabs are one of those 'specialties' of
Sabah
. It is relatively cheap in
Sabah
. A kilo of soft shell crab here is
RM80
. When compared to the vegetables which was
RM30
and the Tofu which was
RM50
, the crabs suddenly appeared much cheaper. Anyway, the crabs were deep fried till crispy and then stir fried with salt, pepper and bits of garlic. It was good.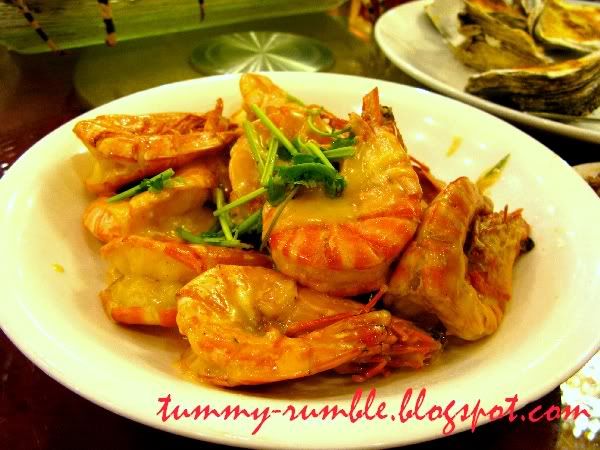 Tiger Prawns cooked in a Wet Butter sauce
As they were out of most of their prawns, we had to go for 'medium' sized tiger prawns. The medium is about 100grams each (100grams is very heavy for a prawn, try weighing your prawns bought at the market). The large was almost double the size of the medium (the large cost
RM40
a prawn). The medium cost
RM170
per kilo.
Taste wise
, it was decent. This style of cooking isn't found in KL. However, it didn't do justice to the prawns. The waitress told me this style goes very well with the prawns. Unfortunately, I think she was wrong. I still
preferred
my prawns to be steamed with egg white and
Chinese
wine. Cooking prawns with minimal seasoning brings out the natural flavour of the prawns.
We also had their restaurant specialty tofu and the famous
Sabah
'
chai
' (vegetables in
Hokkien
).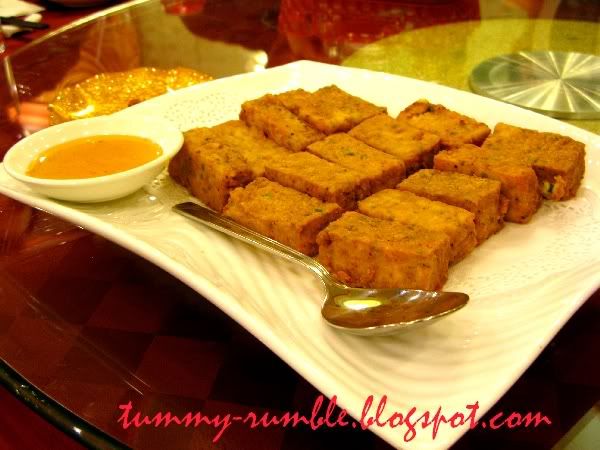 The tofu was surprisingly good.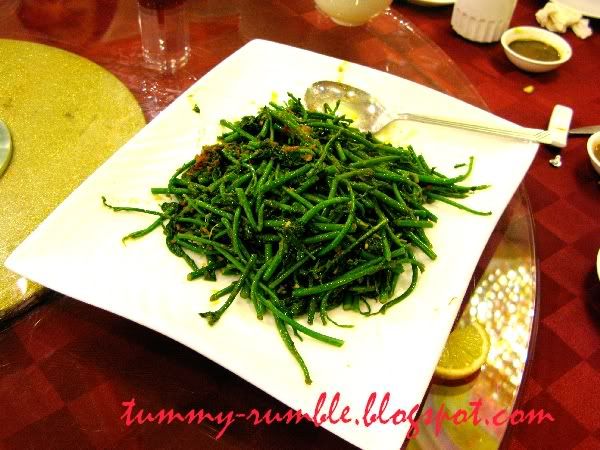 I shall not comment on this dish as I didn't get to try this dish. Its not that I don't eat vegetables, it was all gone before I could get a chance to try it. Anyway, I shall not complain. I had more of the other good stuff (haha).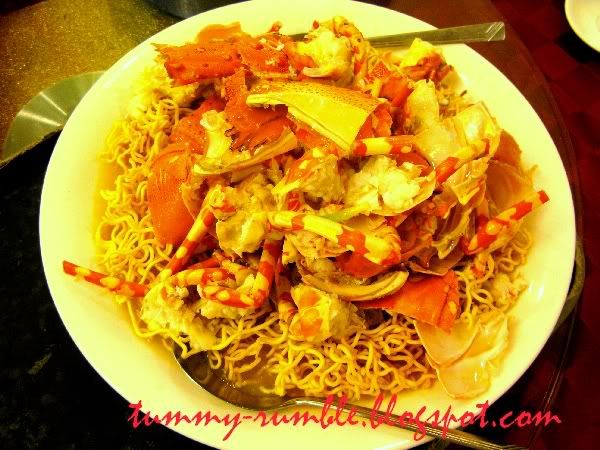 The remaining bits of the lobster shell from our previous dish was cooked with noodles. The noodles were decent but nothing to shout about.
Sabah's
version of lobster noodles varies a little from the KL version.
All in all, the food was decent (not exceptional). The prices were just a tad bit cheaper than
KL's
(they cook it better over here though).
The next morning, we were told that another group of people went over to
Ocean Restaurant
to eat. They told us that they really enjoyed their food and unlike us, didn't encounter any 'out of stock' signs pasted beside the various aquariums.
Anyway, it was a pretty short trip to
KK
. Apart from Port View Restaurant, the only other place I went was the
Fillipino
Market next door. I was too caught up with some last minute changes in my presentation. I certainly would like to sample more of
KK's
food places. I might even plan a diving trip to
Sipadan
while I'm at it.
Note:
I bought a 2.7kg Deep Sea Chicken aka Hoi Tai Kai / ikan ayam back from Sabah. Can't wait to eat it this weekend.
*Opinions expressed are solely based on my personal experience


Pricing:
About
RM100
per person (more depending on the seafood ordered)
Map
to Port View Seafood Village
Sdn
.
Bhd
@
Jalan
Tun
Fuad
Stephens,
Kota
Kinabalu
,
Sabah
Address:
Port View Restaurant,
Lot 18, Ground Floor,
Anjung
Samudra
(The Water Front),
Jalan
Tun
Fuad
Stephens,
88000
Kota
Kinabalu
,
Sabah
Contact:
Telephone number: 088 221753
Website:
www.portview.com.my
(there's nothing much there actually)
Email: portview@tm.net.my
Opening hours:
11am-11pm daily