>> Aug 21, 2010
Paramount Garden, a couple of stone throws from SS2 is the Roast Duck Heaven of Petaling Jaya. Almost everyone knows that Sunrise and Loong Foong serves one of the best Roast Duck in the state. What people don't know is that Loong Foong serves other good dishes for dining in as well.

Finding a parking is no biggie but finding a parking right in front of the restaurant proved to be quite a formidable task. As I always say, a brisk walk before dinner is always a good thing (no scientific study done on it but I don't mind walking before dinner). The place was packed tighter than a can of sardines. We were seated after a brief wait.

We started off with their 1/4 of a roast duck (which I just had the day before).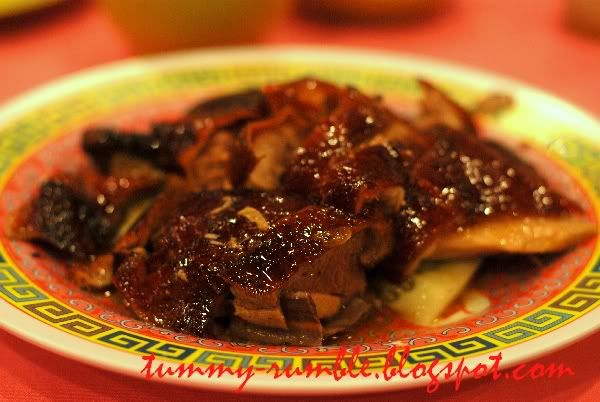 Hong

Kong Style Roast Duck
The Roast Duck was golden brown and had a super crispy skin and a thick layer of fat (which I am not too fond off). The meat was
succulent
as well. The accompanying
chilli
and duck sauces were superb as well. Usually I take away a whole duck but the duck somehow tasted nicer when dining in. A whole duck goes for
RM48
.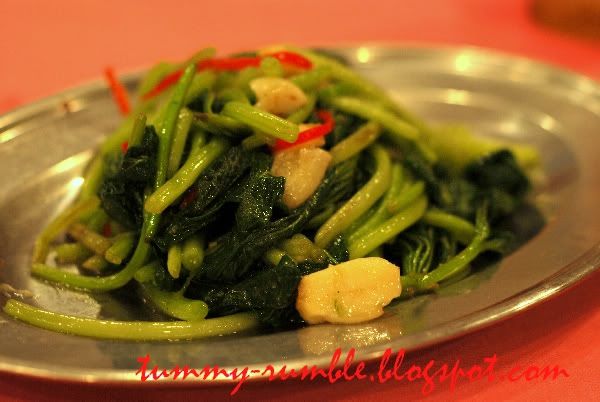 Fried Sweet Potato Leaves
We had to have some vegetables for the sake of a complete meal. Somehow, vegetables fried in a restaurant ALWAYS taste much better than they do at home. This is probably due to their super high heat stove giving it that nice 'wok
hei
'.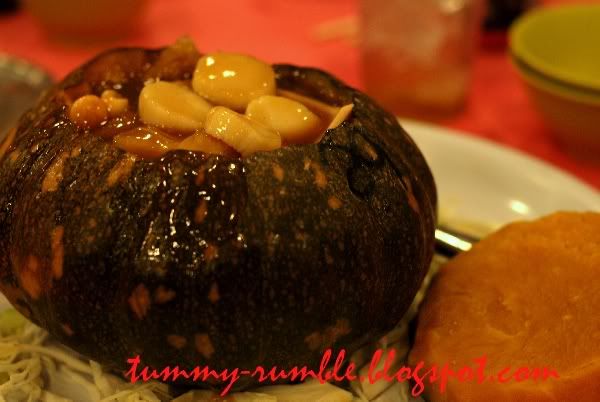 This dish consisted of all the
goodies
found in Chinese Cooking. It was
ladled
up to the bring with scallops, sea cucumber, clams and fish bladder. The pumpkin was probably for the sake of presentation. I really enjoyed this dish.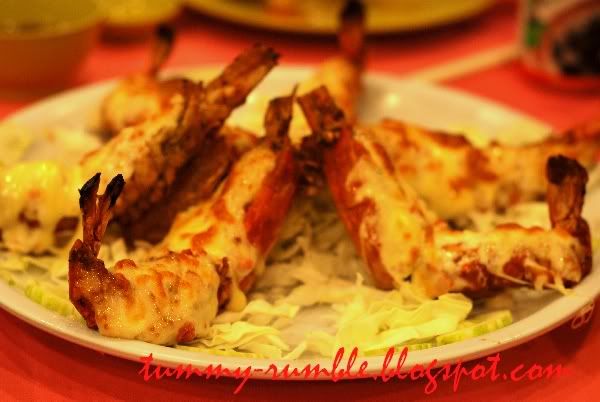 Freshwater Prawns with Cheese
This prawns sure looked better than they tasted. I was a little disappointed with it. It came saturated with lots of jarred mayonnaise that certainly masked the natural taste of the prawns.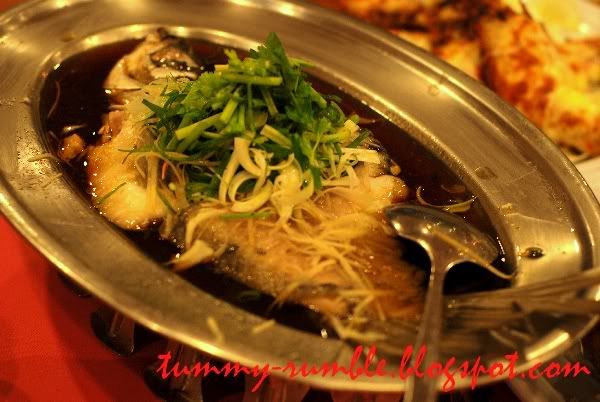 Steamed Sultan Fish

The Sultan Fish (
Ikan
Sultan /
Jelawat
in Malay) was steamed to perfection. The fish was extremely fresh (which is a MUST when it comes to fresh water fish). This dish certainly was the winner of the night. The fish was priced at
RM20
per 100 grams.
Note:
The name of this fish originated from way back in the past where the wild
Ikan
Sultan was very rare and was only served to the Sultan. However, nowadays with commercial culturing of the fish, this fish is no longer that rare.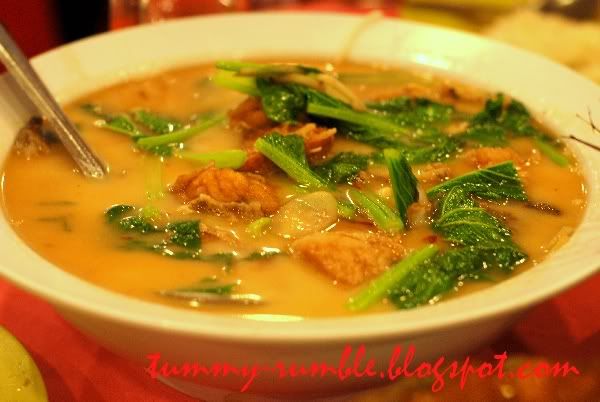 After having so much good food, this fish head noodles no longer stood out. It tasted reasonable.
All in all, I was pretty much happy with dinner. The total bill came up to
RM337
(including nuts, drinks and rice). This restaurant certainly deserves a revisit.

*Opinions expressed are solely based on my personal experience
Cash ONLY
Pricing:
About
RM50
per person
Map
to
Loong
Foong
Restaurant
Address:
1,
Jalan
20/13,
Paramount Garden,
46300
Petaling
Jaya
,
Selangor
Darul
Ehsan
,
Malaysia.
Contact:
Telephone number: 03 7876 9045 / 012 202 9045
Opening hours:
4.30pm-9pm. (closed alternate Sundays)