>> Aug 28, 2010
This is going to be one of those rare occasion where I write up a new review when the food from the restaurant I'm writing about is still digesting in my stomach. When you're bored on a Friday night, I guess this is what you do.

Anyway, Zipangu @ Shangri-la is probably one of the best Japanese Restaurant in KL. For those interested in buffet, Zipangu serves buffet lunch (RM96 nett) on weekends only. Personally, I rather have a la carte (the French word for according to the menu). Most restaurants tend to save the best stuff and nice cuts for a la carte anyway. I have this mentality where I rather sit down, order what I like to eat and not gorge myself with food in a buffet. In the end, the cost would probably be similar (a la carte is usually slightly higher).

Although someone mentioned that most of the chefs in Zipangu aren't Japanese (this is KL man), everything still has to go through the big man (head chef) who is Japanese. And when you come to such a place, you know that the food quality won't disappoint.

Off to the food.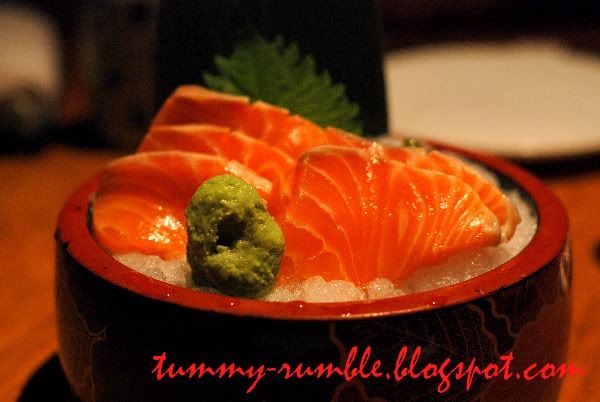 The salmon
sashimi
(
RM60
) was one of the best I've tasted. The fish was cut into fat thick slices, and was extremely fresh.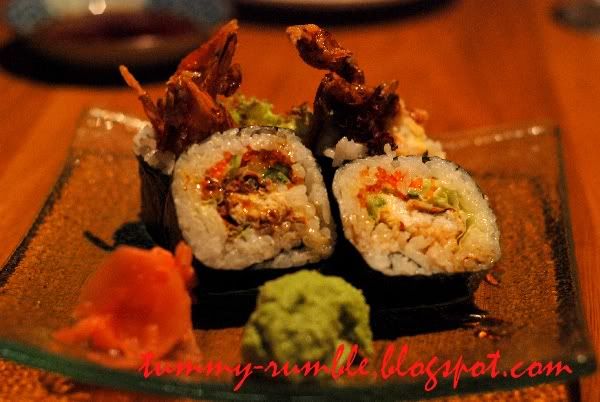 The Soft Shell Crab roll (
RM40
) came one whole crab rolled up with flying fish roe, cucumber and
Japanese mayonnaise
. The roll done just right (as in the rice wasn't too tight nor was it loose). Each bite had a good amount of soft-shell crab in it.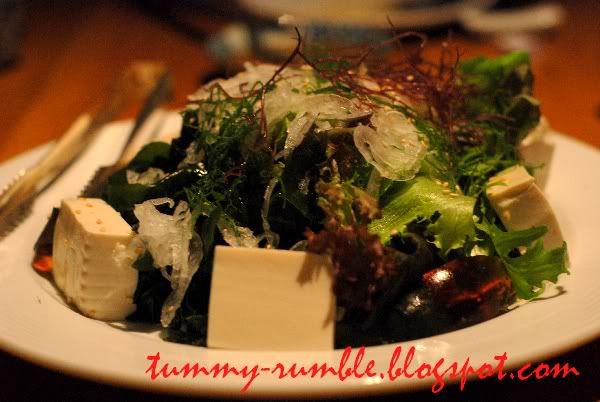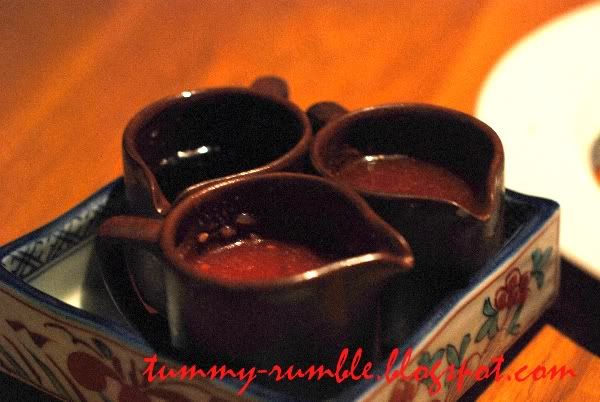 Tofu Salad

The salad (
RM28
) consisted of nice big pieces of tofu, a few type of seaweeds, the usual salad vegetables and a few chunks of century egg. It came accompanied by 3 types of sauce (salty, slightly spicy and sour). Mix and match the sauce anyway you fancy. This salad was so good that I am willing to bet a non vegetable lover would eat it.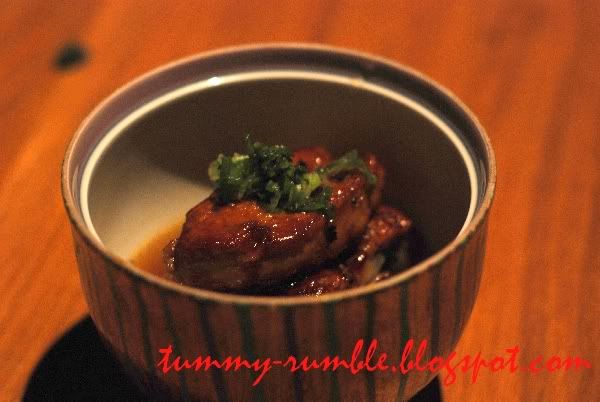 Pan-seared

Foie

Gras

and

Unagi

on a Winter Melon Broth
Priced at
RM40
, the
foie
gras
was seared to perfection (slightly crunchy on the outside but had that nice melt in your mouth sensation on the inside). The winter melon broth was pleasant as well. The only think I dislike was the
Unagi
(eel). I think the dish would have fared better without the eel (its
RM10
cheaper without the eel). The eel was a little chewy.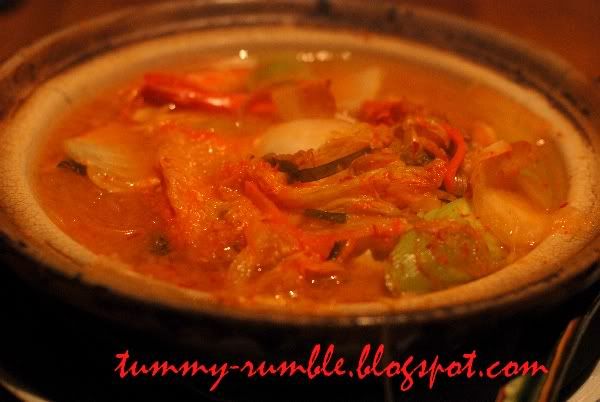 Yes, I know this is a Japanese Restaurant. The waiter claimed that this soup (
RM70
) was very good (better than the Sukiyaki), so we opted for it instead. It wasn't exceptional, but it didn't disappoint either. It came with a good deal of seafood. It consisted of clams, prawns and a few types of fish.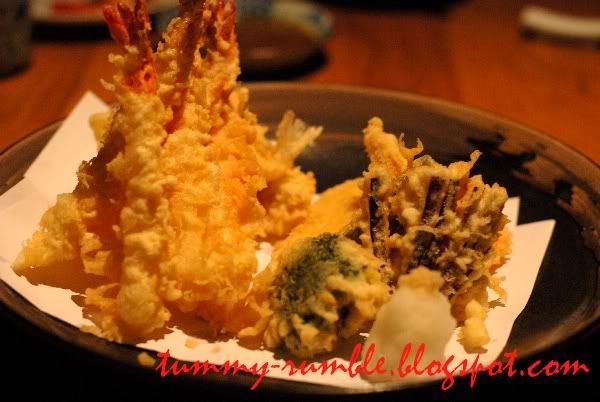 The tempura (
RM60
) wasn't anything spectacular. It was crunchy on the outside. It was alright I guess. To me, a tempura can only be either bad or normal. So yea, I'm not saying Zipangu didn't do a good job at it.
The beef (
RM90
) was overcooked. I requested for medium but it came well done. Since I'm always nice, I decided not to complain. Although overcooked, it wasn't tough.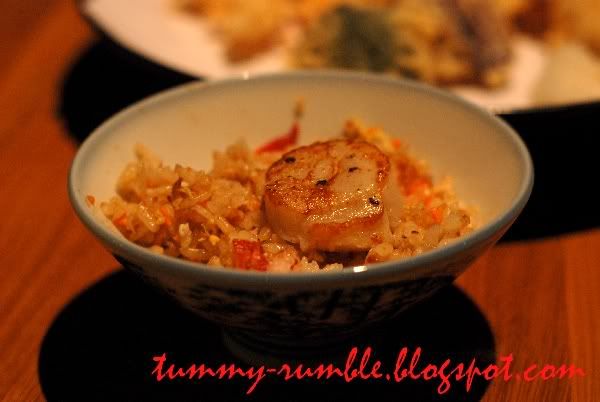 The fried rice (
RM18
) didn't taste exceptional in anyway. The picture above was only 1/2 of the actual portion as I requested them to split it into two bowls instead.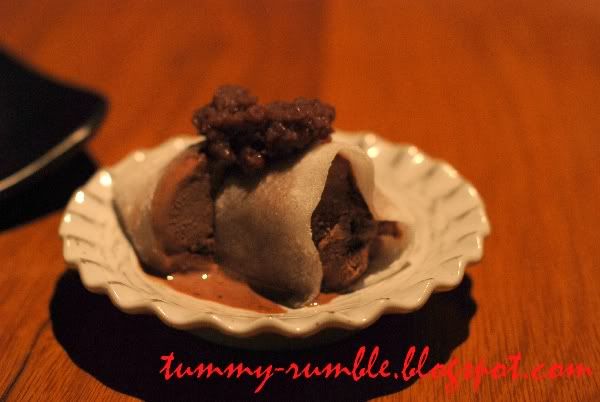 This is actually ice cream wrapped with rice cake (some pancake made of rice flour I presume) and topped with some red beans. I actually wanted black sesame ice-cream but they didn't have it today. Just my luck. This dessert was
RM18
.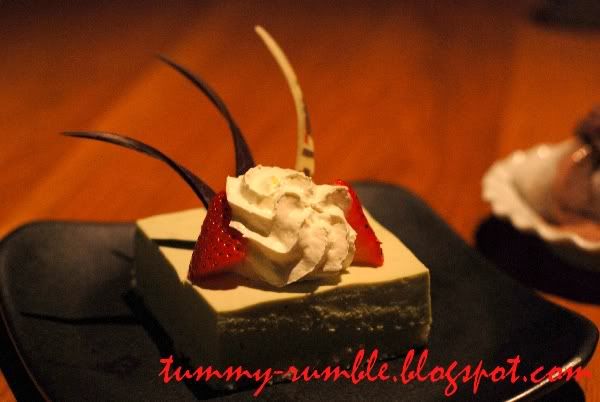 This Green Tea
Tiramisu
(
RM15
) better resembled a green tea cake. It was too milky and slightly too rich for my liking. We left half of it behind. The name
tiramisu
certainly deceived me. I felt cheated. ROAR!!
All in all, I quite happy with the food. When one comes to places like this, the food has to be good. For the price you're paying, it better be. Service today was good as well. The waiters knew their stuff and could describe each dish well. On top of that, they could even recommend dishes to try. One word of advice though, get the
Shang
Prestige Card or your dinner might cost quite a bit. I still can't decide whether
Iketeru
is better. It has been a while since I was last there.
*Opinions expressed are solely based on my personal experience
No Pork
Dresscode

:
Smart Casual
Pricing
: About
RM100+
per person
Map
to
Zipangu
@
Shangri
-la KL
Address:
Zipangu
Level 1,
Shangri
-La Hotel,
11,
Jalan
Sultan Ismail,
50250
Kuala
Lumpur
,
Malaysia.
Contact:
Telephone number: 03 2074 390
Fax number: 03 2070 1514
Website: click (
here
)
Opening hours:
Lunch : 12noon - 2.30pm (Monday - Friday)
Lunch: 11.30am - 2.30pm (Saturday, Sunday and Public Holidays)
Dinner : 6.30pm - 10.30pm (daily)
What other Floggers wrote:
Joe who is constantly Craving
'Old Man'

FatBoyBakes
A Whiff of Lemon Grass
kyspeaks