>> Sep 15, 2010
I have been very very busy lately, hence the lacking in 'quality' post. The truth is, I haven't been going out to eat for quite a while now.

Anyway, let get down to the food.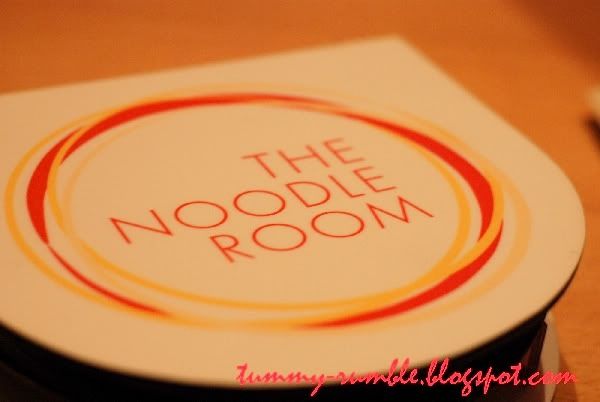 The Noodle Room is situated on the ground floor of Hilton
Kuala
Lumpur
. It is right beside
Sudu
(one could order food from
Sudu
too). As the name of this place suggest, this restaurant specialises in noodles. All sorts of noodles, from
hor
fun,
soba
, yellow noodles,
yee
mein
,
loh
shu
fun. You name it, they have it.
The menu in this place is rather unique. One gets to choose from chef suggested noodles, or one can customize their own noodles. To customize your own noodles:
1.
You pick a stock
. The choice of stock available is
dashi
stock, Japanese curry, chicken stock, egg gravy, beef stock, fish coconut broth,
kon
loh
, tom yam, KL
Laksa
(I've heard of Singapore
laksa
, but not
KL's
).
2.
Then you pick a noodle to go with the stock
(egg noodle,
ramen
, dang
myun
, shanghai noodle, spinach
wonton
mee
, E-
Fu
, Flat
wonton
mee
, rice noodle,
udon
,
hor
fun,
soba
, yellow noodle, low see fun,
mee
suah
).
3.
Next, you choose 1 ingredient for your noodles
(seafood, beef-slices, chicken, char
siew
,
wonton
, vegetables, fish ball, fresh water prawn, crab meat, roast duck, beef ball, ostrich).
4.
Finally, you choose 4 garnish to go with your noodles
(coriander, mint, seaweed, spring onion, bean sprouts,
choy
sum, fried shallots, fried garlic,
chilli
,
sambal
,
belachan
, green
chilli
pickle,
chilli
padi
, minced garlic).
Easy huh? Each bowl is
RM29
.
Anyway, we started with a couple of appetizers.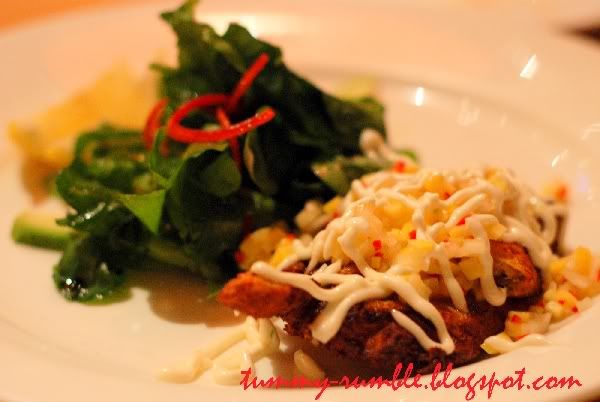 We ordered a large portion to share. The Crab (
RM45
) was fried until crispy and served with some rockets, avocado, mango salsa and lime mayo. The
mayonnaise
was spot on in cutting the slight oily texture of the deep fried crab. This dish was good.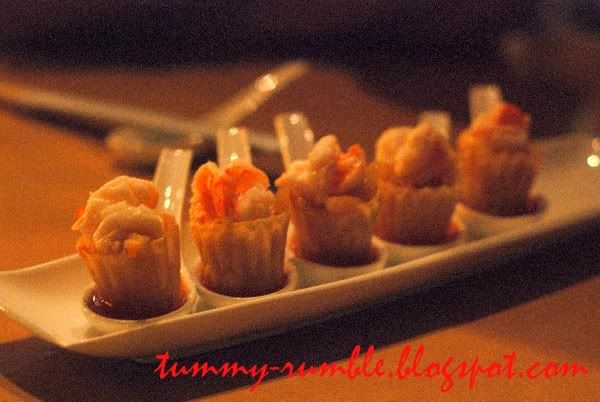 The
Pai
Tee came on top of some
thai
chilli
sauce (which requires immediate consumption). It was not bad. The shell of the
pai
tee wasn't soggy YET and the prawns were relatively big and fresh. Sorry about the pathetic picture quality.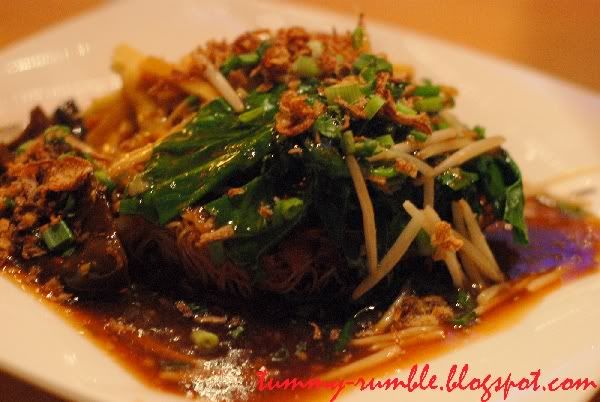 This is actually a nest of
mee
suah
served with water chestnut,
peking
duck slices, bamboo shoots, some
shitake
and lots of ginger. For me, the ginger was too overpowering. All I tasted was spoonful after spoonful of ginger. The noodles (
RM32
) sure looked better than it tasted.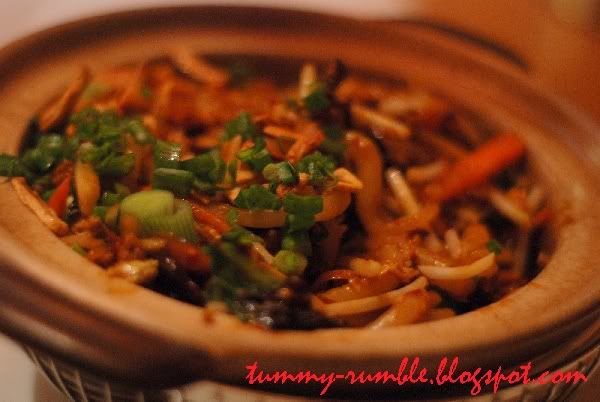 This dish lacked that slight burn bits of fried lard in it (
This blog should not be held responsible for any lard responsible myocardial infarction
, but lard certainly does bring out the flavour in noodles). I guess the hawker near my place still makes better
LSF
. The clay pot
loh
shu
fun was
RM32
.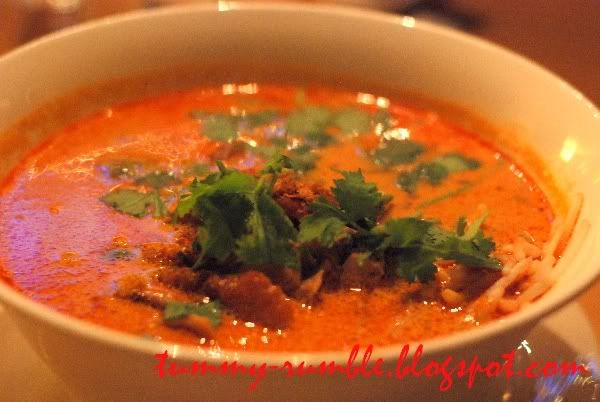 All I tasted in the
laksa
(
RM29
) was
chilli
. Seriously, it lacked spices and most importantly, SALT. After 2 spoonful of it, I told the waiter to take it back. He suggested adding some table salt to it. To make matters worst, their salt shaker was stuck. Even after adding salt, it still tasted like
chilli
water. The waiter eventually took it back and replaced me with another (He was very polite about it, as expected for such a place). A while later, he came back and told me that yes, the chef seriously screwed up that bowl of
laksa
(the chef tasted it and found it bland too). The 2
nd
bowl of
laksa
tasted slightly better. Although packed with slightly more flavour this time, I still found it to be substandard.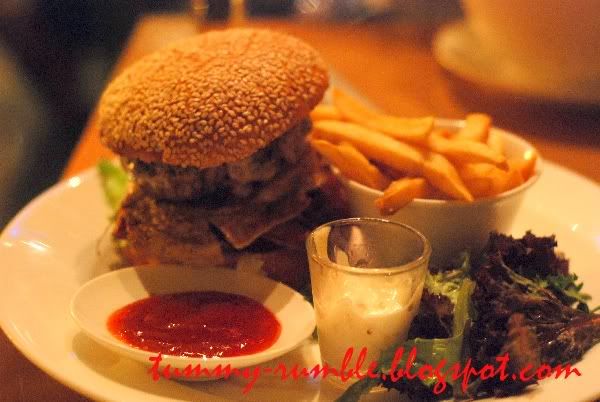 The burger was reasonable. However, it wasn't a match for
the daily grind
at
Bangsar
Village.
All in all, if you're after the best noodles in town, you won't find it here. I guess the hawkers still have a
nitch
when it comes to noodles. However, The Noodle Room certainly makes a good place to sit down and chill over a bowl of hot noodles in a rather comfortable environment.
Halal
*Opinions expressed are solely based on my personal experience
Map
to Hilton
Kuala
Lumpur
Address:
The Noodle Room,
Hilton
Kuala
Lumpur
,
3
Jalan
Stesen
Central,
50470
Kuala
Lumpur
.
Contact:
Telephone number:
03-2264 2264
Website:
http://www.kl-studio.com/thenoodleroom.html
Opening hours:
6am - 12am Sunday-Thursday
6am - 1am Friday & Sat