>> Sep 13, 2010
Back in the days when the Sultan Abdul Aziz Shah was still the national airport, everyone knew about the seafood restaurants situated along that stretch. However, many of those places have since closed down. One of the remaining places who stood through the sands of time is South Sea Seafood Restaurant. This restaurant has gone through a massive renovation and with mass media advertisement, been doing better than ever.

Their trademark is live seafood that are kicking. Yes, all of their seafood are displayed in tanks for you to choose from. There are a couple of other restaurants doing this too (Unique Seafood and Pantai Seafood etc). Their seafood are probably from the same supplier, hence the similarity. They had an assortment of crabs, clams, fish and oysters. One of their main attraction is their Red Mahseer, aka Red Kelah (from Kelantan river) and Empurau Fish (忘不了) which is originally from the Rajang river in Sarawak (the ones here are probably cultivated). They look quite similar, but are in fact a totally different species. The empurau can grow much bigger. Priced at RM700 per kilo, it is easily one of the most expensive fish in the restaurant. The fish can grow up to larger than 10kg.

This time round, we didn't have Alaskan King Crab, or anything of that magnitude. Do click here if you are interested to read about the King Crab.

Note: Pictures are taken using my phone (hence the quality)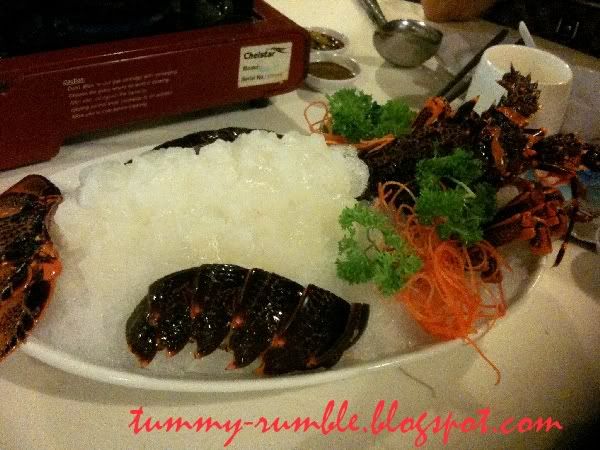 Australian Lobster

Sashimi
As with most other seafood at this place, the lobster is charged based on its weight (
RM36.80
/100grams). For a brief write up on lobsters, please click
here
. The lobster above is about 1kg. When eating
sashimi
, nothing much can go wrong, as long as the lobster is fresh. I prefer to have my lobster raw but for the faint hearted, you could always choose to dip it into the hot herbal concoction.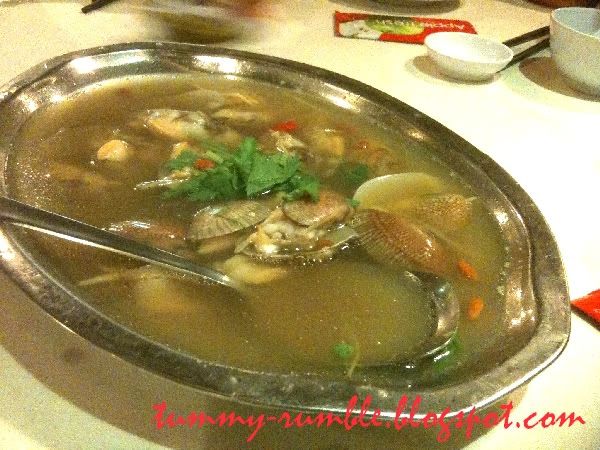 Lala
cooked in a Chinese
soup like
sauce (
RM15
). Most of their dishes come in either small, medium or large, depending on how many people are eating. The sauce was tasty with that nice touch of Chinese wine. The problem with this dish though, was that some of the
lala
were probably dead. The best part was they removed half of the
lala's
shell, hoping that diners won't be able to tell (dead clams usually do not open up when cooked). For someone who buys his own seafood from suppliers in
Klang
, they sure picked the wrong table to serve dead stuff.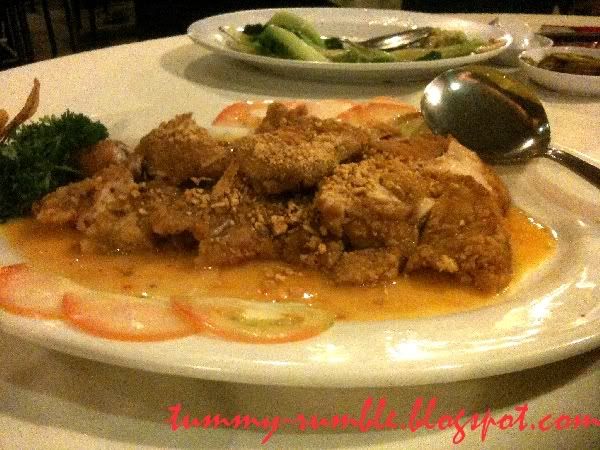 Chicken with a cream based sauce
Sorry guys, I have no idea what the name of this dish is. The waitress mumbled something in Cantonese and claimed that its very good. The chicken (
RM25
) was extremely crispy on the outside, but still moist on the inside. That cream-based sauce wasn't too over powering. I wouldn't say that it tasted extraordinary, but it was edible.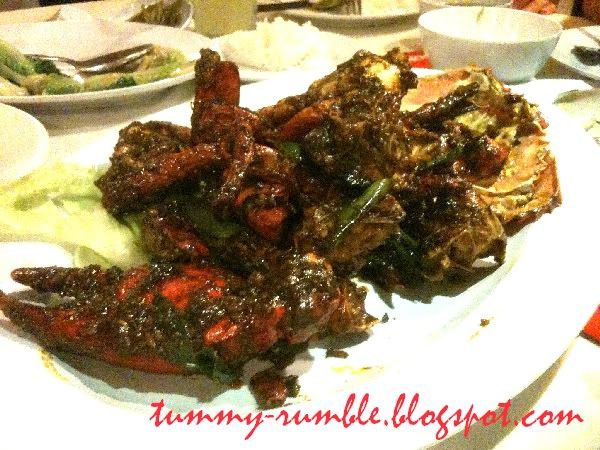 Malaysian Mud Crab cooked in a spicy mix of dried shrimps. Normally, I do not fancy my crabs cooked in this style, but since South Sea claim to specialise in this method of cooking, I decided to give it a try. Personally, it tasted ordinary. Almost any Chinese restaurant could duplicate that same flavour. The Malaysian Mud Crab is priced at
RM36
per crab. One could also opt for the
Sri
Lankan
(
RM48
per crab) or Australian Mud Crab (
RM98
per kilo). Although the
Australian
crab is huge compared to the Malaysian variety, how different can mud crab be?
All in all, I personally will not come back here (although I know a lot of people who likes the food served here). The food ain't cheap. My personally conclusion of this place is that the chefs are not up to pare. With such fresh seafood and that
hefty
price tag, one would expect to get top notch food.
Halal
*Opinions expressed are solely based on my personal experience
Pricing:
Varies depending on seafood of choice
Map
(taken from their website) to South Sea Seafood Restaurant
Address:
229,
Jalan
2A,
40000
Kampung
Baru
Subang
,
Selangor
Darul
Ehsan
,
Malaysia.
Contact:
Telephone number: 03 7846 1401
Opening Hours:
11am-12am daily