>> Oct 9, 2010
For all you fish connoisseurs out there, I just found a place to satisfy your picky taste buds. Eating the perfect fish is like drinking wine. You need to know how to taste those subtle flavours to truly appreciate it. I know a lot of people who claims that 'a fish is a fish, how much different can it taste?'. As they say, ignorance is bliss. Its better off not knowing, because once you know, there is no turning back. When you can tell every little thing wrong with a fish, you tend not to enjoy your food as much.

Anyway, there is this restaurant in Damansara Kim that specialises in river fish. Their specialties include Empurau 忘不了, Red Kelah (Red Mahseer), Tenggalan, Tapah (a type of cat fish), Tilapia, Big Head carp and Soon Hock (Marble Gobi). Occasionally, they bring in Kerapu Naga (Loong Dan - Goliath Grouper) as well. Do call ahead to find out what fish they have.

Loong Dan is actually a different species of grouper contrary to being a very big grouper as to what most people think. In other words, an ordinary spotted grouper aka Samivelu (not spelt like this but open to interpretation) as what most fisherman calls it is not a Loong Dan. If you look carefully, a Loong Dan has a yellowish tinge on its tail, fins and gills. This fish is usually prized for its stomach and skin. The meat taste slightly better than an ordinary grouper (I would say marginally). When restaurants recommend this dish to you, be sure to not be conned into paying a hefty price for the flesh. Put it this way, if I ordered the stomach and skin of the fish, the restaurant would have to get rid of the meat asap rather than letting it get spoilt. So don't be conned into being the sucker that pays for the meat (the meat is sold at 2-3 times the price of an ordinary grouper).

I am going to combine my 2 visits to this place below.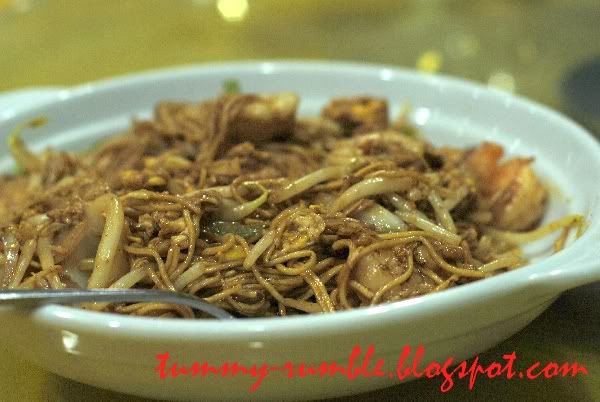 The Emperor noodles (Wong
Dai
Mein
in
Cantonese)
was fried really well. It was adequately flavoured and had a nice 'wok
hei
' (breath of the wok) to it. This certainly tasted far better than the emperor noodles found at
William's
and
Murni
.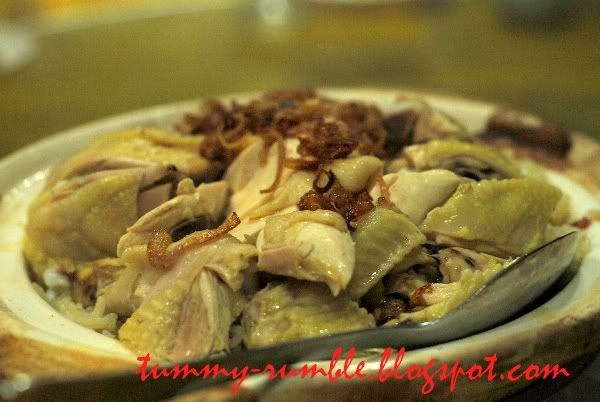 This
claypot
chicken rice differs from the usual dark soy sauce type found at most places. It came laden on top with nice pieces of steamed chicken, served with an accompanying ginger sauce. The dish went really well together. A ginger love would certainly enjoy this dish.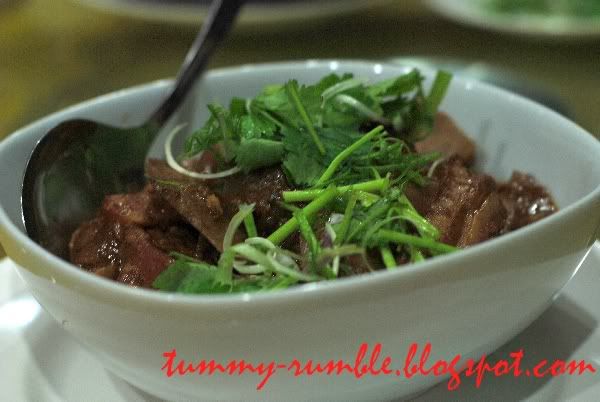 Personally, I never did quite enjoy eating braised pork with yam. According to the rest of my dinner companions, this dish didn't stand out in anyway.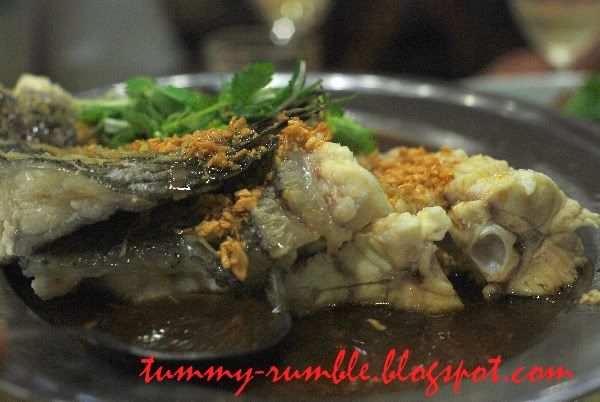 We chose to have the tail part of the fish (each part of the fish is different in its own way which I will so kindly describe below). The fish was steamed to perfection. The skin had a nice gelatinous texture to it. It wasn't chewy (which would have been bad). The soy sauce used was very nice as well. The dish above was
RM180
.
Note
: When eating a fish, people usually like to go for the belly region as it contains the most fat in a fish. Do be warned that if a fish is not fresh, the belly region would taste bitter and fishy. Some people also like to have the head of the fish. I know of a couple of kids to actually fight over the eye balls of the fish. The tail part of a fish is also very good as it doesn't have as many bones as the other parts and the last morsel of meat before the actual tail itself is usually softer and better in texture. All these only applies if your fish is bigger than 4kilos otherwise it doesn't really matter.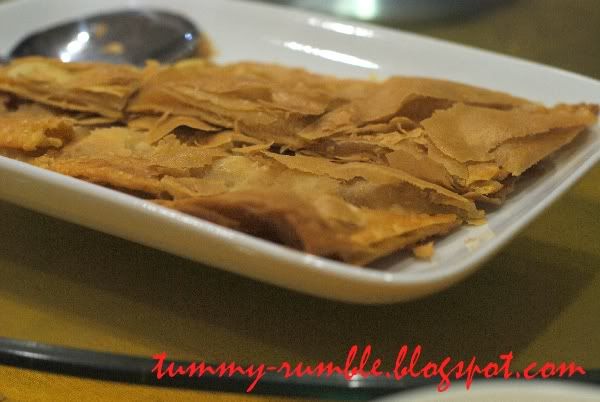 We ended the meal with these flaky
Chinese
pancake stuffed with lotus seed paste. It wasn't exceptional but it was edible.
As for my second visit, our goal was to have the red
mahseer
(red
kelah
). Unfortunately, the fish was found to be '
lekor
' (skin was extremely tough). Just my luck huh? So, we settled for another fish instead.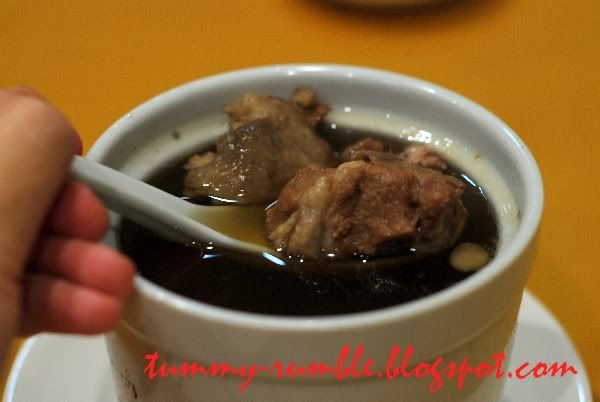 Double Boiled Chicken Soup
We started the meal with a bowl of chicken soup (
RM8
) each. The soup had a nice distinct chicken flavour to it, and it was seasoned well.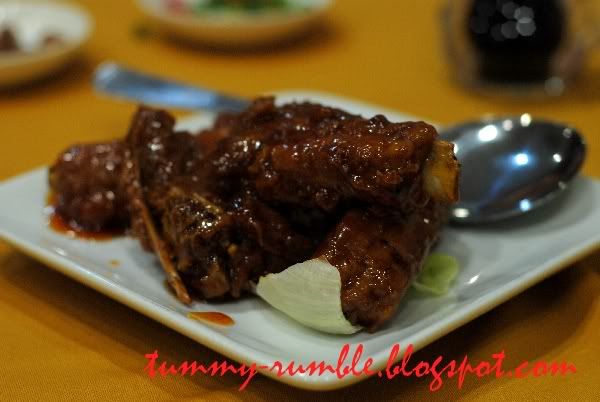 The ribs (
RM3.50
per pieces) had a nice caramelised exterior to it. The meat was so soft it was falling off the bone. This dish was done very well. I could have easily
polished
off the entire plate myself.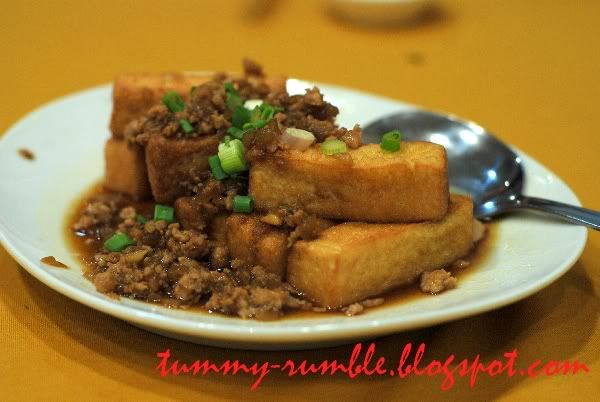 The tofu (
RM 10
) was homemade. It was silky smooth and soft and went very well with the accompanying meat condiments.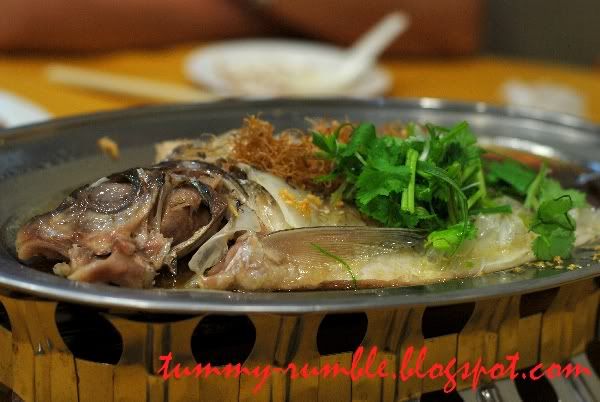 The
Tengalan
(
RM14
per 100grams) had a very nice texture to it. The meat texture was slightly soft but had a nice subtle sweetness to it.
Note
: No offence to the owner, but I personally felt that the dish above was rather small and did not weigh up to 800grams as stated in the receipt. As a person who loves going fishing, I know how big an 800grams fish is. When I ordered the
kelah
over the phone, the person told me that 600grams would suffice for 4 people. Hence I was a little shocked when I didn't have enough to eat in a 800grams fish when we only had 3 people.
Anyway, what happened is probably an honest mistake, as I feel that the manager so kindly brought out the red
kelah
told us there was something wrong with the skin. He also offered me a taste of the fish and told us to choose another fish as the
Kelah
wasn't up to pare and He didn't want to serve it to us. We were served a complementary plate of fruits on the house, and they wanted to refill our beer.
All in all, I will definitely be back
despite
that incident. Hopefully, such a thing doesn't happen again as some of the public may not be that forgiving. I wonder what fish I'll have next time round.
Non Halal
*Opinions expressed are solely based on my personal experience
Map
to River Fish Restaurant (
Damansara
)
Sdn
.
Bhd
. 九和鱼
Address:
17,
Jalan
SS20/11,
Damansara
Kim,
47400
Petaling
Jaya
,
Selangor
Darul
Ehsan
,
Malaysia.
Contact:
Telephone number: 03 7727 8029
Fax number: 03 7727 8019
Email: riverfishdamansara@yahoo.com
Opening hours:
11.30am-10pm daily