>> Feb 26, 2010
The Restaurant has Closed for Good...


When dining at a friend's place the other day, I happened to stumble across this magazine that listed all the so called 'top restaurants' in Malaysia. Under the Italian category, I noticed this placed 'Italian on Sixth' in Pavilion. Since I happened to be in Pavilion for Chinese New Year shopping a couple of weeks ago, I stopped by Italian on Sixth for lunch.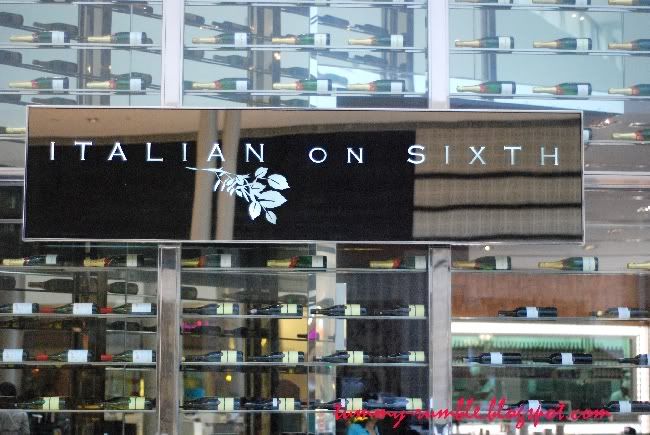 Although situated on the 6
th
floor of pavilion, the pricing seemed quite appropriate. Then again, pasta and pizza's can't be that expensive to start off with.
Anyway, as we were having 'lunch' at 3.30pm, I wasn't surprised to see that the place was empty except for another table nearby. Service was quite prompt as the staffs probably had nothing to do.
We went for a pizza, a pasta and a meat dish to share among 3 of us. We were served these complimentary cheese sticks that was supposed to be taken with olive oil and balsamic vinegar.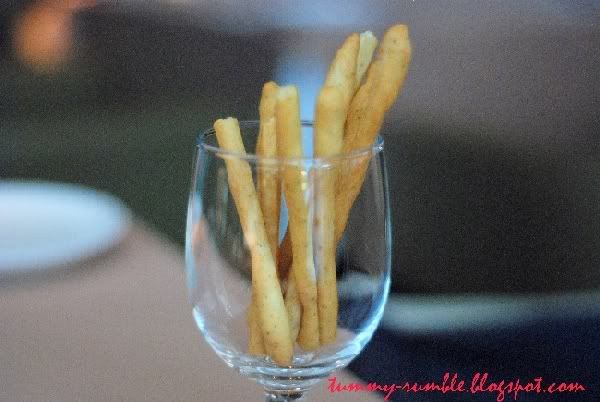 Frankly, I didn't like the bread sticks at all. There were too hard and appeared to be
pre
-packed. I rather they had served us freshly baked bread or something along that line.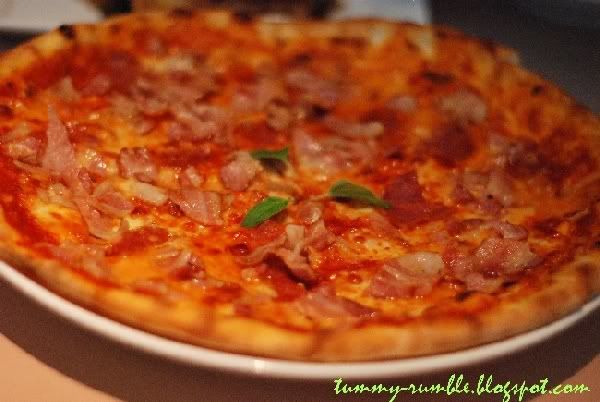 Pizza with

Pancetta

and Salami
Pancetta
is sort off like an
Italian
version of bacon. The pizza was quite good. It was laden generously with lots of streaky chunks of fatty ham and salami. The pizza was priced at
RM25.50
.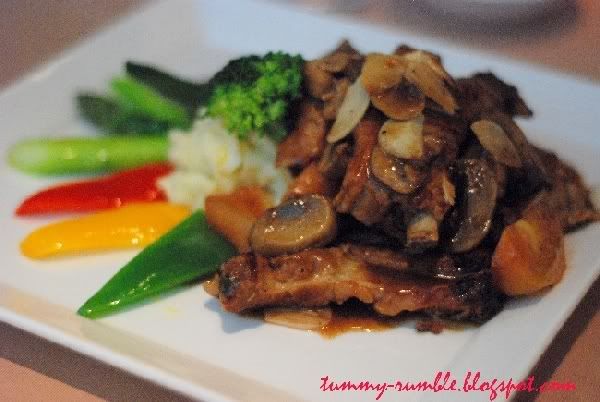 The ribs were alright. They fell off the bone at the touch of the fork. The taste certainly didn't disappoint. However, it wasn't the best I've tasted in KL. However, I found the dish a little too sweet. I guess this is where personal preference comes in. The ribs were priced at
RM40
.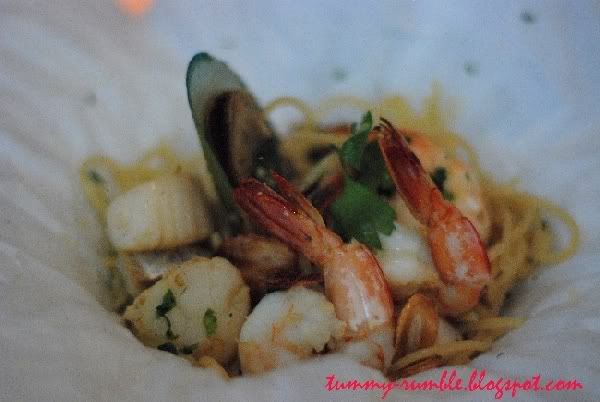 Spaghetti

Agio

Olio

with Seafood
This is one of their highly recommended dish. The presentation for this dish was a winner. The
spaghetti
came wrapped up nicely like a
goodies
bag. The waiter/waitress would then slowly unseal the top of the nice bag to reveal its hidden treasures within. It was a shame to destroy that nice 'object'. The pasta was priced at
RM40
.
However, I would have to declare that the taste for this dish was only so-so. Okay, maybe I have high expectations as I can dish out a very good seafood
aglio
olio
myself. Hence, I like to compare if a pasta of that sort was as good or better than mine.
To complete the meal, I went for the
tiramisu
. My personal opinion is that
Tiramisu
is the most basic dessert an Italian restaurant needs to master.
After all
, some people say the origins of
tiramisu
was from
Siena
(lots of people are laying claims to the invention of this dish).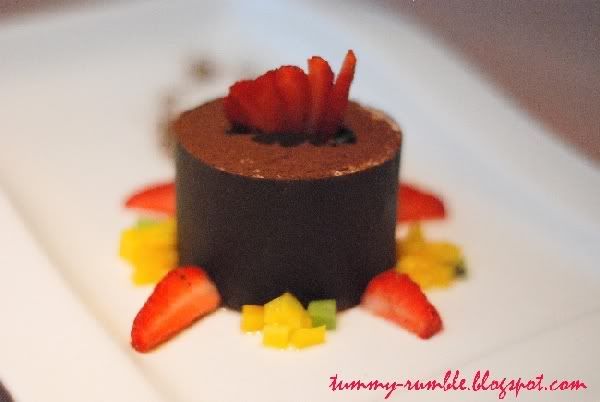 The
tiramisu
at this place was very good. It was presented so nicely on that plate that I was hesitant to cut it open to begin with. Anyway, I was quite satisfied with this dish. The
tiramisu
was
RM16.50
.
My conclusion is that
Italian on Sixth
would make a very good place to bring that special someone. Italian food is very popular among Malaysians. This place is not crazily expensive, create food that has a hell of a presentation and service is reasonable. I wouldn't mind coming back to this place again.
Restaurant Rating:
7.5/10 (I tend to rate Italian Restaurant a little harsher)
Pricing:
About
RM50
per person
Food Quality: 7/10
Ambience
: 8/10
Service: 7/10
Pricing: quite appropriate
*Ratings are based on

ambience

, service, value and food quality for the price you're paying. Opinions expressed are solely based on my personal experience
Map
to Pavilion
Address:
Italian on Sixth,
Lot 6.12, Level 6, Pavilion KL,
No. 168,
Jalan
Bukit
Bintang
,
55100
Kuala
Lumpur
,
Malaysia.
Contact:
Telephone number: 03 2144 2992
Fax Number: 03 2144 3992
Opening hours:
Open 11am-10pm daily
Read more...